Making an affiliate website is one of the quickest and easiest ways to start making money online. You can be up and running in minutes and start earning commissions on products you believe in.
In this ultimate guide, I will walk you through the exact steps I take to build highly profitable online affiliate websites. You can do this even as a beginner affiliate marketer.
You can build your own business without any products by making an affiliate website. Once you have a website built you can also start building high converting landing pages on that website so that you can improve your conversion rates.
You don't need to create or sell a product of your own – you promote other people's products and earn a commission when someone buys through your link. This is a great way to start online marketing without risk or investment.
In order to be successful in making an affiliate website, you need to follow every step I layout below. This guide will show you how to make a website that you are proud of.
Step by Step Strategy for Making an Affiliate Website
1) How to Choose a Highly Profitable Niche.
When choosing a niche for your affiliate website, it's essential to select something you're interested in. WRONG.
Many gurus will tell you it needs to be something you are interested in, but the bottom line is – profitability. You need to pick a niche that is likely to be profitable.
According to a study by RankIq here are the top traffic blog niches.
Choosing something of interest does help you to stay more motivated to write content and promote products that are related to your chosen niche, but it is not critical to your success.
Using a competitive intelligence tool like SEMRush you can see if there is a lot of competition and a lot of searches for topics in your niche.
For example, if you were thinking of making an affiliate website about Smoothie Diets, you could see that it fits into the top traffic blog categories above (Food), and according to SEMRush it has massive search volume, and the difficulty is not that hard to rank for the main website niche.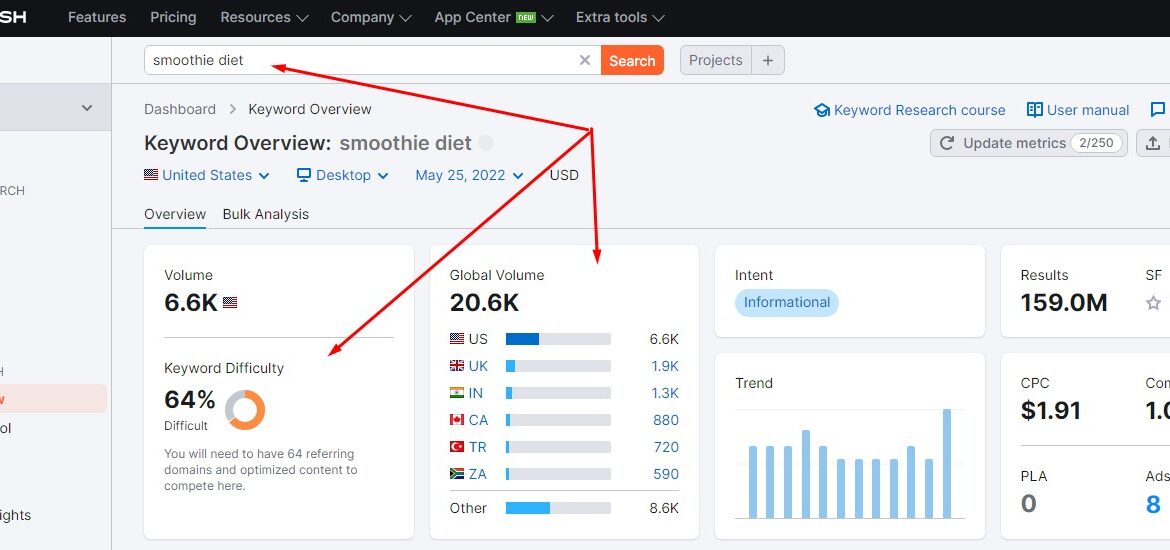 Before making an affiliate website, you should do a lot of research and find niches that have high search volume and difficulty below 65. As you continue to build your website, you will create more content using keywords you find from tools like SEMRush.
A great way to research a niche is to think about what problems people are trying to solve. What do people need help with?
Using this research, you can then create content that helps people solve their problems. This will not only make your content more valuable, but it will also make it more likely that people will want to buy products from you.
When thinking about choosing a profitable niche, it's also essential to consider the competition.
What are other people in your niche doing?
What can you do better?
How can you stand out from the crowd?
Answering these questions will help you to create a niche that is both profitable and unique.
2) Choose a domain name and hosting.
The key to making an affiliate website profitable is choosing a really good brand name or "domain name".
The domain name is the website address people type into the browser. Your website is stored on a web server which you get access to through a "website hosting" account.
Bluehost or Hostgator offer a free domain name when you sign up for your hosting.
There are a few things to consider when picking a domain name for your website. The first is to make sure the domain name is relevant to your website's content. You don't want to choose a domain name that has nothing to do with what you're offering on your site.
Another thing to keep in mind is that you want to choose a domain name that is easy to remember and spell. If you choose a name that is too complicated, people will have a hard time finding your site. You also want to make sure the name is short enough so that it can be easily typed into a browser.
You also want to consider the extension of your domain name. .com is the most popular and well-known extension, but there are other options available (.net, .org, .info, etc). Choose the one that makes the most sense for your website.
Finally, you want to make sure the name you choose is available. Use a domain name checker to see if the name you want is available. If it's not, try brainstorming some other options.
Get a Free Domain at HostGator!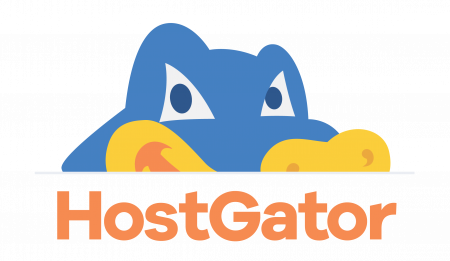 When you are ready to start searching for your domain name head over to Bluehost or Hostgator and choose the hosting option you want. The most basic hosting plan is enough if you are starting. You will then be asked to search for a domain name to begin the process.
Picking a domain name may seem like a daunting task, but if you keep these things in mind, you'll be well on your way to finding the perfect one for your website.
3) 1-Click Install WordPress.
WordPress is a popular content management system that can be used for affiliate websites. The site you are on right now DayJobHacks.com uses WordPress!
It's easy to use, and there are plenty of plugins and themes available to customize your website. When you sign up to either Bluehost or Hostgator and claim your domain name, you will then have the option to install WordPress onto your web hosting account.
HostGator makes it simple to install software – including WordPress – with their Quick Install software.
Get started by either clicking the "install WordPress" link on the dashboard, or the Quick Install icon in the control panel
On the next page, select the domain name you want to install WordPress on from the drop-down menu.
Fill out the rest of the fields on the page, including the site name, description, and admin username and password.
Once you've filled out all the fields, click the "Install" button.
HostGator will now install WordPress for you and you'll be able to log into your new site. congrats!
4) Choose a WordPress Theme (Free or Premium)
Once you have installed WordPress you can now access the dashboard and start to make modifications to your website. When making an affiliate website you want to make sure it has a nice professional-looking theme. I like to use Optimizepress Smart Theme or Astra.
On the WordPress menu you can click on Appearance >> Themes
Then click the Add New button and start browsing available themes. When you find one, you can preview then click activate.
When it comes to choosing a free WordPress theme, there are a few things you should keep in mind. First, you want to make sure that the theme is compatible with the latest version of WordPress. Second, you'll want to choose a theme that is responsive, meaning it will adjust itself to look great on any device. And finally, you'll want to ensure the theme is coded well and loads quickly.
To find a theme that meets all of these criteria, you can start by checking out the WordPress Theme Directory. This is an excellent resource for finding both free and premium WordPress themes.
Once you've found a few themes that you like, take some time to preview them on your site. This will help you get a feel for how they would actually look and function on your site.
And finally, when you're ready to install a theme, be sure to follow the instructions provided by the theme author. This will help ensure that everything goes smoothly and that you don't run into any problems down the road.
5) Write content – The Only Two Things You Need to Write
If writing content makes you cringe, check out my review of Jasper that explains how to automate your writing process! Yes, that is right, you can have a robot write your content for you.
The most important part of making an affiliate website is the content. You need to write articles, reviews, and other types of content that will be helpful for people in your niche.
When making an affiliate website, you really only need two types of posts. "How to" posts, and "Transactional" posts. The how-to posts will mostly link back to your transactional posts.
So what is the difference?
Transactional blog posts are those that are focused on a specific transaction like a purchase or signup. This could be something as simple as a review of a product or service, or a comparison of two products, or a "Best of" type of post highlighting many products. These are the posts that make the most money on your blog. For example, here is an example of a transactional post on this blog: Best Ad Tracking Software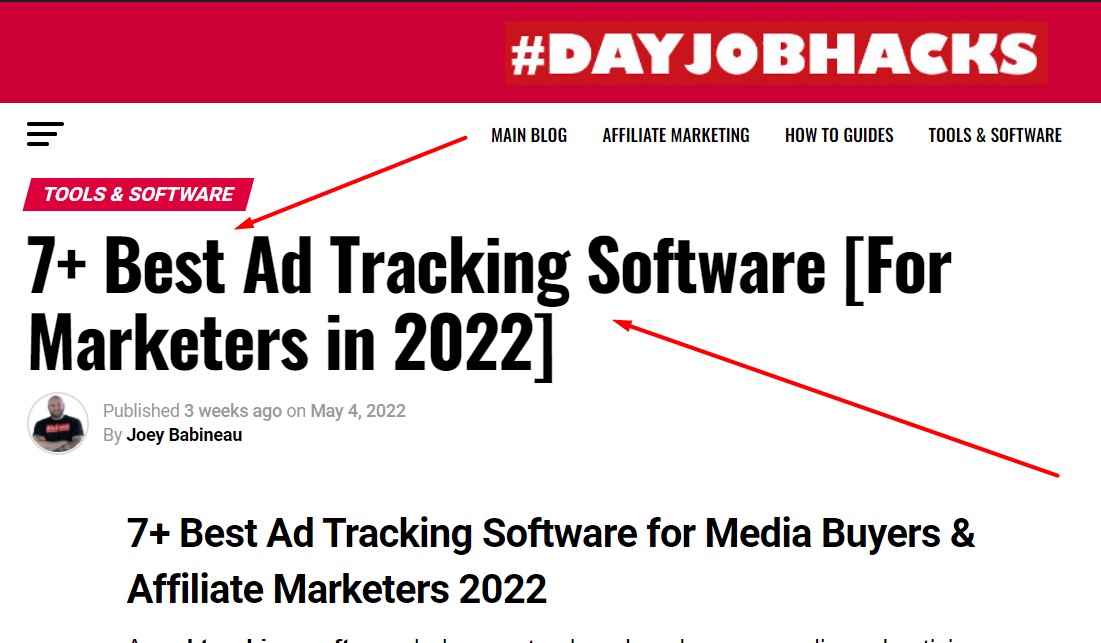 Approximately 70% or more of your blog posts should be transactional.
If your entire blog is transactional posts, you will not gain a valuable readership. This is why how-to posts are important. You want to gain the trust of your readers, especially when making an affiliate website.
How-to blog posts are those that provide readers with step-by-step instructions on how to do something. For example, the post you are reading on this blog is a "how-to" type of post.
They are usually written clearly and concisely, with the goal of helping readers accomplish a specific task. In this case, you want to make an affiliate website.
Some popular topics for how-to blog posts include cooking, gardening, car maintenance, and web design. These types of posts will include photos or videos to help readers follow along with the instructions. How-to blog posts can be beneficial for those looking for specific guidance on how to do something.
The most important part of making an affiliate website is the content. You need to write articles, reviews, and other types of content that will be helpful for people in your niche.
Here are some tips on how to make content for an affiliate website:
1. Write helpful and informative articles.
Your articles should be well-written and informative. They should offer value to your readers and help them learn more about the products or services you're promoting.
2. Focus on a specific niche.
It's important to focus on a specific niche when you're creating content for an affiliate website. This will help you attract readers who are interested in what you have to say.
3. Use keyword-rich titles.
When you write articles or reviews, be sure to use keyword-rich titles. This will help your content get found by readers searching for information on the topics you're writing about.
4. Be honest in your reviews.
If you're reviewing products or services on your affiliate website, be sure to be honest in your review. Don't try to sell readers on something you don't believe in to make a commission.
5. Offer helpful tips and advice.
In addition to writing articles and reviews, you can also offer helpful tips and advice to your readers. This type of content can be very valuable to people in your niche.
6. Use images and videos.
Images and videos can help make your content more engaging and enjoyable to read.
Here is a great video that explains my checklist for creating highly optimized SEO blog posts:
6) 2 Essential Plugins to Help Your Affiliate Website Performance
There are thousands of plugins available for WordPress, so finding the best ones can be challenging. However, there are a few things you can keep in mind that will help you find the best plugins for your needs.
To install a plugin simply go to your WordPress dashboard and click on Plugins >> Add New. Then search for a plugin and click install >> activate.
First, consider what you want to add to your site. There are plugins for almost anything, so you should be able to find one that meets your needs. If you're unsure what you need, look at some of the most popular plugins and see what they offer.
The plugins I use for all of my affiliate websites include:
Wordfence – Wordfence is a free WordPress security plugin that provides a comprehensive defense against malware, hacking attempts, and other online threats. It's one of the most popular WordPress security plugins, with over three million active installs.
Rank Math – Rank Math is an SEO plugin for WordPress that allows you to optimize your website for better search engine visibility. It is a free plugin that is available in the WordPress repository.
With Rank Math, you can easily add title tags, meta descriptions, and keywords to your posts and pages. You can also optimize your website for social media sharing. Rank Math also allows you to create custom permalinks and redirects.
To get started with Rank Math, you can install the plugin from the WordPress repository
7) Monetize Your Website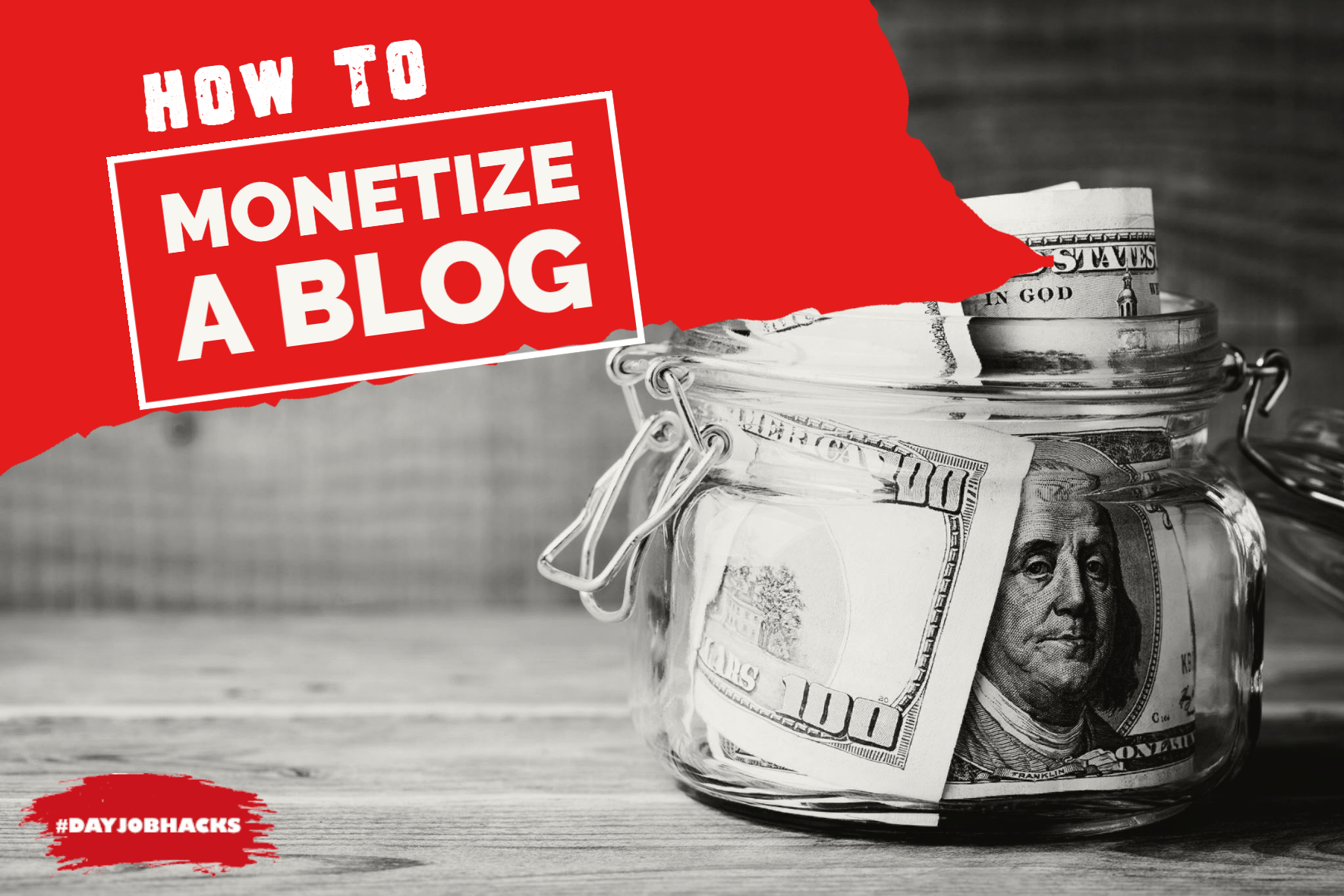 As mentioned above, a lot of your revenue from making an affiliate website will come from your transactional blog posts. So you must join all the affiliate programs of the products you write about. Depending on the size of your niche, you could potentially join hundreds of affiliate programs as you continue to grow your website.
Once you have joined the programs, you can start inserting those affiliate links into your posts. You don't have to wait to join an affiliate program in order to create content. You can create your content first to get it in the search engines, then start joining affiliate programs.
In addition to affiliate links you can also monetize your blog in several ways including:
1. Sell products through your blog. This can be done by setting up an online store using a platform like Shopify or by using a service like Amazon Fulfillment to sell products through your blog.
2. Offer consulting services or coaching programs. If you have expertise in a particular area, you can offer your services to clients through your blog.
3. Create and sell an e-book or online course. This is a great way to monetize your blog if you have valuable information to share.
4. Sell physical products. If you have a product you can sell, you can use your blog to promote and sell it.
5. Offer services like web design or copywriting. If you have skills in a particular area, you can offer your services to businesses through your blog.
6. Use your blog to generate leads for your business. This can be done by including a contact form or a call to action on your blog posts.
7. Use Google Adsense – Google will pay you to display ads on your blog. Simply join Google Adsense for free and get started Be sure you have lots of good content before joining, or you will be denied.
8. Make money through sponsorships or paid reviews. If you have a popular blog, you can make money by selling advertising space or by reviewing products and services for companies.
9. Use your blog to drive traffic to your other websites. This can be done by including links to your other websites or blog posts.
These are just some of the ways that you can monetize an affiliate blog. Experiment and see what works best for you.
8) Promote Your Website
There are a few key ways to promote an affiliate website successfully.
First, it's essential to have great content that is relevant to your niche and audience. This means creating blog posts, articles, or even videos that offer value and information about your selling.
Secondly, promoting your affiliate website through social media channels is a great way to reach a wider audience. Creating social media profiles on sites like Twitter, Facebook, and LinkedIn can help to get the word out about your site.
One strategy I enjoy is creating Youtube videos on my channels Day Job Hacks or Powerhouse Affiliate.

You can also promote your affiliate website through paid advertising methods such as Google AdWords or Bing Ads or even Native Ads Platforms.
Using these techniques, you can reach a larger audience and generate more traffic to your site.
9) Build a Loyal Email List
Making an affiliate website can also include email list building. A fantastic way to create long-term revenue from your affiliate website is to build your email list.
As you can see from the home page of this website, the main goal is to build an email list by giving away my free "Blueprint for Creating Wealth Online".
The easiest way to do this is to use a WordPress plugin like Optimizepress 3. I did an Optimizepress 3 review to explain exactly how this works.
Basically, it is a landing page and squeeze page builder that easily integrates with email list management and autoresponder so that you can easily build a list from your blog.
Aweber is the autoresponder tool I use to manage all of my email marketing.
Try Aweber Free!

You can also use a plugin like Optinly to show email capture forms throughout your blog.
Bonus Tip – Automate Your Email Follow Up
One thing I like about Aweber is that it can automatically send out an email broadcast to all of my subscribers when I publish a new post on my blog.
Blog broadcasts are a great way to keep your subscribers updated on your latest blog posts. With Aweber, you can easily send blog broadcasts to your subscribers with just a few clicks. Best of all, you can schedule your broadcasts ahead of time so that your subscribers will always be up-to-date on your latest content.
Another thing I do is setup up a 30-day email sequence that is also automated.
FAQs for Making an Affiliate Website
How much does it cost to build an affiliate website?
Most of the cost of making an affiliate website is time. In addition to time, you will need approximately $75 -$100 to set up your hosting and domain name.
If you choose to add additional affiliate marketing tools it may bring your budget into the $200 – $300 range for a startup. This is still a meager business startup cost which is why making an affiliate website is so popular.
Joining affiliate programs is free, and you do not need to pay.
How to Create Affiliate Links for Your Website?
I prefer to set up all of my affiliate links as redirects on my server. This is an advanced strategy, but I do this because it makes it easy for me to link to multiple products on the fly, and change out links across the entire site by simply changing where the redirect goes.
For example, I am an affiliate of Aweber. Therefore any time I link to Aweber from this website, I use the following format dayjobhacks.com/aweber. I set up the link to redirect to the affiliate link I got from Aweber's affiliate dashboard.
Are affiliate websites profitable?
Making an affiliate website is a great way to earn money online. The fact is affiliates make money. But how much money they make depends on a lot of factors.
For example, the number of visitors to their website, the number of sales they generate, and the commission rate they receive all influence how much money an affiliate can make.
Additionally, the niche an affiliate website is in also plays a role. For example, websites that focus on selling products in the health and fitness niche, finance niche, and love and romance tend to be more profitable than other niches.
So, while affiliate websites can be profitable, how much money they make depends on several factors. The good news is that making an affiliate website about pretty much anything can be profitable with effort.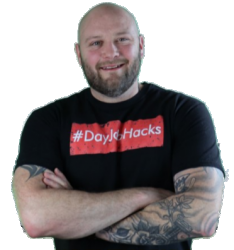 Latest posts by Joey Babineau
(see all)