Optimizepress 3.0 is the go-to page builder for WordPress websites with a strong track record in helping create landing pages with a high conversion rate. I use Optimizepress in almost all of my online marketing campaigns.
In this Optimizepress 3.0 Review I will go over this WP plugin which has a straightforward interface but lots of features that are ideal for online marketers and website owners.
Optimizepress 3.0 has lots of features not only for building highly professional landing pages, but also specific features for membership websites like creating membership portals, funnel pages and webinar registration pages.
These built-in features let us segregate web pages for members and non-members without having to use extra plug-ins. Fewer additional plug-ins means a faster loading speed and less money spent on website management.
Learn more about the advantages of using Optimizepress 3.0 and how it helps build high converting web pages.
1. Very Affordable Web Page Builder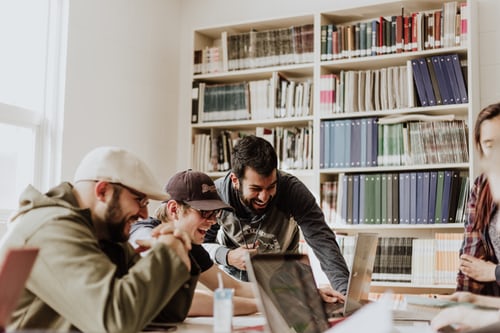 Optimizepress is one of the most affordable landing page builders available and considering its many features and performance, it is also one of the best value for money options.
There are 3 available plans; Essential, Business and Suite. Their Essential plan is a little more expensive than the basic plans from alternatives like Karta and Unbounce. However, the Business and Suite plans are generally more affordable than the advanced plans of their competitors.
All 3 plans are annual payments with a reminder to extend 30 days before the plan expires. During this year users get to generate unlimited pages, so there is no reason to feel restricted and no risk of scrambling for a more advanced plan because the website cannot keep up with the customer demand.
2. 30 Days Money Back Guarantee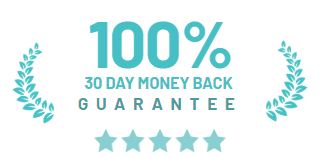 With paid plugins, it always gives a greater peace of mind when we can get a free trial. Although Optimizepress does not exactly offer a free trial, the company does give a 30 days money back guarantee.
Essentially, this comes down to the same thing. If the plugin does not fit our needs, we can unsubscribe within those 30 days and get a refund.
The reason why the company does not offer a free trial is because certain elements of the software can be downloaded. This is necessary for creating backup files.
There is also a solution offered for when the software does not work properly within that first month guarantee. In that case, the user can request replacement software.
3. 3 Packages Available

Having the choice between 3 different packages gives the user more flexibility in budget. The features do get more advanced with each upgrade but even the basic Essentials plan is expansive.
Key features of the Essentials plan is unlimited pages, leads and traffic, access to over 100 page templates and over 20 integrations with other software and plugins. The user also gets access to technical support via email.
In the business plan, the email support gets upgraded to a priority list. There are more templates to choose from and more stock images thanks to the Unsplash integration. Most importantly, it lets the user create a onepage membership course and add scarcity alerts.
The premium suite is specifically for online marketers and includes funnel pages, opt-in pages and a checkout page for purchases.
4. Faster Page Loading with Optimizepress 3.0 Update
For those that have not been using Optimizepress 2.0 it is best to go straight to its latest update. One of the biggest advantages of this latest update is that the web page load speed is much faster.
Page load speed is very important in driving conversions because viewers quickly click away a page when it loads slowly. The window of waiting time is very short, a matter of 3 seconds or even less.
Every viewer that closes the page is a lost opportunity for a conversion so load speed is essential.
Don't risk losing another customer and make full use of the speed of Optimizepress 3.0.
5. Includes Responsive Design
Another essential tactic in gaining traffic is responsive web design. A responsive web design means that the website format automatically adjusts to the device it is being visited from. In other words, the website format on a laptop looks different compared to the mobile site.
Responsive design is important because it drastically improves user experience. A better user experience leads to longer site visits which in turn lead to higher chances of conversion.
The responsive design features on Optimizepress 3.0 go further than many other plugins. Not only is every template customizable for mobile use, the conversion features are, too.
With this plugin, each web page can be adjusted with a different sales funnel for each type of device. Optimized funnel pages strongly improve UX so the conversions across the different device types increase.
6. No Coding or Graphic Design Knowledge Needed
One of the reasons why Optimizepress 3.0 is such a popular page builder is that anyone can learn to use it, even those without any experience in coding or design. The website builder does not need to understand coding graphic design with this tool.
This is such an easy page builder to use because of its Lightning Builder feature. Basically put, it is a drag and drop system. Page elements are available in the templates and the website builder simply needs to click on the element, drag it to the right location on the page and lift the finger from the mouse. That's it.
This simple interface makes the entire process very intuitive which is perfect for new online marketers and small business owners that have little or no experience in the digital world.
The drag and drop feature is possible for both adjusting the existing templates or creating a completely original page from zero. This gives the website builder total freedom.
7. Real Time Page Editing with Live Editor
Closely linked to the Lightning Builder is the Live Editor feature. This is the star feature of Optimizepress 3.0 and one of the biggest reasons why it is so intuitive and time saving. The program uses inline editing and full screen editing.
Inline editing refers to how the software shows a contextual toolbar depending on the element being worked on. In other words, the toolbar changes as the mouse selects a different element.
The benefit of a contextual toolbar is that it is more concise and saves the website builder time with faster edits.
The other noticeable aspect of the Live Editor is that the lack of a sidebar with options also saves screen space. Instead the page being worked on takes up more space so that each element is bigger and clearer.
These 2 aspects together give the website builder a clearer and instant preview of what the page looks like live. No need for refreshing or changing tabs.
8. Free Templates Available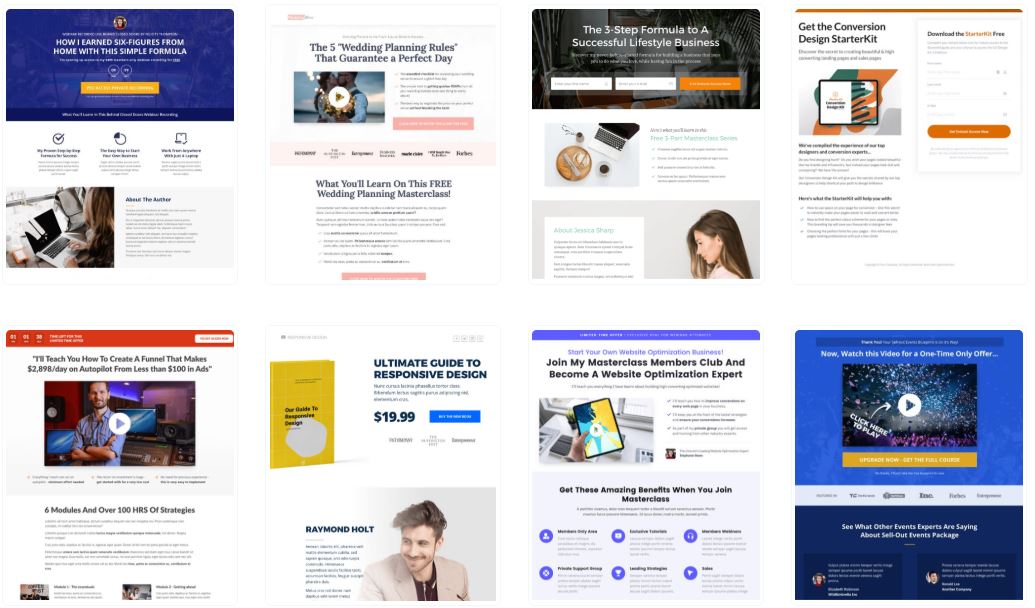 With so many features available, we might find ourselves facing too many choices. It is nice to know that there are plenty of great looking templates readily available in Optimizepress.
Each template is free for customization so each website builder can still add an unique twist to every format. This way, the templates serve as both instant solutions or a basic design for further tweaking.
The good news is that the template library changes every day. This means that there are new improvements to the templates, as well. In other words, don't despair if the perfect layout is not found yet, a solution is on its way.
9. Customizable to Every Marketer's Needs
Optimizepress is truly a marketer's tool. The amount of features geared towards optimizing pages for conversion is astounding.
The Business plan allows for opt-in pages which generate new leads for the business. These opt-in forms can pop up anywhere on the website.
The website builder also gets to customize marketing funnels to capture the viewer's interest. Whatever the product or service is, this software offers flexibility in creating that funnel.
Finally, conversions are made easier thanks to the integration with payment methods. Bonus points for responsive payment pages!
10. Works Well with Third Party Plugins
This is not the type of WordPress plugin that limits all other possibilities on the website. Quite the contrary because Optimizepress 3.0 offers plenty of integrations.
Each of these integrations either simplifies the website building and management or enhances the UX. Examples of integrations are the Unsplash stock photo library access and Drip Content for directed and scheduled emails to members.
The other good news is that the faster load speed of the latest Optimizepress update compensates for the extra data usage of the additional plugins. In other words, using the integrations won't slow down the page load speed and so won't risk losing customer conversions.
11. Drip Content for Scheduled Customer Engagement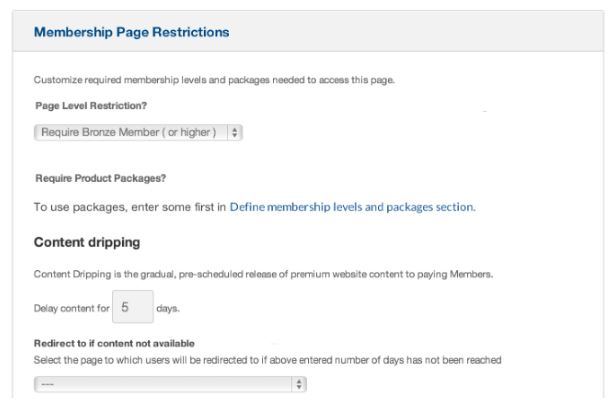 Drip Content is the next evolution of email marketing. Email marketing integrations are also available but this specific integration is even more exciting, for both the website owner and customer.
In short, Drip gives members access to specific pages of the website, either for a limited amount of time or for as long as the membership lasts. This is a highly useful tool for paid online courses or members only events.
It is also a great planning tool because the member access can be scheduled. This means that the website manager does not need to worry about missing the specific timing as long as the access is planned for beforehand.
Another benefit of dripping content is that it prevents members from copying or downloading access. It is possible to make the specific page accessible once only. Without continuous access to the content it is protected and serves as a reason for continued membership.
12. A/B Testing Options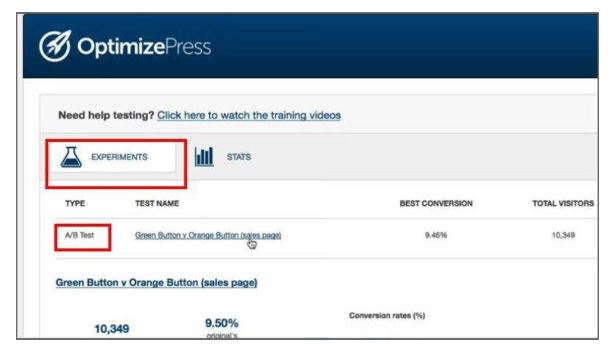 Data speaks volumes and any good marketer knows that information on the target market is the best start for driving traffic and conversions. However, the data by itself has no effect, a plan of action is needed to see actual results.
That is why marketers often use A/B testing on their products and marketing campaigns. In short, A/B testing is offering different versions of a product, service or marketing scheme and measuring which works best.
The A/B testing feature in Optimizepress 3.0 is quite advanced so it makes sense that it is only offered starting from the Business plan.
There are two ways to check the performance of specific pages on the website. The first is to compare the performances of pages as a whole. The second is to compare the performance of specific page elements.
The tool does all the thinking so it is simply a matter of reading the results and applying the necessary changes.
13. Lead Capturing
Conversions sometimes take time which is why saving lead information is so important. There are 3 main lead capturing tools; opt-in forms, the overlay optimizer for managing how the opt-in forms appear and a button creator.
The website owner gets to save viewer information such as the name, email address and other contact details so that the funnel can be further adjusted for stronger targeting.
Who Should Use Optimizepress 3.0?
Optimizepress 3.0 is an asset for any marketer that uses WordPress as their host. It is a comprehensive plugin with features specifically designed to improve conversions through a better UX and generating leads.
This is a fantastic tool for beginners because the interface is simple, intuitive and does not need background knowledge of website design or coding. Anyone who has some experience with WordPress will feel comfortable using the plugin.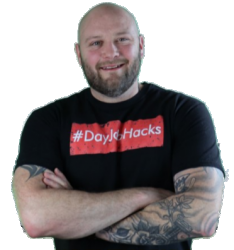 Latest posts by Joey Babineau
(see all)