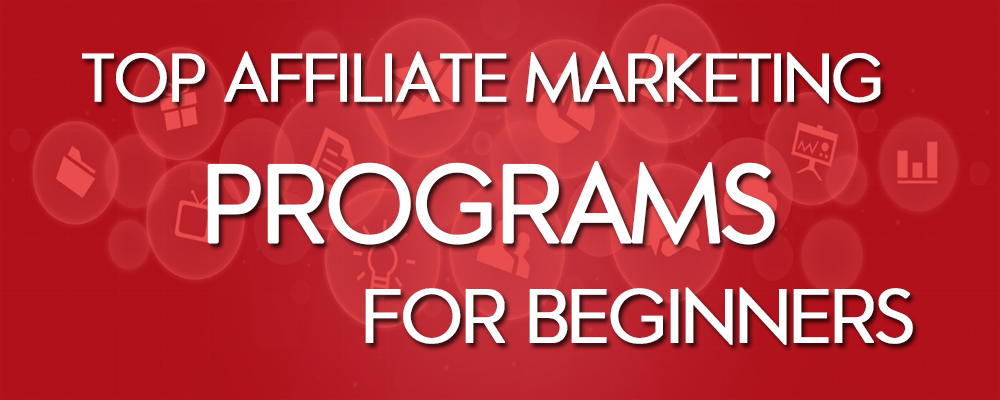 As a beginner it can't be very overwhelming while searching for information on affiliate marketing programs. With thousands of programs out there, it can be hard to determine which ones are legitimate and which are potentially a scam. Some programs require some background experience while others are easy to use for the first time affiliate. We're going to take a close look at the top affiliate marketing programs available and which is best for you.
Affiliate marketing programs have been proven to be the #1 way to monetize your Facebook fan page, website or blog, Youtube channel or Instagram audience.
Before we go too deep, it's important to cover some basic concepts that will help you understand the affiliate marketing program landscape.
No Two Affiliate Marketing Programs Are The Same
Each affiliate marketing program typically has a unique structure, earning requirements and payment conditions. It's very important that you understand the program before you begin. There are some basic questions that need answered.
How do I earn commission?
Does it require someone to buy something?
Does it require someone to signup for something?
What other requirements need to be met?
How do I get paid?
Do they send a bank wire?
Do they pay via Paypal?
Are there other payout methods?
When do I get paid?
How often do I get paid? Weekly? Monthly?
What is the minimum payout amount?
Are there any restrictions I should know about?
Do you only accept referrals from a particular country?
Is there anything that could happen to cause me to lose my earnings?
Most times you can find the answers to these questions by visiting the FAQ section of the affiliate marketing program's website. It might seem like "overkill" to cover all these bases when you want to start earning FAST… but trust me! You will thank me later when you avoid potential payment issues and disputes when it's time for the program to pony up that sweet moolah.
With all that being said, there are some VERY reputable affiliate marketing programs out there with proven tract records and are completely trustworthy as long as you follow the rules.
Amazon Associates
This is actually the perfect affiliate marketing program for beginners. There are over 12 million products available on Amazon which means there are thousands of different niches you can potentially promote! As an affiliate you can generate links on the go for any product you see listed. You're paid up to 10% as an affiliate for the sales generated by your tracking link.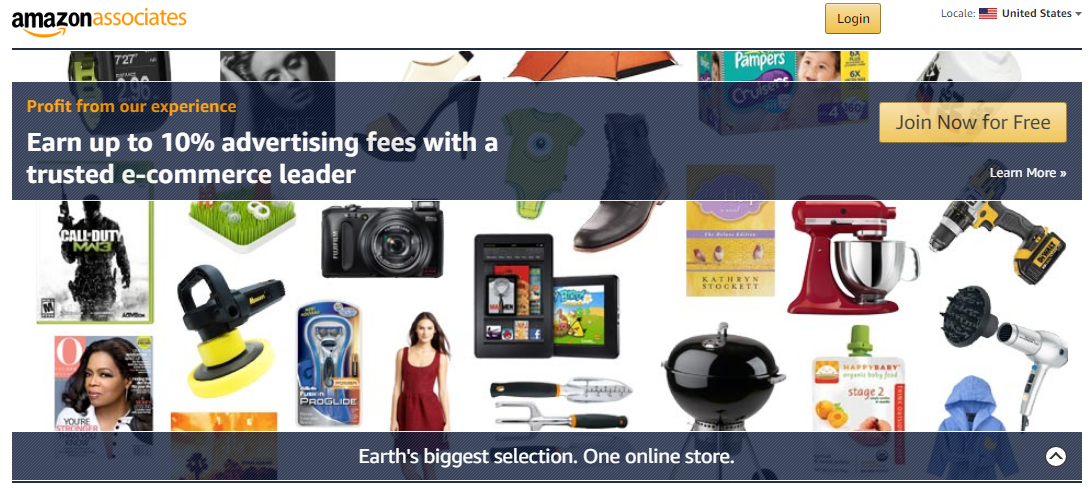 Below is a breakdown of Amazon advertising commission percentages.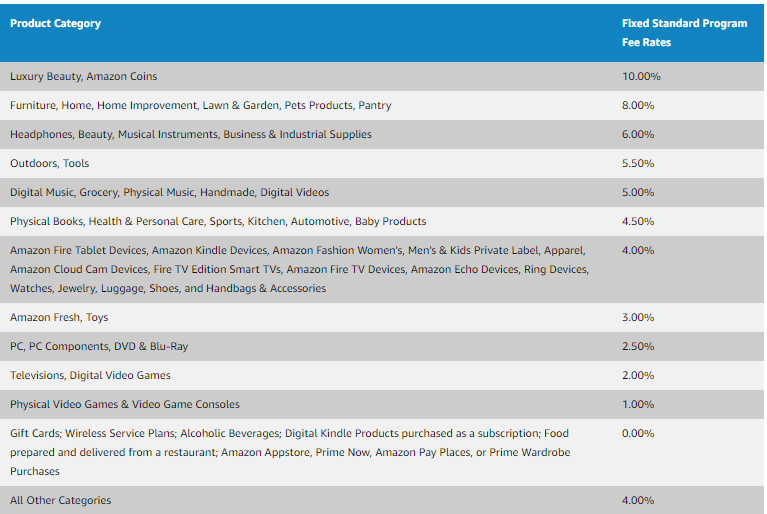 ---
Ebay Partner Network
Here is another great affiliate marketing program for beginners. Just like Amazon, Ebay has millions of products to choose from which makes it extremely easy to find products for virtually any niche. Ebay Partner Network provides links as well as banner creatives to place on your blog or website, making it extremely easy to promote their products. The BIG seller for Ebay Partners is the amazing
50% – 70% commission earned by affiliates! This makes Ebay one of the most popular affiliate marketing programs around.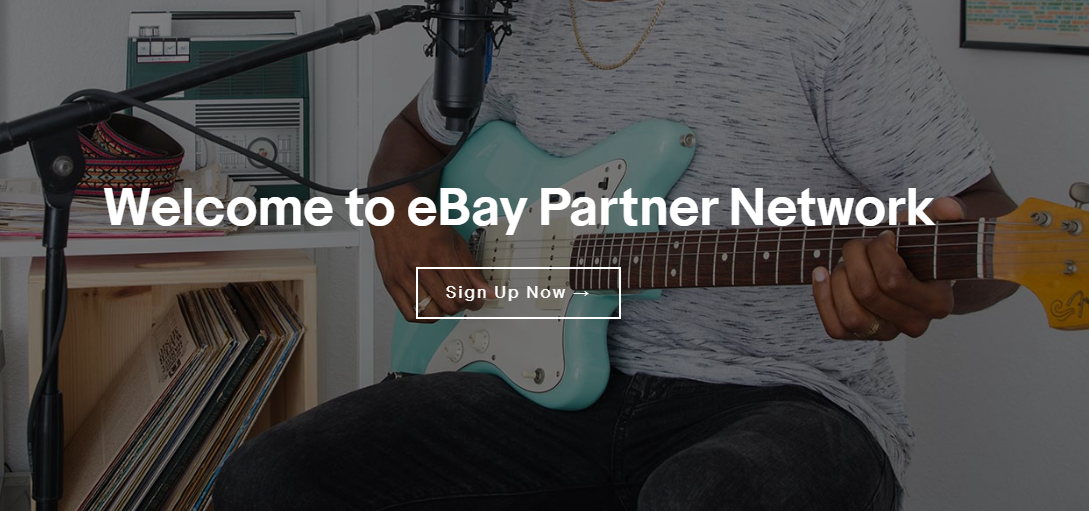 Here are the details on Earning with Ebay Partner Network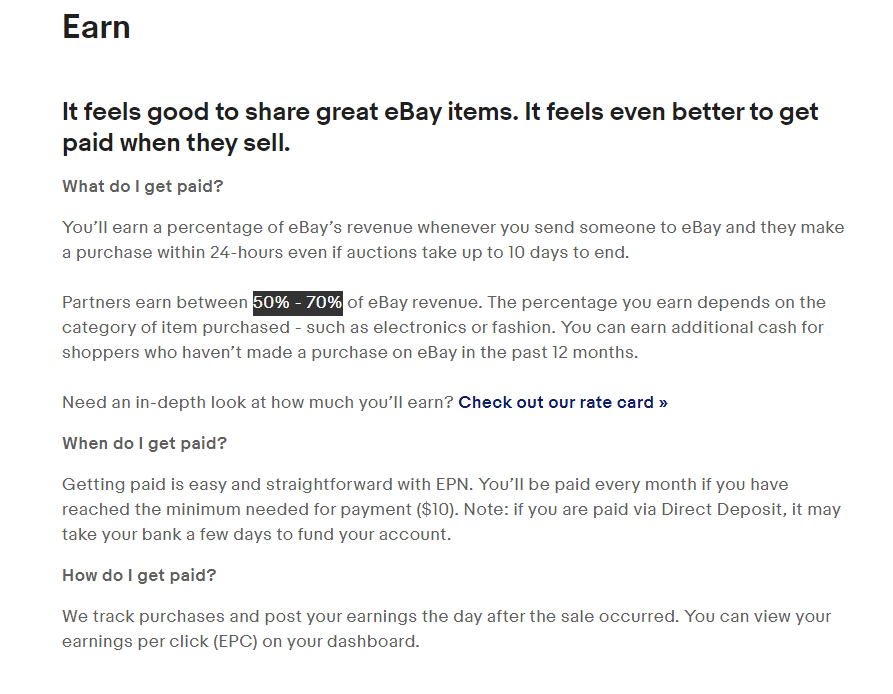 ---
ShareaSale
ShareaSale is another affiliate marketing program giant that's been around for close to 20 years. They are a more brand targeted affiliate program that is more suitable for the amateur or intermediate marketer. A great advantage that ShareaSale has over it's competitors is "real time" tracking abilities along with "custom link creation" for it's affiliates. It certainly worth a try for anyone looking to scale their affiliate marketing program efforts.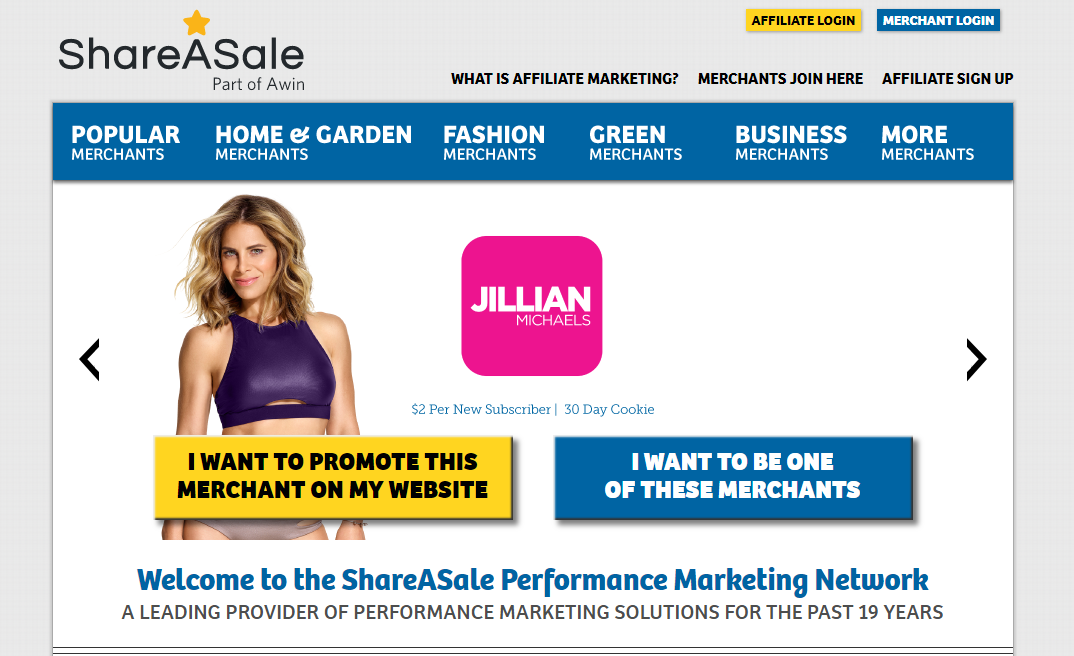 Here are some of ShareaSales' great features offered to their affiliates.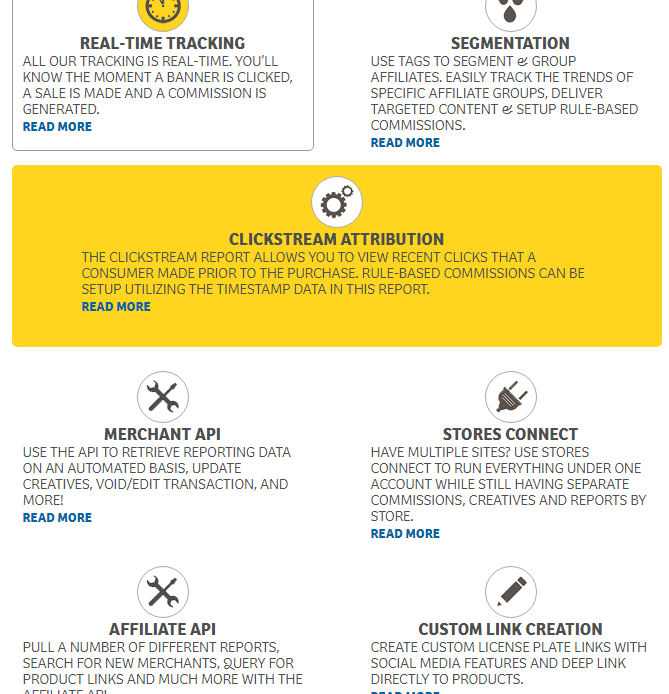 ---
Clickbank
We can't talk about affiliate marketing programs without talking about Clickbank. Over the years, Clickbank has proven itself to be the top affiliate marketing program, especially in the world of CPA marketing. Clickbank focuses on digital products, over 6 million to give you an idea. Promoting products from Clickbank prove to be more difficult than the ones from places like Amazon and Ebay. However, the payouts (up to 75%) and potential to scale is much greater and can lead you to making some serious money. There are many people who promote Clickbank products full time as their main source of income. Don't shy away from Clickbank if you're a beginner, you will find great value within the affiliate marketing program.
Here's a quick look at some of the products Clickbank offers to it's affiliates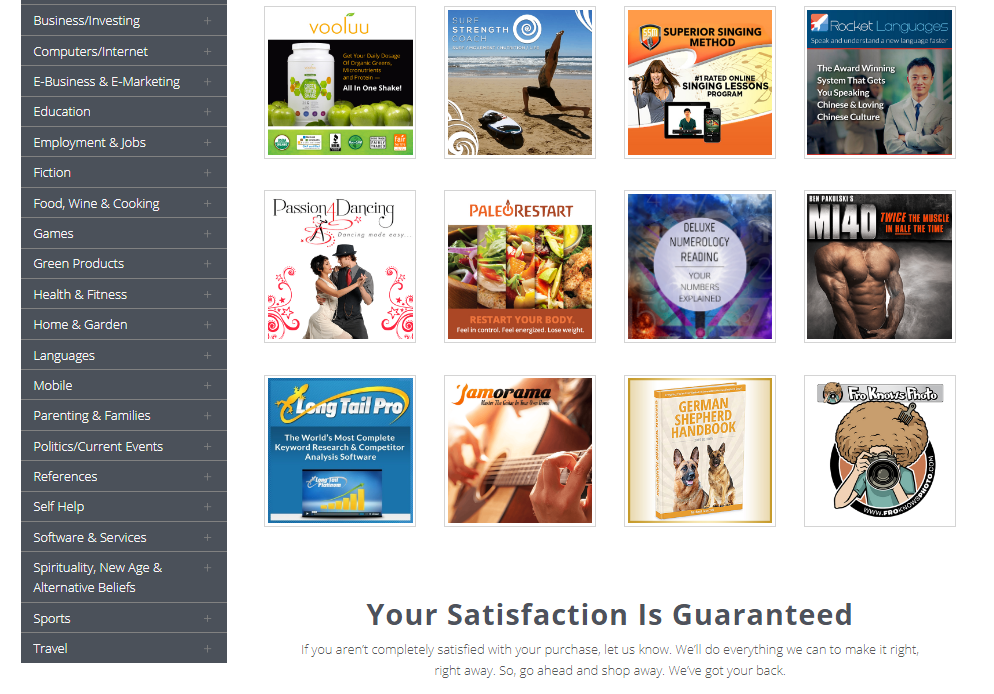 ---
Shopify
With over 500,000 stores online, Shopify is an easy sell to the right demographic. Unlike the other platforms that have thousands of products to promote, Shopify actually pays to promote itself. That's right, you're promoting Shopify. This can make it harder to promote than other affiliate marketing programs but the rewards are great with up to 400% commission per sale. It actually gets even better! If any of your referrals signup for Shopify Plus, you're rewarded with a $2000 bonus! Time to start making Youtube videos about Shopify with your affiliate link in the description!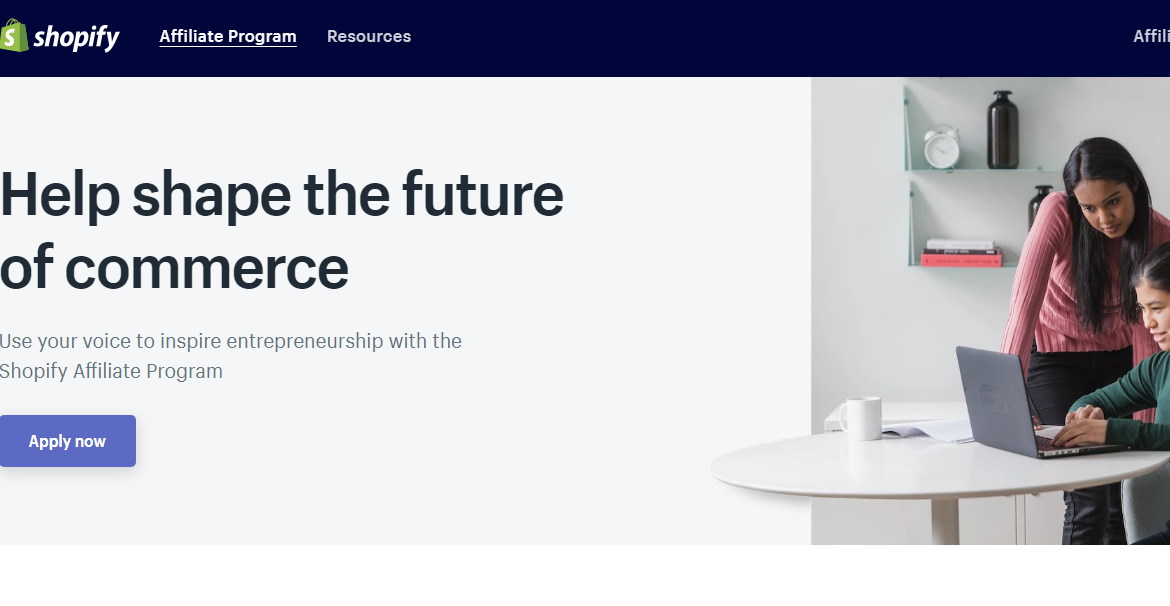 ---
CJ Affiliate
This affiliate marketing program is geared toward experienced to expert marketers. With some of the worlds largest brands, it's easy to see how this program hits 126M+ annual in paid affiliate commissions. CJ Affiliate does not have a public registration and for a good reason. They only approve affiliates who have proven traffic sources and marketing methods to protect the integrity of their big brand partners. Don't take it personally if you don't get approved the first time you apply to this affiliate marketing program.
---
Hostgator Affiliate Program
Just like Shopify, Hostgator affiliate program allows affiliates to promote it's service. Hostgator is one of the largest and most affordable hosting platform online and has a large reputation within English speaking countries, particularly North America. This makes Hostgator a very easy program to promote. You can earn a decent amount by simply creating "HowTo" videos on Youtube related to webdesign or other topics that require web hosting. This is especially an easy path for beginners to earn their first commissions.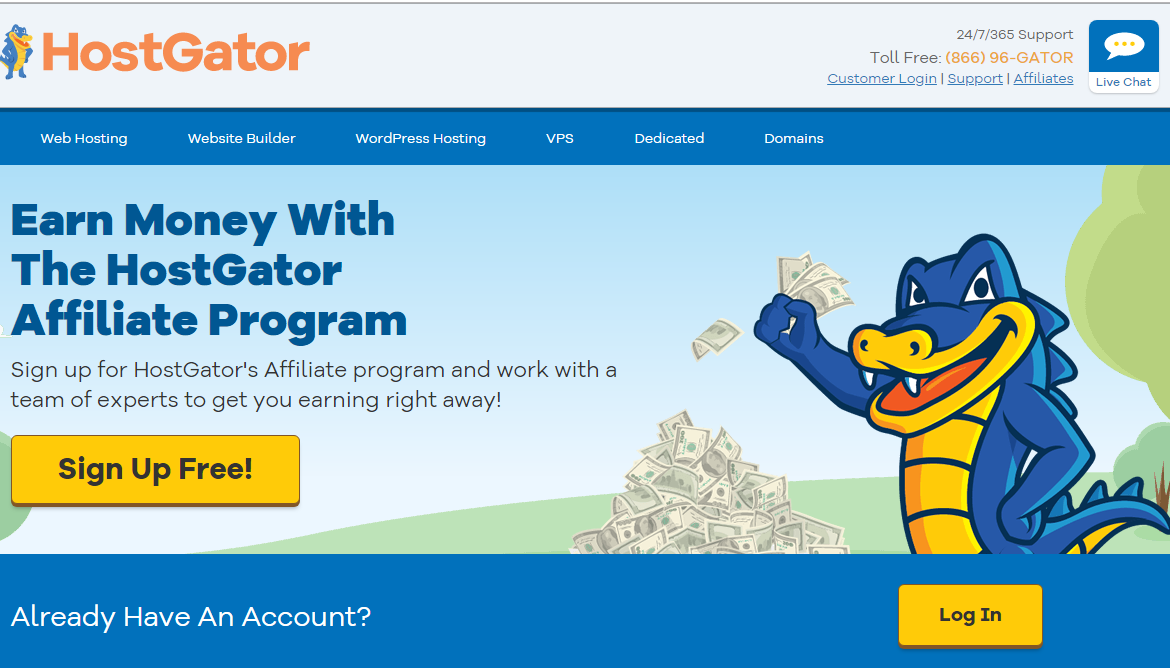 Check out the awesome referral structure provided to Hostgator Affiliates


---
Aweber Referral Program
Aweber is another affiliate program that promotes it's own services like Hostgator and Shopify. Aweber is an email marketing service provider that allows it's clients to send mass emails from white listed IP addresses. In other words, the help facilitate sending mass emails to you subscribers. This affiliate marketing program can tend to be extremely niche but with its 30% recurring payments per referral, it's can be well worth your effort. You can easily start with your marketing friends and earn some monthly dough. The Youtube content trick can work as well. Remember, each referral will land you money each month they stay with Aweber. This adds up very fast
Recurring Commission
You should take advantage of ANY affiliate marketing program that offers you monthly recurring commission. A simple $30 commission turns into $360 in a year. If you can rack up 10 referrals, that's $3600 a year or $300 a month! Earning month over month from a small amount of work that you did in the beginning is great….but it's only great if your referrals continue with the service! You will lose commission over time and eventually be left with nothing.
This is why you should continue to stack your recurring referrals each month to replace those referrals who may have canceled the service.
---
What Methods Can I Use to Promote Affiliate Marketing Programs?
There are thousands, if not millions of potential ways to promote products from affiliate marketing programs. The full extent of those potential methods are beyond the scope of a simple blog post but there ARE some very simple methods that even a beginner could implement.
---
Make a Youtube Channel
This is the most simple and cost effective way to promote affiliate marketing programs. Virtually everyone has a mobile phone with a suitable camera to make videos on the fly. Find a topic that is related to your affiliate product and create some videos. Typically "review style" and "howto" videos work especially well for this method. Don't forget to leave your affiliate links in your video descriptions!
---
Post In Forums & Online Communities
There are plenty of forums & communities online that discuss the newest and coolest products. These are great places to promote your affiliate links from your affiliate marketing program However, you do need to be somewhat creative. No one likes people who merely spam links and you will likely get banned quick. Facebook groups are also a great place get some quick sales if you are strategic and original with your efforts.
---
Join An Affiliate Marketing Program Training Community
The success rate for most people trying to make money with affiliate marketing programs is fairly low. The reason for this is that most people lack proper training and guidance. It is easy to started with the wrong methods and bad habits that almost always lead you to no earnings. This is why it is extremely important to find a reputable training community. This will ensure you maximize your chances of success and potentially even allow you to make life changing money! There is only one affiliate marketing program training community that comes to mind!

Powerhouse Affiliate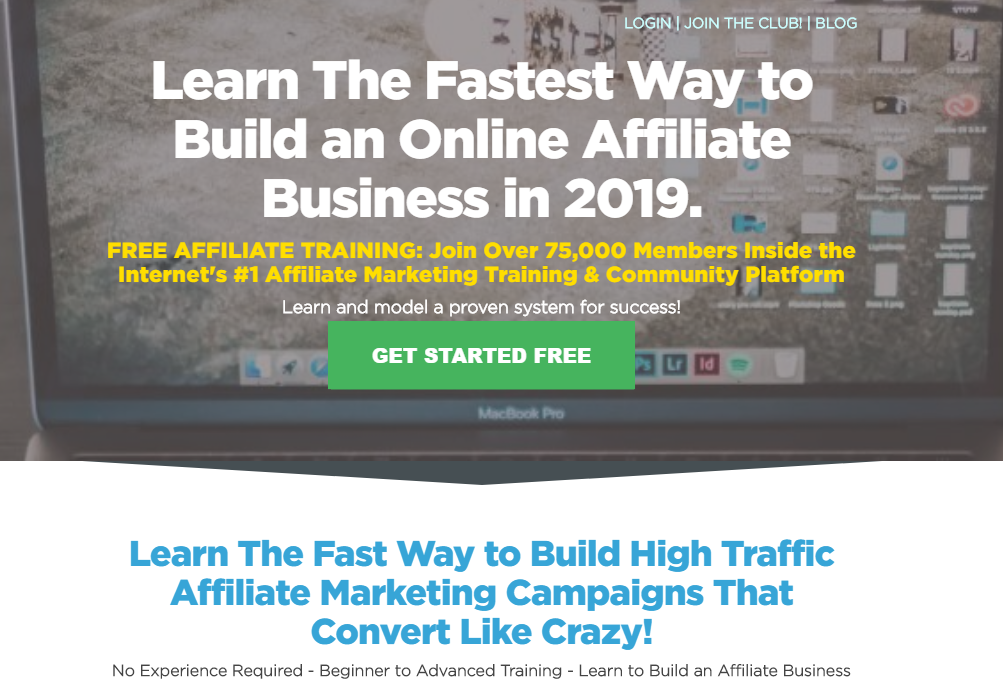 This training community will equip you with all the skills necessary to make it with in the affiliate marketing industry. Learn from industry experts who generate 7 figures annually in affiliate marketing commissions. The training is extremely comprehensive along with a progress indicator that tracks lessons while you learn.
Take advantage of their Mastermind Case Study campaigns that tell you Step by Step how to replicate their success and possibly earn $100+ each day! No other affiliate marketing program training community is doing this!
No matter if you are new or experienced, you should now have some great new avenues to next level your commissions and also join some of the biggest and highest paying affiliate marketing programs available! Happy earning!
If you enjoyed this post check out How to Build a Profitable Authority Niche Website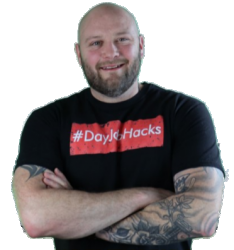 Latest posts by Joey Babineau
(see all)