If you're an online media buyer or marketer, there's a good chance you've had to create forms and surveys at some point for your landing pages.
They can help you:
Increase engagement on your website.
Segment your leads
Better understand your audience
Get feedback on your products and brand
Screen job candidates at the beginning of the recruiting process
Create submission forms for those looking to attend your events or join your groups
Set appointments with prospects and clients while gathering important info about them beforehand
Etc.
And just like it's essential to come up with the right questions, you must also create a great design, communication, and flow to increase the share of your audience that completes your forms and make sure they reflect your brand properly.
That's why it's crucial to pick the right form builder.
In this GoZen Forms review, we'll explore one of the most popular form & survey creation tools out there to help you make the right choice.
GoZen Forms Review
Quick Take:
GoZen Forms is a beginner-friendly tool that provides more templates and features than most form builders at lower pricing.
Unless you need a specific feature that's not present in GoZen, this is probably the best tool for you.
BEST FOR:
Solopreneurs and small businesses
PRICING:
Starts free
GoZen Forms Review – What is GoZen Forms?
GoZen Forms is a tool that allows you to create online forms, surveys, and quizzes for your audience.
It provides prebuilt templates, a drag-and-drop editor, and several other features that make it easy to create forms for a wide variety of use cases.
By creating good-looking forms that reflect your brand and have the right settings and features, you can get more and better responses, helping you gather data to improve your strategy and convert more leads.
GoZen Forms is part of the GoZen suite, which also provides other products.
That includes Content.Ai, an AI tool that assists you in creating high-quality content and images, Optinly, which allows you to engage your audience with gamified popups, and GoZen Growth, an email marketing software you can use to automate your outreach.
Let's go over GoZen Forms features.
---
GoZen Forms Review – Features
Form Builder
GoZen's drag-and-drop Form Builder allows you to create forms and surveys with several customization options.
It allows you to choose between slides and a single-page layout and customize all the aspects of the form, including the font, text color, background images, button text, error message, loading message, and more.
You can also add things such as a welcome screen, a thank you page, and a progress bar. This last one is excellent for increasing completion rates for short forms.
You can then create questions of different types, including:
Text
Paragraph
Multiple choice
Dropdown
Rating
Yes/No
Website
File upload
Etc.
You can also add default questions, such as name, phone number, and email.
Finally, the preview function lets you see how your form will look on desktops and mobile devices to help you ensure it's optimized for different device types.
Templates
You can create forms from scratch or start with a template.
If you go with the latter option, GoZen provides over 175 templates from 19 categories for different industries and use cases. That's far more than most form builders offer, which makes you more likely to find the perfect fit and save a ton of time when building your form.
Some of the categories available include:
Ecommerce
Education
Lead Generation
Nonprofits
Job Application
Real Estate
Gaming
Entertainment
Etc.
Each category provides templates for particular cases. For job application, for instance, you'll find an online interview questionnaire, a simple job application form, a CV application form, an online internship application form, and more.
Skip Logics
The Skip Logics feature allows you to create a human-like conversation in which the form asks the right question based on your audience's answer.
That's extremely useful if you want to ask different questions to specific groups of users.
For instance, you could ask customers to rate their experience with your brand and, to those who rated it poorly, ask why.
Another use case would be when setting up appointments with your leads. You could ask which days they prefer and then only display the times available for those specific days.
Share Forms
You can share your GoZen forms in two ways: by sharing the link or QR code or by embedding them in your webpage.
If you decide to embed it, there are three options you can choose from:
Inline Embed – The form will appear as a part of the webpage
Full Page – The form will appear as a full page on your screen
Popup – The form will appear as a popup
Insights
GoZen's insights & analytics features provide a clean interface that makes interpreting data easy.
When entering the analytics dashboard, you'll first come across the total number of people who opened, started, and completed your forms, as well as the completion rate.
You can also see how many people answered and skipped each question and segment data by device and completion period.
Integrations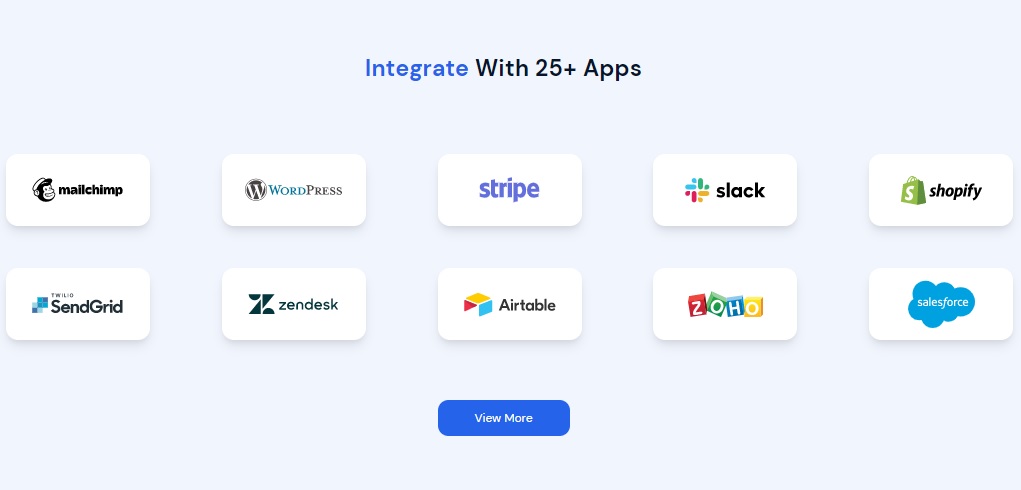 GoZen provides over 25 integrations that allow you to sync your audience's responses and data with apps that enable you to optimize your marketing and sales strategy further.
Some integrations available include WordPress, Slack, Shopify, Zapier, HubSpot, and more.
Other features
Other available features include establishing a start and end date for when people can respond to your forms, limiting the number of responses (i.e., for when you're conducting an event), collecting E-signatures, the lead scoring feature (which allows you to segment and qualify MQL & SQL without difficulty), and more.
GoZen also allows you to add teammates and provides team collaboration features, although that's only included in the paid versions.
---
GoZen Forms Review – Pricing
GoZen offers five different plans, including one free.
The FREE one includes two basic forms, 500 responses per month, one user, 100MB storage, and ten questions per survey, and it allows you to embed your forms into one domain.
It also comes with most key features, including Skip Logic, form reports and analytics, and GoZen's integrations. Forms built in this plan also come with GoZen's branding.
The premium plans are very similar in features, with very few differences besides the usage limits.
They all come with premium forms with more advanced customization options, unlimited questions, unlimited domains you can embed forms on, chat support, and no GoZen branding.
The STARTER plan costs $9 per month and includes up to 1,000 monthly responses, 1GB of storage, three users, and two workspaces.
The PREMIUM plan starts at $24 per month with up to 5,000 responses, 2GB storage, five users, and five workspaces.
The PROFESSIONAL plan comes at $49 per month and allows up to 10,000 responses, 5GB storage, seven users, and seven workspaces. In addition to the STARTER and PREMIUM features, it also includes a Stripe integration and email support.
Finally, there's the ADVANCED plan for up to 100,000 responses per month, 10GB storage, ten users, and ten workspaces, starting at $99 per month.
---
How it Compares to Alternatives (+ GoZen Forms reviews from users)
The good
GoZen boasts excellent ratings across software review platforms. Here are some of them:
After comparing GoZen with the most popular alternatives, we found it to be far ahead in most aspects.
It provides more templates, features, and customization options than them at lower pricing. SurveyMonkey and Jotform, for instance, lack important features, such as theme customization and Skip Logics.
The most similar tool to GoZen in terms of pricing and features is Typeform. However, while looking at GoZen Forms reviews from users, we found many who had recently switched from it and found much better value for money in GoZen, with practically no downsides.
Here's a comparison table between GoZen and those three alternatives:
Finally, many users also found it easy to use, making it friendly for beginners.
The bad
Despite the ease of usage that pleased most users, part of them mentioned some difficulty to use a few specific features like Skip Logics in the beginning.
In addition, GoZen needs to catch up on the number of integrations available, which is currently 25. Typeform, by comparison, provides hundreds of integration options across different categories.
Another downside is not being able to use your domain in your forms' links, which would make them appear more professional. Some users complained about this and had previously assumed this was possible as premium features included 'unlimited domains'. That actually refers to the domains you can embed your forms on.
Finally, it would be wonderful if GoZen had an add-on service that allowed you to order responses to your surveys from a qualified audience through its platform, something that SurveyMonkey and some other tools offer. This would help consolidate GoZen's position ahead of other form builders.
To close this section, here are some GoZen Forms reviews: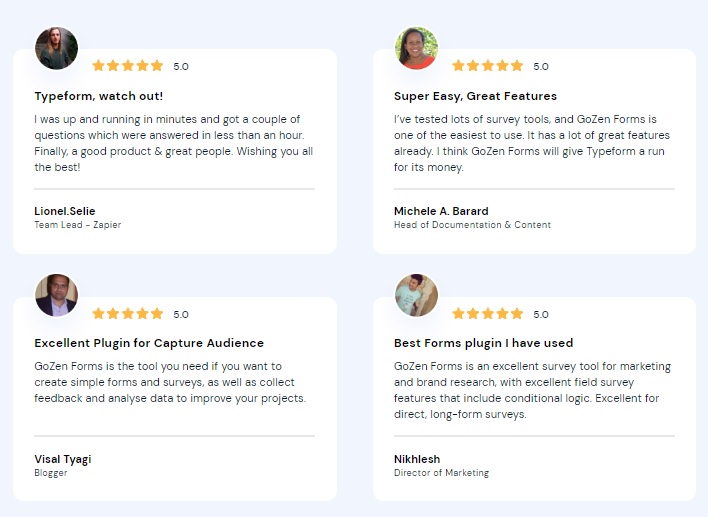 VidIQ Re
---
GoZen Forms Review – Pros & Cons
GoZen Forms Review – PROS
-175+ templates
-Number of customization options available
-Skip logics feature
-Value for money
-Easy to use
-Free forever plan
GoZen Forms Review – CONS
-Fewer integrations than alternatives
-You can't order responses
-Some specific features may require a learning curve
---
GoZen Forms Review – Final Thoughts
GoZen Forms has few disadvantages compared to most alternatives and provides more templates, customization options, and features than them for much lower pricing.
Unless you need a particular integration or feature that's not present in GoZen, this is the best tool you can use to create successful forms, surveys, and quizzes in an easy way.
The best part?
It has a solid free forever plan you can use to try the platform. If it doesn't fit your needs, it'll at least let you try the tool before spending anything.
---
Further reading: 10 Awesome Landing Page Optimization Tools to Make Your Life Easier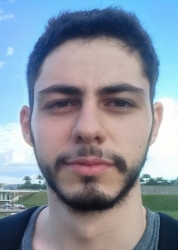 Latest posts by Pedro Tilki
(see all)