In today's post, I'm going to teach you how to build an email list without a website and how to scale it fast by providing you with one hundred dollars in free ad credits.
I've been building email lists for many years now and a lot of our training and courses in Powerhouse Affiliate cover this topic. But why do you need to build an email list? The answer is simple. It means you're building an asset online. It gives you stable, steady, daily traffic that you can monetize even when everything else is failing.
There are other reasons, but I'm not here today to convince you on why you should do it, but to teach you how to do it. But trust me when I say, every affiliate marketer should be doing email list building.
I'm going to teach you how to build a list with a very, very small budget. In fact, if you have zero money, you can still start doing this today and start building your own list using a free autoresponder. I'm going to show you how to set it up, how to get the free opt-in and how to scale it with free traffic; all in 8 easy steps!
Find Your Niche
Niche selection is basically choosing a topic as well as an audience. Who are you going to cater to? Who do you want on your email list?
We have a completely free course for this at Powerhouse Affiliate, so I'm not going to ramble on about that today. If you go into the webpage and sign up for the free membership then you can go to the first course, which is absolutely free. All of the other courses are part of the premium membership, but all you'll need to set this up is available at no cost. Inside the first course, you'll see we have an entire lesson on niche and target research, which is what you want to read if you need to define your niche.
Get an Autoresponder
The next thing you'll need is an autoresponder. This is what's going to store all of the emails addresses you collect, all the automated emails and it's also going to allow you to set up campaigns to monetize the mailing list.
For this, I recommend a tool that many people use, including myself. Aweber is a great tool that has a free option for up to 500 subscribers. This is perfect for beginners and means you can have a list of up to 500 people for free, which is a great starting point. So sign up there and get started today!
Once you sign up and log in, you can simply click on 'lists' on the top right corner and create a new list. In this case, I've created an example list called 'pain relief' that I'll use from now on to show you how to proceed. Aweber will take you through a step by step process that's very simple and they also provide a lot of training as well on the site that I highly recommend checking.
Get Your Opt-in Bait
Before you set up an opt-in page to collect the email addresses, you'll need some bait. This is what you're going to give away to your audience in return for their email address.
Now, to do that, I recommend going into IDplr which offers plenty of free content you can choose from. You can sign up for free, which will give you access to private label rights, books, guides and even email lists or email swipes. You will find a whole bunch of different things there, even all of your automated emails if you wanted to.
Once you're logged in, go to your dashboard and it'll allow you to download two of their premium products for free. After that, you have to pay for a membership, but it's a great start without spending any money. I have a lifetime membership of this site because I use a lot of their information when building email lists and getting content for them. So I'm recommending them from experience.
For my pain relief example, I downloaded an ebook on natural back pain remedies You can download the freebie immediately. They will usually give you a bunch of emails you can use in your autoresponder too along with the ebook. You can even personalize it, add in some affiliate links, whatever you want. It's yours!
So now you may be wondering, where do you get those affiliate products to link? ClickBank, no doubt. This is the best site to get the products you're going to sell. You're initially giving away something for free, but you want to end up selling products, which I will talk more about in the next sections.
'Write' The First Email
Going back into aWeber's dashboard, you'll find the list you built. Now, you want to welcome your audience and write the first message people will get when they join your list. You can do this by clicking the option 'turn on your welcome campaign' that will be in the dashboard.
A new page will open up with the 'messages' option at the top of the right hand menu. This will show you that there's an automated message already set there. All you need to do is change the message and add the attachment downloaded from IDplr. Once you've edited everything there, you can hit save on the bottom right corner which will take you back to the previous screen where an 'activate campaign' button will now be available.
Once it's activated, when people join your list they'll get the email with the free guide automatically. After that, you can add more messages if you want and keep scaling your campaign.
Build Your Opt-In Page
Now, you need an opt in page, which is the page you'll be collecting the emails from. For this, you can click on landing pages on the top menu inside aWeber. And again, you don't need a website here, just select one of the templates aWeber provides.
You can once again edit and change everything in the template, including your logo, which you can add your own or use one from the page. You can also change the title, the text, whatever you want to do. Another thing you should be doing is updating your links at the bottom if you have a Facebook page, Twitter, or any other social media, which will get you more traffic. Having all your social media pages interconnected is always a great way to get traffic from one to the other and scale your business.
Getting Traffic To Your Opt-In Page
The page is set, the email is ready, how do you get people to sign in? If you hit the publish button on the opt-in page you just created it's going to give you some ideas on how to get free traffic to it. You can use YouTube, Pinterest boards, or direct message people.
You can also go to Facebook groups and offer the free guide or go to Quora, which is another great place for free traffic. We have an entire lesson in the course inside Powerhouse Affiliate that talks about free traffic methods, so I recommend checking that out too.
If you're sharing the link in other pages, you can get the URL from your landing page from aWeber by clicking on share and copying the URL.
Monetizing with Affiliate Marketing
I mentioned ClickBank earlier and recommended that as the best source of affiliate products, but I know there are some countries where ClickBank is not allowed. If that's the case, I recommend MaxWeb instead, which is another place where you can find these types of products.
Once you find offers that are good for your niche, you can also automate that back in your campaign settings inside aWeber. You could set up 30, even 40 emails and start sending people constant messages about pain relief, or whatever niche you're working with.
Now, obviously, you don't want to send them affiliate links all the time. You need to send them content, something of value that they will appreciate. That way you'll get people engaged in the niche before you even start pitching products.
How To Scale Your Email List
How are you going to get a ton of traffic to your opt in page? Well, this is where the $100 free ad credit I talked about at the start comes in. Again, you don't need a big budget here. All you need to do is go to Bing through this link and it will give you a free 100 USD in search ad credit., when you spend $25. All you have to spend on this entire setup is $25 USD and that will give 100 USD back in return.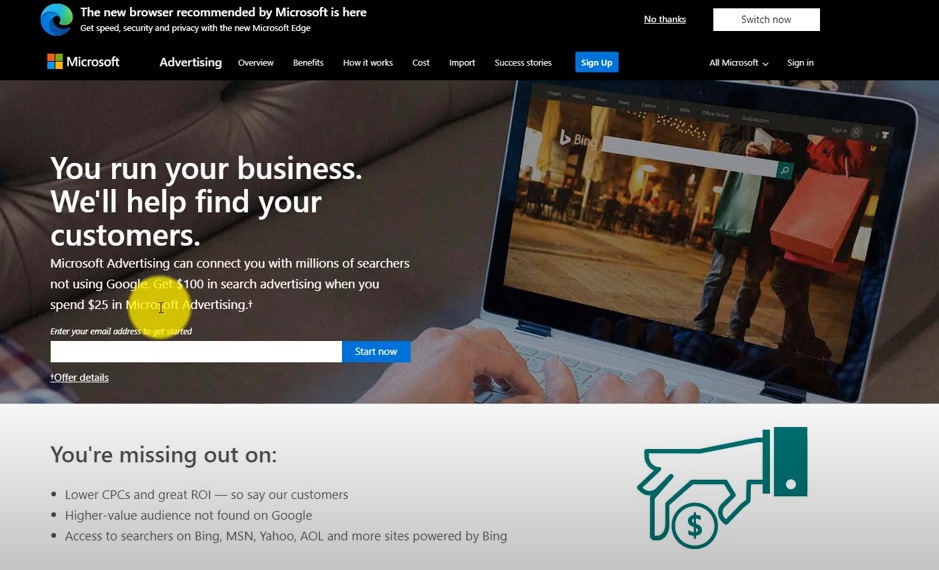 Best of all, we have a lesson inside Powerhouse Affiliate on traffic certification which is the third lesson on search ads, that talks all about Bing and Google search. You can also check How To Make Money With Bing Ads which will show you a case study and teach you everything you need to know about this platform.
If you want to go into depth, then check out the full course on Powerhouse Affiliate where we'll show you in-depth lessons. You'll learn how to set up your autoresponder, your affiliate funnel, your opt in, the sequences you should be using for maximum profits, and much more.
With what I've told you in this post though, you should have enough information to set up your list, start getting 500 subscribers and then monetize them using affiliate products in the back end. So, go, start making some money today!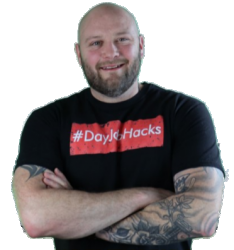 Latest posts by Joey Babineau
(see all)