A great affiliate toolkit is absolutely necessary if you are serious about becoming an online affiliate marketer. There are many amazing software services built specifically for affiliates. Some can be quite expensive, but don't fret… you don't need to spend a dime to get started building your affiliate toolkit. Here is a list of my top free tools for an affiliate marketing toolkit to help you get started.
More than likely you don't have a big budget if you're a beginner affiliate marketer. Today let's talk about 10 FREE tools for affiliate marketing that can help you make more money online.   
These are tools that I use every day in my own affiliate toolkit. 
Some of them are completely free, while others have free trial periods which you can use to evaluate them. Don't worry too much about the trial period. If you're following our step-by-step training at PowerhouseAffiliate.com, then you're probably in a great position to start generating income quickly, which should easily cover these costs after the trial periods expire. 
When I think back to when I was new to CPA marketing and creating my affiliate toolkit from scratch, if someone had given me a list of 10 free tools that I could use, it would have been a game-changer.
Whether you plan to focus on building an authority website, or paid traffic sources, this toolkit will have everything you need. 
These are 10 tools that you can use today to build your affiliate marketing business. It's great for CPA affiliates because a lot of this stuff will be related to buying ads, as well as researching trending topics and competitors.  And if you're not a CPA affiliate, it's great for you too!
It's time to open up my affiliate toolkit and discover my top 10 free tools for affiliate marketing.
Do you prefer watching a video? Check out my YouTube video 10 FREE Affiliate Marketing Tools!
---
Here's the Affiliate Toolkit
Free Facebook Spy Tool – Facebook Ads Library 
The first tool in the list is an awesome free competitive intelligence tool. The Facebook Ads Library can be used to spy on what's happening in Facebook ads. When used in combination with the free audience insights that are available inside your Facebook ad account, you have a powerful view of the world of Facebook advertising.
You can check your niche keywords inside the audience insights, find pages that people also like, and take those pages over to the Facebook Ads Library to see whether they're running ads.
This is an easy way to see what is working and where you should be heading when you're building out your own affiliate marketing campaigns.
I do this all the time on campaigns that I am running on Facebook. The great thing about these ads is that you can use them anywhere, not just on Facebook.
Free Affiliate Tracking Software – BeMob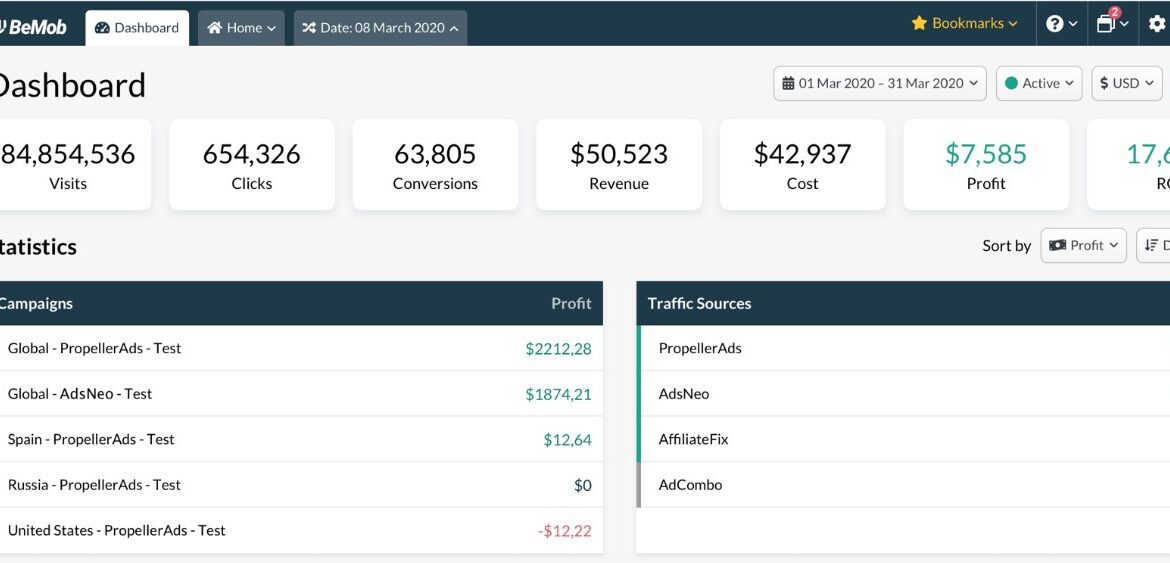 Let's talk about tracking. You might think that traffic tracking and statistical data are only for big companies, and you would be wrong. You need ad tracking software as an affiliate marketer. Tracking software can be pricey, but it doesn't have to be. Check out BeMob.
They offer two different plans: BeMob Basic and BeMob Pro. Both allow you to track multiple websites from one dashboard. You can even export reports into Excel or CSV files. This allows you to keep tabs on everything without having to log back into each site individually.
There are other options available, such as Google Analytics, but BeMob has proven itself to be reliable and effective. It makes the perfect addition to your affiliate toolkit.
This tool is free to start with until you start to really scale up. You can get up to a million events before you have to spend any money at all! That's a lot of events and you're almost certainly making a decent profit by the time you outgrow the free trial. Sign up for free today to start tracking your business without spending any money upfront!  
Systeme.io Free Landing Pages & Hosting
Systeme.io is a powerful marketing tool for affiliate marketers and has a free plan.
It has a wide range of features that allow affiliate marketers to manage their campaigns effectively, including:
– Ability to create and manage multiple affiliate landing pages with its landing page creator.
– Tracking and reporting of campaign performance
– Email marketing and list-building capabilities.
systeme.io is an easy-to-use platform that provides everything a newbie affiliate marketer needs to run successful campaigns. Try it today free!
Systeme is a decent tool for your affiliate toolkit if you are just beginning but I will admit some of the emailing and list building features are limited once you start scaling. You will need a more robust system in the future as you scale, and this usually means using your own hosting provider or a dedicated email marketing platform.
Most free hosting providers are going to pepper your site with ads for other websites. Not only does this look horrible, but you're also sending potential customers to your competitors!
That's just wrong.
Does that mean that there isn't a decent alternative to paying hosting fees?
Well, the answer depends on how much control you want to have over your business.
Free Image Editing Software – GIMP
If you're looking to do any photo editing for your website, or create your ads, you'll need a good photo editor in your affiliate toolkit. Forget about expensive programs like Photoshop. There's an amazing professional-grade alternative that's been around for years. 
And yes, it's completely free! GIMP (Gnu Image Manipulation Program) has all the features that you need as an affiliate marketer or digital marketer. You can download it free for Windows, OS X, and Linux from GIMP.org. 
It comes with tons of tutorials and support forums so you should never run into problems when trying to use it.
The best part is that it doesn't require much technical knowledge to operate. All you need to do is open it once and learn how to navigate through its menus. Once you understand how it works, you'll find it easy enough to edit photos and make them look professional.
The best blogging tool out there is WordPress. 35% of all the internet sites in the world run on WordPress, even this one! You can download it for free from WordPress.org or install it from your hosting control panel if you are using a hosting company like Bluehost. Most hosting providers should have a one-click installation for WordPress. WordPress is excellent.
It's essentially a huge, content management platform that allows you to set up posts, pages, and media content. Save yourself a lot of headaches and be one of the 35% running on WordPress. There's a reason it's so popular. It's a solid platform. And free!
It has everything you could possibly need: blogs, galleries, polls, contact forms, etc… The list goes on and on.
There are many different themes available for Word Press that allow you to customize your blog however you see fit. Some offer additional features such as SEO optimization, while others focus solely on aesthetics. Whatever theme you choose, be sure to get familiar with it before publishing anything online.
Free Image Cutting – Lightshot
Let's talk about images again. Lightshot is an extremely useful application on my computer that allows me to hit one button on my keyboard and either screen capture the whole page or take little sections of the page.
This is a great way for me to actually find more images for my ads. I'll usually go to Google search and search images. Let's say that I'm doing an ad about refinancing a home.
I might search "refinance home" and I'll see a bunch of images on Google search. If I click on one of those images and I hit my button from Lightshot, it'll let me just cut out a piece of that image. This makes it 100% original. 
If you are buying traffic on Google or Facebook, they like to see originality. If you're copying other people's pictures, especially on Facebook, you could be flagged if you're not using 100% original images.
This tool allows me to cut out an image and then open it with GIMP, make a couple more edits, save it in the right size for my ads and it's ready to use.
Here's another image tool for your affiliate toolkit. Why so many? Because images are important! I use a lot of images in my marketing, and you should too.  Unsplash is a great service that gives you access to free high-quality stock images that you can use in your projects.
You can go there, download them, edit them with GIMP, or you can snip them with your Lightshot tool. They also have some more amateur-looking images, which is great for advertising in my opinion. If you've ever looked at the cost of stock photographs you will definitely appreciate Unsplash! Your affiliate toolkit will love you. Trust me.
Free Email Marketing Software – AWeber 
Email marketing is dead, right? Wrong! Email marketing is just as relevant as ever and shows no sign of slowing down in the near future. Everyone has an email address.
You can't sign up for anything online without verifying your email address. So how do we get our marketing message into those email inboxes without spending any money?
The answer is AWeber, and it's my hands-down choice for the best auto-responder email marketing platform for easy affiliate campaigns.
If you sign up here you will have access to all the features and can use it up to 500 subscribers free. 
The other free option is Mailchimp, which gives you 2000 emails a month. It's great for starting out, but it's much pricier once you get above 2000 emails. That means if you have 500 email addresses on your list, you can only send that list four emails throughout the month.
After that, you have to pay. So, in my opinion, AWeber gives you plenty of time to make your money back and then you're only spending a small fee every single month. If you start with Mailchimp and quickly outgrow their free plan, you will end up paying a higher monthly fee and probably feel locked in with them because of the hassle of moving from Mailchimp to another platform. 
Check out my head-to-head comparison of AWeber vs Mailchimp
Free Affiliate Marketing Spy Tool – SEMrush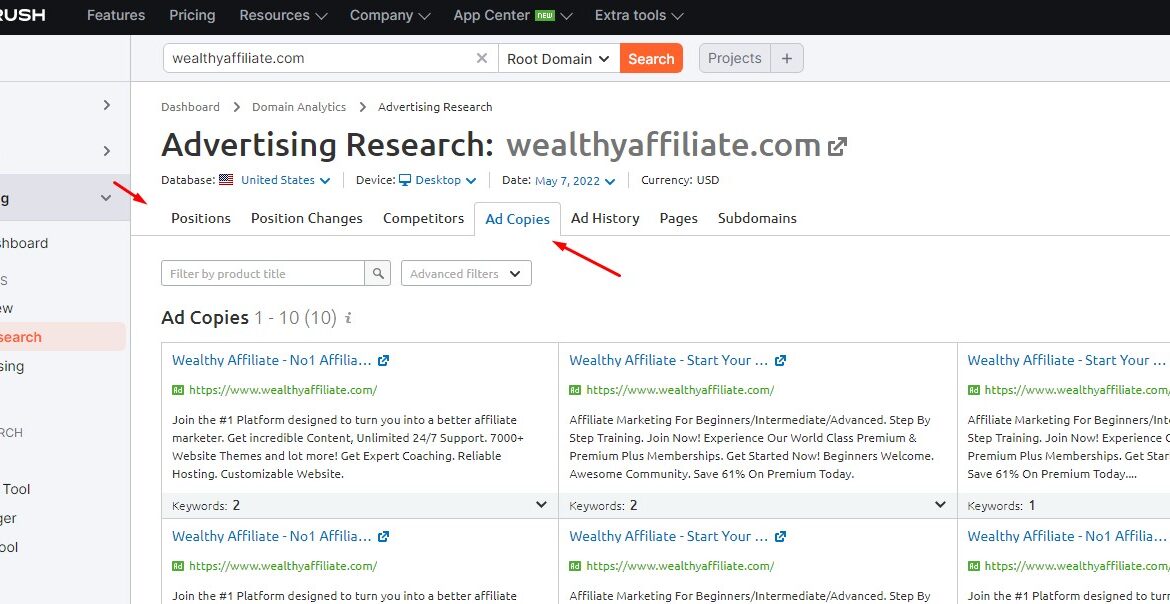 This is a fun one! Let's talk about spying and competitive intelligence. Again, this one is another trial. There aren't many really good spy tools out there that you can have free access to, but if you want a seven day free trial of SEMrush, CLICK HERE TO GET IT
It is an exceptionally good tool for seeing exactly what your competitors are doing. If you're into niche marketing and you're building yourself a niche marketing website, this is the tool you need. After you enter your website SEMrush will report all the problems with your site's search engine optimization.
Not only that, but it will also show you what your competitors are bidding on, what keywords they're focusing on, their rankings, and how easy it is for you to beat them in the rankings.
It will display their advertisements, their paid ads, everything. Seven days of access is actually really good if you're just starting a project. If you've already built your website and you just want to see a free report for you and your competitors, this is a great addition to your affiliate toolkit! 
Free Keyword Research Tools
We've come to the end of the list!
Keyword research is huge in our business, especially if you're doing niche marketing or search engine marketing. I'm doing YouTube marketing right now, which is basically search engine marketing by building content online. 
I'm focusing my posts and videos on keywords that I know people are typing into YouTube.
How do I come up with the titles for my blog posts and videos so that I make sure that I'm targeting people that are actually searching for this information? I use a couple of tools. One of the best tools, in my opinion, is Tube Buddy for Youtube. 
Another tool I use is Google. If you sign up for Google search ads for free, you can go in there and access the keyword planner.  You can enter any keyword about your niche or whatever topic you're thinking of. The best part is that you can find related keywords that you might not have thought of.  All for free! 
The other tool I like is Ubersuggest, by Neil Patel. This is another great tool that shows you detailed insights on keywords and what types of topics you should be focusing your blog posts on, your videos, or whatever other content you're putting out there online.  
Final Thoughts – Are You Ready to Build Your Ultimate Affiliate Toolkit?
So there you have it! My list of top 10 free tools for an affiliate marketing toolkit. Trust me, there are more than 10, but this is a great starting point. 
Want to see more? Here is another post: Top Affiliate Marketing Tools You Need To Be Successful
Make sure you subscribe to my YouTube channel DayJobHacks, and follow this blog for more great marketing tips that you can start using today to build your affiliate marketing business. 
Think I missed something? What's your favorite free marketing tool?  Leave a comment below and share it with the DayJobHacks community!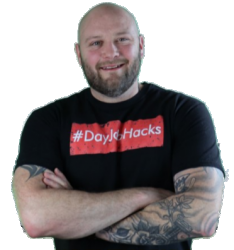 Latest posts by Joey Babineau
(see all)