Mailchimp and Aweber are the two big names when it comes to the best email marketing software. Aweber is one of the original software providers for sending mass emails but Mailchimp has earned its place as one of the market leaders too.
Their main purpose is the same but of course, there are many differences in features. Here is a closer look into the advantages and disadvantages of both Aweber vs Mailchimp and which is the better choice when choosing the best email marketing software.
Aweber vs Mailchimp – Registration & Pricing
Aweber recently updated its pricing to now offer a free option for people wishing to test their services. With the free plan, users get access to all of the features including:
Up to 500 email subscribers
Landing pages
Web push notifications
Drag and drop builder
Email templates
Sign up forms
Ecommerce
Once you surpass the 500 free subscribers the pricing plans start from $19.33 per month for a maximum of 500 subscribers with unlimited emails up to $149.33 per month for 10,001 – 25,000 subscribers with unlimited emails. There is also an option for over 25,000 subscribers but this requires a request for a specialized quote.
Mailchimp has a very similar free plan for a maximum of 500 subscribers with up to 10,000 emails per month. Their mailing is limited in the fact that they count the number of emails you have on your list times the number of messages you send.
For example, if you have 400 emails on your list and send 5 messages to them, you reach your maximum on the free plan.
Mailchimp is much more strict so if you are looking to get into affiliate marketing Aweber is the better option. Their paid plans start from $11 and go up to $299 depending on audience reach.
Both options require credit card information for the paid and free plans. Besides credit card information, both ask for basics like an address and name.
Verdict
Both options provide a free plan and Aweber allows for more messages to be sent.
Aweber vs Mailchimp: Integrations with Websites
Both software options integrate well with the most used platforms including social media, CRM, apps and other content marketing tools and websites. The list of possible integrations seems nearly endless with both software providers.
There are a few perks to the Mailchimp integrations, though. For example, Mailchimp is the default mass email software for both Facebook and Squarespace so switching to a different software requires more work. It also has a strong integration with Google Analytics which is very useful for testing and optimization.
Verdict
Mailchimp has a slight upper hand when it comes to integrations. However, Aweber also integrates well so this is not a reason to take it out of the race for the best email marketing software.
Aweber vs Mailchimp: Opt-In / Sign Up Form
This is an important element in choosing the best email marketing software because it draws in new subscribers. The more effective the sign-up form, the greater the chances of a new subscriber.
There are two types of opt-in setups; a single opt-in process and a double opt-in process. The first type automatically adds the contact to the database. A single opt-in process has higher conversion rates since it requires less effort from the new contact.
The second type requires an extra confirmation, usually through an email link. This creates a more accurate database since the email address is confirmed. This prevents having to pay for a more expensive plan with more subscribers since fake emails are also counted as subscribers.
Verdict
Both Aweber and Mailchimp offer single and double opt-in choices so they are equally good in this aspect.
Aweber vs Mailchimp: Templates

Templates allow for faster email creations and help set a brand standard. Having a template ready saves valuable time while also setting a more professional look.
Aweber offers more templates with the choice of 700 templates. This is far more than the 100 templates that Mailchimp offers on their standard payment plan and in a completely different ballpark compared to the only 5 templates included in their free plan.
Certain businesses prefer to code their own newsletters which is possible in all Aweber plans. Coding a newsletter is not possible in the Mailchimp free plan so a paid plan is required if this is a necessary feature.
Editing the templates is relatively intuitive on both software options with a simple drag and drop editor for both. They are also both responsive meaning that the email automatically adjusts its format to the device being used. Responsive formats are an essential part of the best email marketing software.
Verdict
Aweber has more templates and also allows for coding in all its plans. This is the more flexible option that allows for better personalizing.
Aweber vs Mailchimp: Overall UX – Interface & Editing
The interface design of these two options is very different which means that building or editing a newsletter is going be a different experience. Where the Mailchimp interface is very minimalist, the Aweber interface uses 4 main categories with drop-down menus for each.
Although the Mailchimp layout looks more modern, beginners might struggle to find the tools that they are looking for. In comparison, the drop-down menus of Aweber are more intuitive, albeit requiring more clicks to find the necessary tool.
Mailchimp uses blocks to build an email, or what they call a campaign. The general setup is much like creating a post in WordPress. This simple drag and drop setup is intuitive and allows for even faster results when using the templates.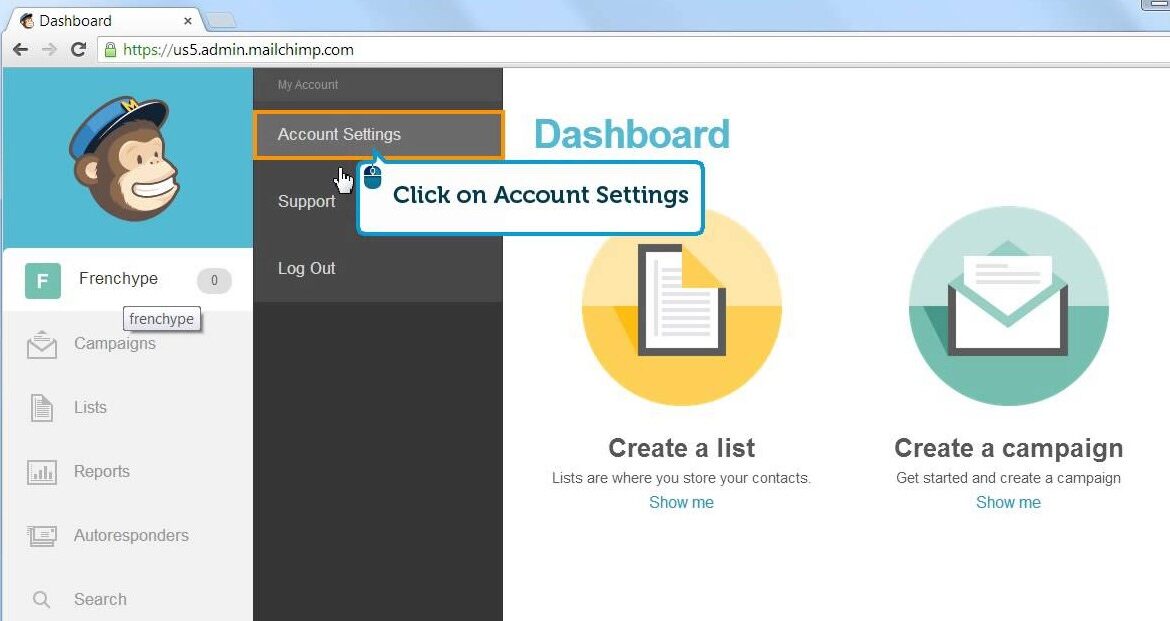 Aweber has three different options for how to build an email message. It also has a drag and drop option, just like Mailchimp, but with two additional configurations. There is a plain text message option that does not allow for any imagery or other formats but does have a higher open rate. There is also an HTML editor which is great for coding.
Verdict
For advanced users, Aweber is the best email marketing software because it has more advanced editing options and an easily navigated interface.
Aweber vs Mailchimp: Testing
Testing an email campaign is a core activity of marketing teams. It gives insight into whether the text, images and general message are effective enough for the desired amount of conversions. It is often done to determine whether a marketing campaign is worth the set budget or requires a bigger budget.
In online marketing, A/B testing usually involves sending out different headlines and checking which headline has the highest open rate. Using either of these software programs, it is possible to split the subscriber database and send the different groups different email headings.
The A/B testing options in Mailchimp are great. Users can separate the database into 3 different categories based on subscriber name, content, email subject heading, time, and day of the week. Users can also perform testing on only 50% of the database so that the remaining 50% are only sent in the most successful format.
In Aweber, the testing capabilities are not as prominent in the interface but can be automated. The possibility comes up after the template is ready and it is time to choose the send list. It is possible to send different emails to different database segments but there are no additional categories like in Mailchimp.
Verdict
Split testing in Aweber is more time-consuming despite the option for automated testing so Mailchimp comes out as the best email marketing software in this aspect. There are more factors that can be tested in Mailchimp and setting up the testing is more straightforward.
Aweber vs Mailchimp: Analytics
Any serious business performs analytics research on their online marketing. It has become an integral part of the industry and one that has a direct correlation to how well the marketing campaigns perform.
Being smart marketers themselves, the two best email marketing software providers Mailchimp and Aweber, collect plenty of data so that the user can perform the necessary analytics. Although there is not much difference in the actual data that they make available, there is a difference in how the insights are presented.
Mailchimp has great integration with Google Analytics which already gives it a slight edge over Aweber. However, Aweber also has a great app that allows you to monitor your data on the go.
Aweber analytics reports are not as modern looking however, advanced subscriber and email data is available when you know what you are looking for.
Verdict
Though the available data is very similar, Mailchimp still comes out stronger because of the user-friendly experience of its analytics reports.
Aweber vs Mailchimp: Importing Database  
It is possible to import a database from third-party software in both Aweber and Mailchimp. The difference is that Aweber can read more format types since Mailchimp only accepts Microsoft Excel sheets and CSV files.
After the initial import, each software requires additional database mapping so that the data fits the software's own list fields. Generally, users find this process easier in Aweber.
Verdict
There is a tie when it comes to database import. Aweber is more flexible in the formats.
Aweber vs Mailchimp: Email Deliverability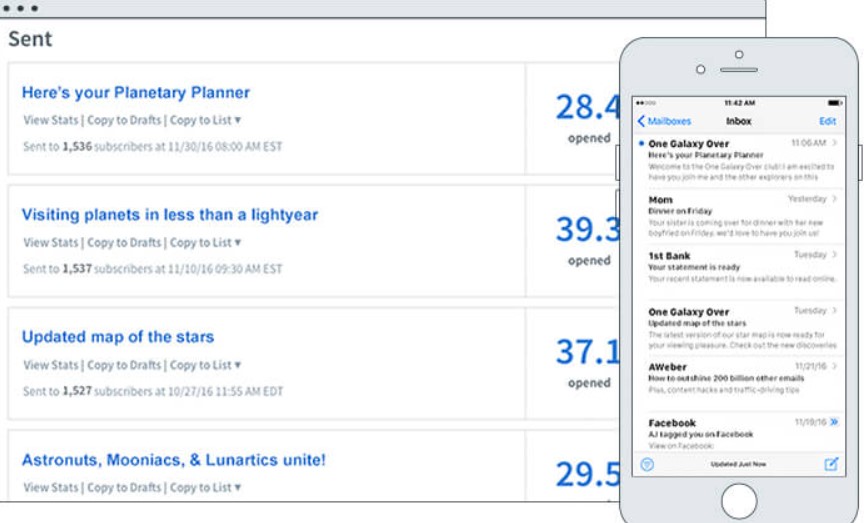 Insight into what kind of emails are read as spam by different email providers is a very important piece of information for email marketing. Since there are so many email providers, it can be a chore to create a setup that will pass all spam screening software.
Content, format, open rates and subscriber email settings all influence the email deliverability but so does the online message software. It is difficult to determine which option has higher email deliverability rates since both companies pay close attention to spam indicators and abide by the guiding regulations in the industry.
Verdict
There is no obvious overall difference because of the many influencing factors. Both Mailchimp and Aweber have a high email deliverability rate.
Aweber vs Mailchimp: Automation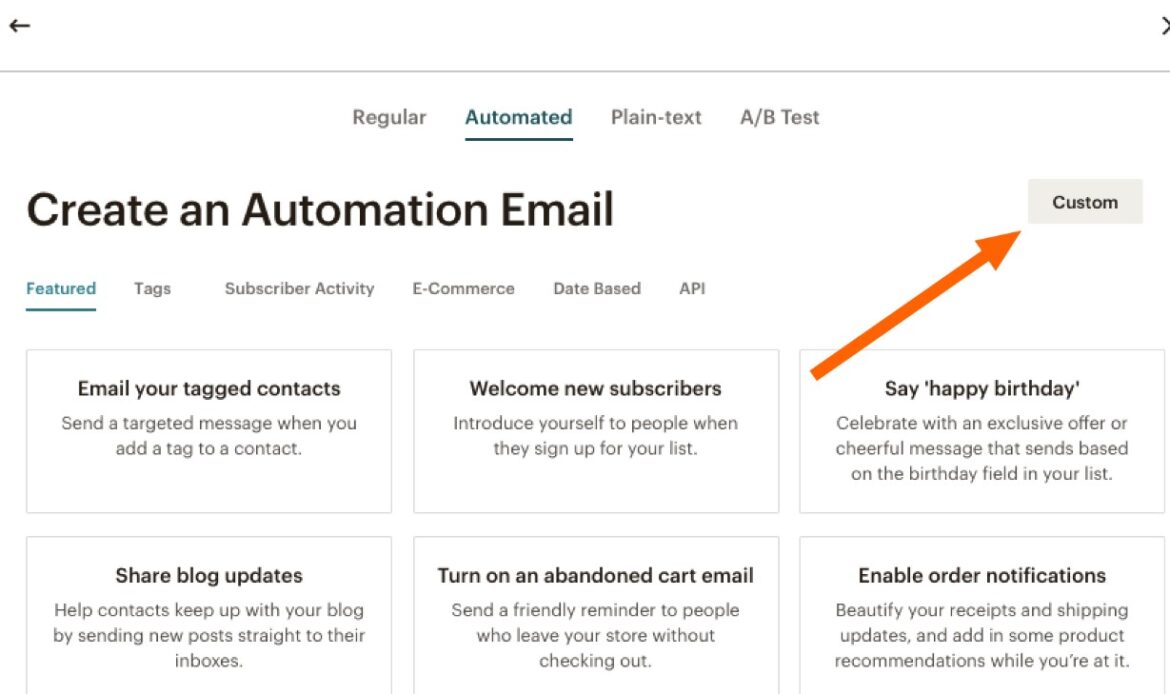 There are many types of automation in email marketing. The first concerns autoresponders; emails that every new subscriber receives automatically and in a specific predefined order. The second is marketing automation; automatic emails sent to subscribers based on subscriber behavior.
A combination of both types of email automation is useful. Autoresponders are like an initial introduction to the brand and are there to get the subscriber to go through the motions of engaging with a brand. Marketing automation is more advanced and can prove more effective in conversions because it personalizes the marketing campaign to individual subscribers.
True to their general images, Aweber is stronger in the traditional autoresponders section while Mailchimp is stronger in the more modern approach of marketing automation. However, Mailchimp's software is more user-friendly in both departments, it is more reactive to the collected data making it easier to set up automation.
Verdict
Mailchimp's automation requires less effort from the user and is better equipped in marketing automation.
Aweber vs Mailchimp: Customer Support & Tutorials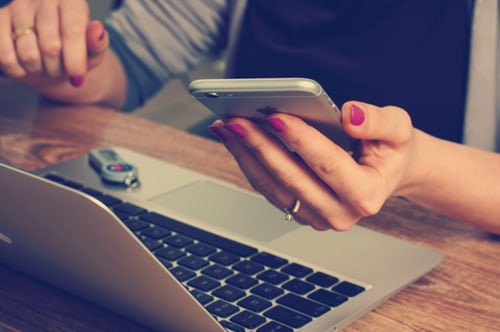 Both Mailchimp and Aweber offer free tutorials and how-to guides for their users. So, even though there might be a learning curve for both, these email marketing services are relatively self-explanatory and don't require too much preexisting knowledge.
The big difference is in customer support. Aweber is well known for their extensive customer service which includes a toll-free number available for all users, live chat, and email contact.
Mailchimp is one of those companies that push users to find the answer themselves through their online resources. They do offer 24/7 customer support but the user must have at least the paid Essentials plan, it is not available in the free plan.
Verdict
Aweber customer support is more accessible, regardless of the plan type.
The Best Email Marketing Software
In short, both Aweber vs Mailchimp are excellent software providers for successful email marketing campaigns. Both have their advantages and disadvantages so part of the choice is subjective.
From the direct comparisons of 11 different aspects, Aweber has a slight edge over Mailchimp in several areas. Overall, Aweber has a great UX, integrates well with other software and websites, and adopts advanced tactics in analytics for both their own software performance and the user's marketing campaign.
Aweber is a pioneer in its field and many businesses still prefer its intuitive albeit more old-school interface. It is also noteworthy that when comparing paid plans Aweber is more generous.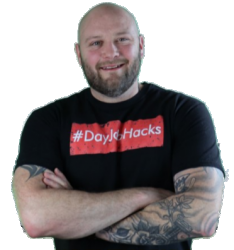 Latest posts by Joey Babineau
(see all)