Social media marketing is one of the best ways for businesses of all sizes to build and engage audiences and generate organic leads.
However, managing multiple social media channels and ensuring you're up to all the best practices requires time and data.
That's why solopreneurs and businesses need tools that help them do much more in less time and provide insights to make better decisions.
In this Missinglettr review, we'll explore one of those tools to find out what it can do, who it's ideal for, how it compares to alternatives, and more.
If you're looking for a tool to help you save time to focus on other aspects of your business and optimize your social media strategy, keep reading.
Missinglettr Review
Quick Take:
Missinglettr provides all the features solopreneurs and small businesses need to scale their social media presence.
It offers excellent value for money and is one of the highest-rated social marketing tools in the market.
BEST FOR:
Solopreneurs and small businesses with strong social media presence
PRICING:
Starts free – premium starts at $15 per month
What is Missinglettr?
Missinglettr is a social marketing platform that helps you save time and optimize your social media strategy.
It does that by automating tasks such as creating posts, finding great content to share with your audience, and enabling you to manage your social media profiles from a single dashboard.
This tool was created in 2015 and currently has over 30,000 clients worldwide, including small business owners, creators, and freelancers.
It supports Facebook, Instagram, Twitter, LinkedIn, and Google My Business.
Let's closely examine the features and what they can do for you.
---
Missinglettr Review – Features
Drip Campaigns
Drip campaigns consist of sending a series of pre-written messages to current customers or prospects to stimulate engagement and purchases. They can be via emails, social media posts, and others.
You can use them to send promotions and product information, welcome new customers, keep your brand top of mind, and more.
This may be very time-consuming if you're not using an automation tool.
Missinglettr Drip Campaigns feature allows you to automate social media drip campaigns so you can focus on other critical tasks for your business.
Whenever you publish a new post or upload a YouTube video, it automatically creates a draft post to promote it across all your social media channels. The drafts also include hashtags, mentions, media, and quotes selected by Missinglettr's artificial intelligence.
You can also review and edit all the aspects of the AI-created draft before launching.
This saves you a lot of time by not having to go to different platforms and create a different post for each from scratch.
Curate
Content curation is the process of selecting content from other sources to share on your channels. That may include news, articles, infographics, and more.
However, searching, discovering, gathering, organizing, and distributing that content to your audience can take hours.
Missinglettr's Curate feature provides you with a library of high-quality content your target audience will likely engage with and creates draft posts for you to share.
To use this feature, you must first create your Curate Profile, where you can select categories, tags & topics, languages, and more.
Missinglettr will then generate a content library for you with pieces that are likely to get high engagement from your audience based on its behavior and real-time data.
After selecting one, its AI will generate an editable draft post that includes text, media, popular GIFs, and more, just like in the Drip Campaigns feature.
By providing your audience with more content from reputable sources, you'll not only increase your authority and make your audience more likely to engage with you over the long term but will also get more clicks and shares in that content, translating into leads and purchases.
Another exciting thing about this feature is being able to add your own content to the Curate content library so it can be found and shared by other Missinglettr users. However, this is limited to users on the Pro plan and beyond.
Calendar
Once you've launched a drip campaign or scheduled a post, they'll appear on the calendar, which helps you stay organized and save time.
It allows you to get a clear view of your previous and upcoming social media interactions and plan, schedule, and make your posts on autopilot.
You can also change all aspects of your scheduled posts and campaigns from the calendar, including editing them, changing their publication date, and more.
Since this feature gives you a clear overview of how you're distributing your social media strategy between different content formats and platforms, it also helps you analyze and improve your overall strategy.
In addition, the calendar can be great for team collaboration, as team members can easily see what others have planned and schedule their own posts.
Analytics
With Missinglettr's Analytics features, you can monitor your results on different social media platforms from a single dashboard.
This allows you to track results from all your social media activities, including campaign results, the performance of your posts, brand mentions, and more.
You can learn things like how many clicks each campaign or post has gathered, how many interactions they've generated, and which days of the week and times have seen the most clicks.
To take a deeper look at your results, you can also filter by specific time periods, social profiles, and more.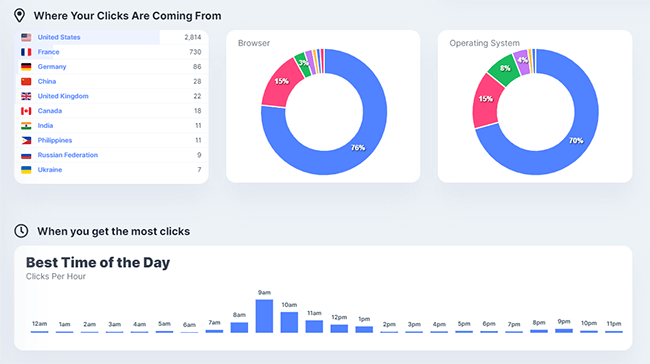 In addition, you can generate charts displaying things like:
How your social profiles are performing
Top drip campaigns sorted by the number of clicks each has collected
Where your clicks are coming from (broken down by country, browser, and operating system)
When you get the most clicks, which displays the distribution of engagement by hours for the indicated period.
Another useful analytics tool that was implemented recently is the ittr.ai link shortener. It allows you to create multiple links leading to the same page so you can learn exactly where each click came from.
Let's say you publish 100 posts across different platforms leading to the same landing page. You could use 100 different shortened links to track how many clicks each post generated.
Finally, the Analytics feature also brings you insights like telling you the best times to post on each social media channel and highlighting the strategies that have been working best.
More Features
Besides those main features, Missinglettr also provides extra tools that can be really helpful.
For instance, there's a feature that learns and mimics your brand's voice, tone, personality, and messaging to ensure that the AI-generated drafts are aligned with your brand's voice.
There are also Automatic Scheduling and Automatic Repost features. When turned on, they identify your best-performing social media posts and the best times to post them to schedule reposts automatically.
Other cool extra features include Collaboration on Steroids (for agencies and large marketing teams), the Free Image Library (that includes static images, GIFs, animations, and more), and the already mentioned Custom URL Shortener.
---
Missinglettr Review – Pricing
Missinglettr has a free forever plan that includes one workspace and social profile and 50 scheduled posts. It allows you to create drip campaigns, share curated content, and schedule posts directly.
The Solo plan comes with one workspace, three social profiles, 500 scheduled posts, and one extra user. In addition to all the free features, it also comes with a stock image library and video posts.
The Pro plan includes three workspaces, nine social profiles, 3,000 scheduled posts, and unlimited extra users. It also has premium features such as advanced analytics, automatic reposts to Medium, and allowing users to upload up to ten pieces of content per month to the Curate content library.
The Solo and Pro plans start at $19 and $59 per month on the monthly billing option and $15 and $49 with annual billing, respectively.
There's also the Agency plan that starts at $147 per month. It comes with unlimited workspaces and users, 25 social profiles, 10,000 scheduled posts, and ten uploads to the Curate content library. It also includes additional features like custom domain and reports.
Finally, there's the Enterprise plan. Its features are customizable and include increased capacity, deeper integrations, a dedicated account manager, and more.
All paid plans come with a 14-day free trial.
---
Missinglettr reviews from real users
Missinglettr has a 4.4-star rating on g2.com and 4.8 on GetApp, making it one of the highest-rated social marketing tools around.
Most users were really pleased with the tool, as it delivered everything they expected and allowed them to accomplish all their usage goals.
What drew us the most attention when going through Missinglettr reviews was the number of users praising the ease of usage. According to them, they were able to master the tool quickly after using it for the first time and found it easy to use all the features to launch posts and campaigns.
There were also many compliments to the customer support, which quickly solved any issues.
Check out this Missinglettr review:
On the downside, some users wished they were able to use it with other social media platforms like Pinterest.
Also, although most were happy with the AI-generated drafts, some complained about still having to edit most of them. However, this is common to any AI tool, as AI-generated content still needs a final human touch most of the time.
Missinglettr Review – How it compares to alternatives
Compared to popular alternatives like Social Bee and Tailwind, Missinglettr stands out due to its clean interface and ease of usage. It's also more affordable than most competitors while staying caught up in features.
However, keep in mind that it still lacks some more advanced functionalities that come with pricier tools like Sprout Social, like grabbing your competitors' data and getting insights into how people perceive your brand.
If you're looking for a more advanced tool that also helps in other aspects of your marketing strategy, there may be better choices for you.
All that said, Missinglettr provides all the features that most solopreneurs and small businesses need to run their social media strategies smoothly and optimize them over time.
Check out our Sprout Social Review
Missinglettr Review – Pros & Cons
Missinglettr Review – PROS
-Beginner-friendly
-Easy to use
-Great customer support
-Free plan with affordable premium ones
Missinglettr Review – CONS
-Limited to Facebook, Instagram, Twitter, LinkedIn, and Google
-Lacks advanced functionalities
Final thoughts – Should you use this tool?
Compared to similar alternatives, Missinglettr provides impressive features, is easy to use, and has excellent value for money.
In addition, it's highly rated by users, and its free forever plan allows you to try it out without spending anything.
If you're looking for an affordable tool that saves time and helps you rapidly turn your content marketing strategy into a strong social media presence, Missinglettr is definitely worth trying.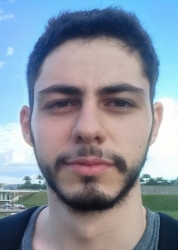 Latest posts by Pedro Tilki
(see all)