If you are completely new to email marketing, it can seem slightly overwhelming.
The good news is that it's not as hard as most people think.
Email marketing is one of the original means of selling products online, originating back to the early to mid 1990's.
It has changed drastically over the past 30 years but one thing that hasn't changed is it's effectiveness.
Studies have shown that email marketing continues to outperform other online marketing methods including Facebook and Google ads in terms of ROI. With a typical return of $35 for every single dollar invested, learning email marketing can lead to some great profits.
In this article, I will briefly talk about 9 steps to get started.
---
Step #1 – Email Marketing – Find a Good Email Service Provider (Autoresponder)
Choosing an email marketing autoresponder is crucial if you wish to start email marketing.
In fact, its the only way that you can actually send mass emails effectively and deliver messages to your subscribers.
If you try to use typical email services like Gmail, you will probably get carpel tunnel syndrome trying to send each email one at a time. 🙂
Good email autoresponders have whitelisted IP address that are used to ensure your emails land in subscribers' inboxes. One great email autoresponder is Aweber.
Aweber offers a free trial for new users and is perfect for affiliates who are new to email marketing.
Aweber is my favorite online email marketing software.
It allows me to build large email lists, set up autoresponders and do unlimited broadcasts. It has detailed tracking and reporting to help maintain and manage my daily emailing goals.
---
Step #2 – Email Marketing – Start Building Your Subscriber List
There are a few different methods that can be used to start building a subscriber base. My favorite way is to build an opt-in page that offers some free content such as an e-book or training in exchange for an email address.
I like to choose an evergreen niche when building out a content blog for subscribers.
It's a slow process that takes time but is worth every minute of work.
Email marketing is all about building and maintaining a trust relationship.
One easy way to build a subscriber list is to purchase something called "Solo Ads". This is the practice of paying another email marketer who already built a list in your niche to blast your free offer to their list. This can be effective depending on the quality of their list.
I use Udimi to build my own list since it is very effective for the make money online niche.
---
Step #3 – Email Marketing – Build an Opt In Page
You need to build an opt-in page and you need to integrate your online web form into your email autoresponder. I use a landing page builder tool like Optimizepress. They have the free training you need to get that set ASAP.
---
Step #4 – Email Marketing – Create a Welcome Email
Welcome emails are the first point of contact between you and your subscribers.
Welcome emails can be extremely important since they serve as a first impression and people are mostly likely to engage with your first email. Typically the open rate is much higher for Welcome emails than any other email sent to your subscriber.
Be creative on how you deliver value in your welcome email. It could mean the difference between a long term subscriber and someone who instantly opts out of your list.
Send a nice friendly greeting and provide a summary of what content they can expect to receive from you going forward. It's also wise to offer them something of value immediately. Remember, first impressions are everything. If you are stuck just subscribe to a bunch of lists in your niche and what gets sent to you.
In Aweber once you have configured your welcome email, it will be sent out automatically each time someone subscribes to your list. For this reason, try to keep it evergreen and relevant. This helps avoid having to update your follow ups every other month.
---
Step #5 – Email Marketing – Test Different Opt In Pages
Now the fun begins! Even if you're not a super technical person, you can capture emails by integrating Optimizepress with Aweber in a matter of a few clicks and test multiple templates easily!
We have a complete Email Marketing Course in Powerhouse Affiliate that shows you EXACTLY how to set this up in a matter of minutes including the entire funnel we use to build very large email lists.
When choosing a template inside Optimizepress, look for a layout that is not too busy but also catches the eye. People often sift through info fast and usually they are on a mobile device. All of the templates in Optimizepress are mobile compatible.
Be sure to customize your template by adding your brand or logo. It's important to start building your own brand in your niche.
Once you have customized your theme, save it for future use. Optimizepress allows you to clone pages. This will prevent you from having to customize your template every time you wish to use it.
---
Step #6 – Email Marketing – Create Clever And Persuasive Messages
Once you have your pages built and integrated with Aweber you need to build out your messaging.
This is typically the hardest part of the entire process.
It can take much practice before you get good at writing effective email messages that will capture the attention of your subscribers and not end up in spam.
Focus on these 3 important sections.
What's being offered? – Your Headline or subject
How can your subscribers benefit? – Your Message Body
How can they get those benefits? – Your Call to Action
Focus on what's important instead of writing endlessly about random topics.
---
Step #7 – Email Marketing – Practice Creating Subject Lines
The email subject line is a very important aspect of your email. This will determine if someone actually opens your email or deletes your email. Be creative and use subject lines that leave the reader wondering what's next. This should help trigger them to see what's inside and open it up.
Example:

---
Step #8 – Email Marketing – Test Your Email Before You Send To Subscribers
This is particularly important when first setting up your autoresponder account. There could be grammatical errors, broken links, or even important information that you forgot to include. There is no 'undo' button with email marketing. Once the email has been sent to your list, there is no turning back.
Send a test email from AWeber to ensure you are happy with the results before mass sending to your entire subscriber list.
---
Step #9 – Email Marketing – Create a Standard Follow Up Sequence
It's important to be consistent with your subscribers to keep them engaged with your content site or brand. This is why you should focus on creating a standard email follow up sequence for new subscribers. Create 8-10 emails that will be scheduled to be sent to your users over a period of time.
Sending something every 2nd or 3rd day is a good rule of thumb. Ultimately your goal is to monetize your subscriber list for the long term.
To do this, you need to provide valuable content to keep your subscribers happy.
No one wants to see a sales pitch every single time they open an email from you. This will cause your subscribers to opt out fast. This is considered 'abusing' your email list.
Make sure your subscribers trust that they will receive content from you and not just be harassed every time they go to their inbox.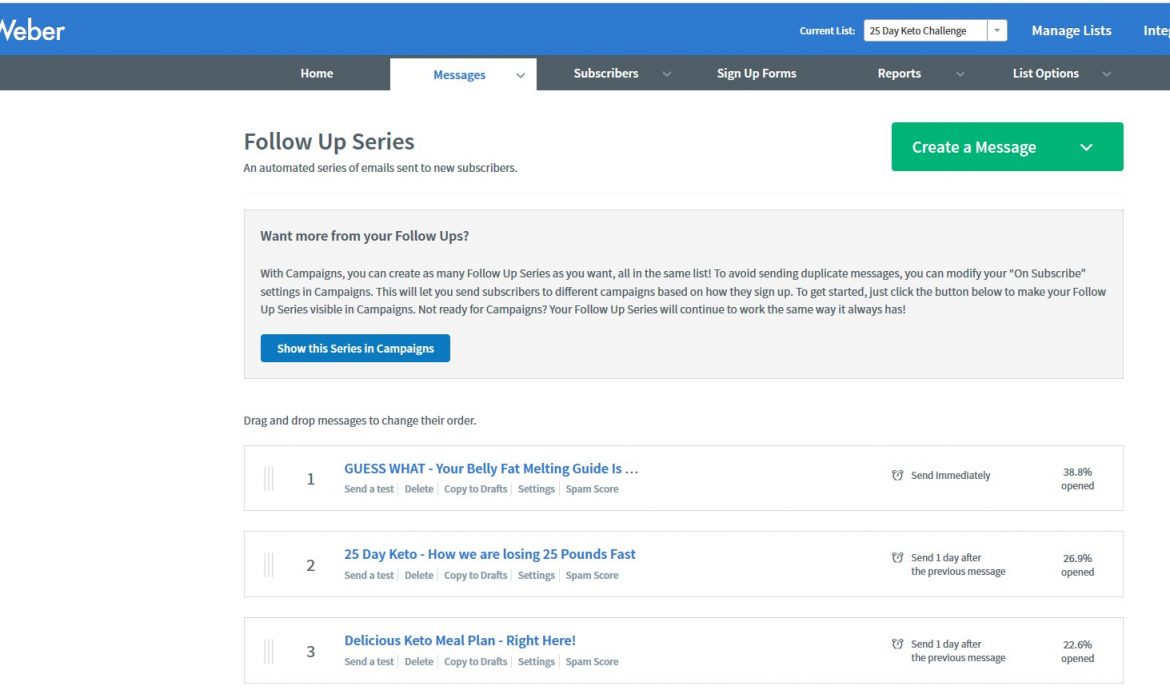 Create a fair balance between sales promotion and valuable content in order to keep your list happy for the long haul.
---
Did You Enjoy This Article?
If you enjoyed this article, I highly encourage you to check out the following:
How To Start A Niche Affiliate Marketing Blog In 5 Easy Steps
Voluum Tracker Review – Waste of Money – 3 Voluum Alternatives
3 Crucial Tips On How To Make Money With Affiliate Marketing
What is the Typical Affiliate Marketing Salary? (The TRUTH)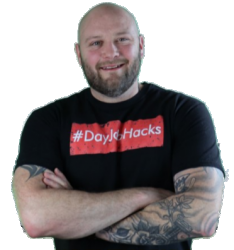 Latest posts by Joey Babineau
(see all)