Today I want to talk about how to build your email list with Facebook ads. I'm going to show you a sample campaign that I have set up. It's now collecting email leads, and I'm going to show you precisely how I did that. I'm going to cover how I set up my marketing funnel, the way I track the leads, how to set up the pixel, and everything you need to know about running a campaign on Facebook, to inject some serious growth into your own email list.
Before I get into it, I'd just like to mention that I have posted a video on my YouTube channel, DayJobHacks that goes through everything that I'm going to discuss here. Some people like to follow along with a video format. If you're one of those people, please watch the video below.
So, you want to build an email list using Facebook ads. I don't blame you at all. It's not that difficult once you know all the steps involved. I'm going to show you that today. If you're a media buyer, if you like traffic generation, or making money online, check out my other posts or subscribe to my YouTube channel.
With that being said, I'm going to show you exactly how I set up this campaign and the actual funnel I'm using as an affiliate. I'm monetizing this as an affiliate marketer, building an email list, and then I'm sending emails in the back end, while at the same time, trying to monetize the traffic immediately after they enter their email.
This campaign is in the finance niche, so it's highly competitive. I'm running it in the USA, but this can be done in any country, with any type of offer you are running. It doesn't matter if you're an affiliate or whether you're a product owner. If you run a store, you're going to want to start collecting emails from people from Facebook.
This is just one strategy. I know there are many people out there who claim to be experts in Facebook. I am not claiming to be an expert. I'm simply showing you how I do it, how I collect leads and how you can replicate this for your own campaigns.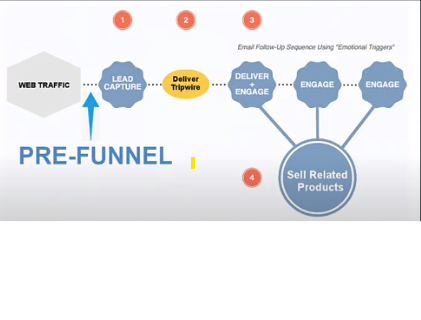 The Funnel
You need to collect leads for your business and this is the funnel we are going to use. I've showed this funnel before in some of the training inside PowerhouseAffiliate.com, as well as some of the videos on the DayJobHacks YouTube channel. This is a very simple funnel.
Just because it's simple, doesn't mean that it doesn't work. You don't need to have big, massive funnels, especially as an affiliate. We just want to get this set up so that we can start building something that we own, that we can sell. At the end of the day, there are so many reasons to have an email list.
Facebook is a great way to build your email list, and it's easy to do it compliantly. So, Facebook will be our web traffic here. We are going to send it to a lead capture page. I'll show you that lead capture and I'm going to show you how I created the opt-in bait – that is what we're giving to our audience.
Now, if you haven't already chosen your audience and you don't know who your customer avatar is, make sure you check out my recent post and video. It will guide you through the critical process of defining your ideal customer.
OK, now that we know our audience, we want to build a lead capture page that will make them want to enter their email. Then after they enter their email, we are going to send them to the tripwire. That is going to be the page that we're going to try and monetize that lead immediately, as soon as we collect it.
This is how we, as affiliates, want to run our campaigns because we want to see a return on our investment quickly. When we start buying ads on Facebook, you can do this for less than $10 per day if you want. Facebook allows you to spend a low amount of money and still get results.
A lot of people think you must spend thousands and thousands of dollars on Facebook to be successful. That is not the case. I'm going to show you that today. And I've also covered this in another case study that we have done in the past, inside the PowerhouseAffiliate.com members' area. If you go into your member's area, you'll see we have another Facebook ads case study on a diet campaign that we ran compliantly on Facebook.
For this one, we are going to simply set it up as the lead capture page and the tripwire. I'm not going to talk too much about the email in the back end. There's one email that we want to send immediately to our new lead that will be important. When you combine the tripwire and the first message that people get, that's where we want to make our money back on our ad spend.
So let's set up the lead capture first. I'm going to show you an example. This is the page I've set up. I've chosen to go in the finance niche. I am an affiliate for many finance offers. I'm connected with many finance companies that want leads.
I want to collect the lead first. I want to own that lead so that I can start sending them other offers and other information in the future and monetize my website. So that is why I collected the lead first. First, I need to give these people something they want in return. Right now, we are in the midst of a pandemic so there's a lot of volatility going on economically.
People are worried about their future and there is a potential recession coming. I thought this was a great opportunity to use a current trend, but at the same time, give information that is helpful to people during this uncertain time.
I'm not gouging people; I'm just giving them a report on what to do during a recession. It's working. I'm collecting leads now. You'll see that when we go inside my Facebook ads account.
Basically, I've set up this squeeze page. Now let's talk about the tools I'm using here first. I'm not a designer. I'm not a coder. I need drag and drop simplicity to build my pages. If you've been following me at all, you know I always recommend OptimizePress.
You can have this all set up within an hour. You can go over to our action plan, which is the PowerhouseAffiliate.com/action-plan and you can learn how to have all of this set up within 60 minutes.
Basically, you have your squeeze page ready and you're ready to start collecting leads. It's all here in the overview and video training for every little step along the way. I'm not going to go into that right now because it's all covered in the action plan.
Now, let's assume you have WordPress set up, and you have the OptimizePress plugin, then you're ready to go. Of course, there are other options. You could use ClickFunnels, but don't. I don't recommend ClickFunnels at all because you don't actually own your website, it's overly priced and clunky.
I use OptimizePress because it's so easy and at the end of the day, I own the site. It takes no time at all to build funnels using their great templates. This is a template I am using. I have set it up and basically just change the words, change the image and then set up this form.
Now I'll show you how I set up that form and what tool I use. It's free as well. You can go over to DayJobHacks.com/AWeber and you can sign up for their free plan that they now have. This is the email automation software that you need to have in order to build a list.
AWeber is free to use for the first 500 subscribers. I am an affiliate for both OptimizePress and AWeber and I highly recommend them because I use them every single day to build my own business.
They are excellent products and they are definitely required if you want to start building your own list on Facebook or any other traffic source. It's also going to work in any niche so this is important to understand. You're going to need those two tools, a funnel builder and an email automation software.
ClickFunnels doesn't really have that available. You'll still need to get email automation software that's designed for emailing so AWeber is the one I recommend.
Once you have OptimizePress, you can integrate it with your AWeber account. Once that's done, you can design your page. There are tons of templates that you can choose from, including ones for ebook downloads.
I can edit any forms and integrate them with AWeber. So now every time someone enters their email into this list, it goes into my AWeber account, which is automated.
That is going to send them a welcome email with the link to the ebook that I'm given them. So now you're probably asking, how did I get that book? Did I actually write it myself? Hell no. I do not write these ebooks. I don't have time for that. Nor do I hire people to write them either. I actually just buy them!
Private Label Rights
They're very easy to find. I'm going to show you how you can get these types of ebooks in any niche instantly for pennies on the dollar, considering that it takes no time at all to get this set up. You can rebrand it. You can resell it if you want. Just go to DayJobHacks.com/plr.
You can register for free and get access to some of their free stuff. But if you want the good stuff, like the one I got about recessions, then you will have to pay for it. It's not a lot of money, and it will save you tons of time.
You can also go on Google and you can search your niche, whatever it is. If you're going into something like meditation, search "meditation PLR" on Google. I guarantee you'll have hundreds of results where you can get these ebooks that you can rebrand easily with your own website.
Make it available as a freebie on your page and now you're ready. You have your opt-in, something that you want to give to people. As you can see on this one, I'm targeting people that are concerned about their personal finances. They're talking about retirement funds in this angle. I've done a video about marketing angles if you are unsure about them. I'm going to be testing multiple angles, so I'll be testing multiple pages like this.
It's very easy to clone these pages simply inside your WordPress account. You can clone them, change the headlines, change the images, and change the call to action. I'll show you the results of the first test so you can see precisely what I'm talking about.
Now, one other step I've set up here is my campaign on CPV Lab Pro. CPV Lab Pro is my third-party tracking platform. I use this for all my campaigns. I host it myself, on my own host server and I find it's much easier for me to track my campaign results.
I'm going to start to see results on the first two pages I'm testing as well as the after opt-in. Now, we've talked about the opt-in page. We talked about the free offer that we want to give people that our target market wants – something to solve their problems.
Then when they enter their email, they will arrive on this page. This is where I'm immediately trying to monetize my traffic; it is called the tripwire offer. So I've said "Thank you, we are sending the ebook to your email. Are you paying too much for auto insurance?" Right into the offer. No screwing around here. I'm just trying to monetize that lead.
It's an auto insurance offer. They pay roughly $10-20 per lead, depending on the quality. So, as you can see, this is one test, I'm going to be testing multiple thank you pages. I'm also going to be testing multiple squeeze pages on the frontend.
I'm testing both of those in combination in my in my funnel. So this is my funnel. Basically, I've got them to click on the ad on Facebook. They come here, they enter their email, they come to the thank you page and then after that, they're immediately sent a message from my AWeber system that is going to send them an email that says, "Hey, thanks for your interest in this topic. Here's your ebook" which is hosted on my server.
Essentially they just click on it. It opens up the ebook that is also branded with a bunch of offers, and tons of great information. The email automation sends people more messages in the future through AWeber, automatically sending them to blog posts and more offers.
As an affiliate, my goal is to get my money back before they even receive the first email in my AWeber sequence. If I can do that, then it's easy to scale because I know I'll get my money back the same day. Then I can start increasing the budget and go hard on Facebook ads.
However, sometimes you don't make profit until message two or three. You just really have to measure everything and make sure you're doing it properly. So now let's go into Facebook and see how the funnel is set up.
So you have the opt-in, you have the tripwire, and now we're going to go into Facebook and get people to come to our opt-in page so that we can get their email address.
Facebook Pixel
In Facebook, the first step we need to do is we need to set up our pixel. This is extremely important! I cannot stress this enough. It will not work if you do not have your pixel installed on your OptimizePress pages. You should really use Google tag manager, but this can be done also manually.
Open your business account on Facebook and you're going to click on the events manager and add the data source. It will ask you to connect your website. I've already done that step, but just come in here and connect your website.
Just follow the instructions. It's very easy to do. Facebook is making it a lot easier. You can also do automated tracking here so that you can start testing and you can just enter a new URL and Facebook will automatically track that for you.
If we look in the ads manager, you can see the results of the first test I was running roughly 24 hours.
As you can see, I've set up two ad sets and each ad set has a separate landing page and a separate thank you page. You can't use third-party tracking links so I'm actually using the direct tracking option in CPV Lab Pro. This works for any other tracking platform out there. If you're using something like Thrive or you're using Voluum, they all have direct tracking.
You want to make sure when you submit your ads in Facebook that you use the actual domain name that you've set up for your ads. Don't use a tracking link. On that note, it makes it difficult to split-test landing pages because you have to actually submit each landing page into a separate ad set.
I have two ad sets that I set up to show as an example and clearly one of them has won, so I turned off the other one. Now I'll mimic this one and start testing multiple ad sets. I recommend at least five to ten ad sets. While you're doing this, you can set each one to $5 a day.
I have these ones at $10 a day, but really I've already got five leads here at the price of $3.15 per lead. Remember, these are Canadian dollars, so that works out to about $2.15 USD.
OK, so I'm paying about $2.15 USD per lead on this one ad set, which was the first ad I set up. So there's obviously lots of work to do here, but even at two dollars a result, I'm happy with that coming into this because I have finance offers available that are paying me as high as $40-45 dollars per lead.
If I can get that person to enter a lead form and get paid $40-45, that means I can get 20-25 leads at $2 per lead and still probably break even if I get just one person to fill out the offer that I'm pitching on the tripwire page.
So the math works out here, but really my goal is to get this cost per result below $1. I want this, at the most, $1 USD per lead for these financial offers. This is a competitive niche, though, so it's impressive in that regard. It is very competitive, but you can still get leads, and I'm going to show you precisely how I did that.
What you do is click on campaigns and you're going to click create campaign. I've actually started with a conversions campaign. There are many different strategies here. Some people say you should start with brand awareness and reach so that you can re-target people and then get traffic to go through the funnel. There are many different ways to do it.
For me I just set up the conversions campaign. I then set the daily budget. I turned off campaign budget optimization, so that I could set my ad set bids and I could set my daily budget at the ad set level. And here's where it gets important. You're going to choose the event that you're that you're targeting here. For me in this campaign, I'm targeting leads.
I've set up the custom lead event to fire as soon as someone enters their email and lands on the thank you page or my tripwire page. You need to make sure you tell Facebook that when people land on that thank you page, you want them to be tracked as a lead. Another advantage of doing this now as an affiliate, is that you can still use the Facebook pixel to its full potential even though you don't own the actual product.
You're telling Facebook to find people that are really close to the same profile, so they are going to know to show your ads to those people that would most likely become a lead. That's the advantage of using the Facebook pixel.
Now you're going to change your location to whatever you want and your daily budget. You can set up the ad set level. And again, you can even go down as low as $5 here, which is not a lot of money, but at the same time, you can still get leads for $5 per day inside your daily budget.
The last step is to use an image with your ad. I've used an image in my first test, but I'll also be doing video. If you watch the other case study we did inside PowerhouseAffiliate.com, you'll also see that I used videos and images and actually had better results using videos.
Videos work extremely well for lead capture, in my opinion. For this one, I'm just going to show you precisely what I would do here. You're going to add your media so again, you can add a video or your image. Once you add multiple images, you can actually just click create a video inside Facebook and they will create the video for you.
Now, the advantage of doing this and having multiple different types of ads is that now Facebook will show your ads on multiple different devices, different places like Instagram, and in the Marketplace by having all of your ads designed into different types. Now you're making sure that you can get your ads everywhere so that Facebook can have a better chance of finding where your leads are. Depending on what niche you're in, maybe your ads will perform better on Instagram than on Facebook.
If you have the Facebook pixel installed and you're telling Facebook where the leads are happening, they will know that and now they will show your ads more in the places that are working best for you.
Notice you can enter your website URL. Make sure you enter the actual domain name that you're targeting, not your tracking link. I can't stress that enough. Don't put your tracking link in here as an affiliate. Don't try and direct link to CPA affiliate offers. You're going to lose your account. You're never going to have your Facebook account back.
Make sure you build a trustworthy website. Make sure you have the menu down below that includes your privacy policy. You have to have that on there or you're going to get banned. I also always add disclaimers to my website. When they review my website, they're going to see that.
I just find it helps reduce the number of times you're going to get banned, because no matter what, you're probably going to get banned at some point. But if you have these policies well-documented on your website, you will likely win your appeals every single time.
Once you have your ads set up and you have the headlines, make sure your pixel tracking is on and then click confirm to send the ad to be reviewed.
Like I said, if you're just starting out on Facebook, you've got to be careful not to break the rules. You don't want to get banned. If you do get banned, make sure you appeal it, because many times you will win as long as you aren't running something non-compliant.
My Finalized Ad
Now, let's look at my ad. This is the ad that's currently winning at $3 CAD per lead, but I want to get this down below a dollar. I need to add more ads and more ad sets. I need to test different pages and test my target audience more. And I've done the research. I know who my target audience is, but I just haven't set up enough testing. OK, so that's what you really need to do to start bringing this down below $1per lead. You want it down in the fifty-cent range if you can, or below.
I know people are doing this in the diet niche and I'm pretty certain I can do it in the finance niche as well. This is the ad on desktop. It's really not that great of an ad, to be honest, but it's still working.
The image was not the right size for desktop. I set this up so I could show you some examples, but I'm definitely going get some better images that are bigger. It is a big image, but it just wasn't the right size for the ad. So, make sure you search "what are the best ad image sizes?"
When you submit your ad, Facebook will actually tell you the best size for your images. You can see it has two likes so far.
So that is the ad. Nothing spectacular. I like to keep them simple and I like the images to be captivating so that people click on the ad. I'm going to be watching the click-through rates on my ads. I want to make sure I tell people to click below for the free guide.
You can test the different buttons as well. When you're setting up your ad, Facebook will give you the option to change these as you go. This is just one ad. There are so many other things that we can be doing, but it's just an example to show you precisely how to get started on this with a really low budget, especially when you can get your free autoresponder from AWeber. You can start at $5 per day on Facebook. All you need to do now is just set up the ads, set up your landing page, and away you go.
Look-a-Like Audiences
Now, there's one more thing I want to talk about quickly here, because I think it's extremely important as we move forward in scaling this campaign, once we get the lead cost to the target that I want. Once I have emails and I can actually start setting up audiences, this is where it gets really interesting, you can start retargeting people as well.
You can start creating your own audience where you can upload a list of emails that you've collected and Facebook will now start building look-a-likes. You can build look-a-like audiences so that now when you run your ads, it's automatically going to start with people who fit that profile. These are people that already have the same traits and the same demographics that Facebook knows will convert since you've already collected emails for your list.
So now you can actually just start out with really highly targeted audiences and that's where we're going as we continue to build out this campaign. Later you can start running different ads to your same target audience for different types of offers.
If you have a listicle you know how to save money, you could start targeting your traffic campaigns to these people. At the same time, there are so many ways that this email list building set-up is going to work well for you. So I highly recommend you start implementing this now and start building an email list with Facebook ads.
Do you have questions about Facebook ads, email lists, or anything related to making money online? Follow the blog! Subscribe to our YouTube channel! Join PowerhouseAffiliate.com. We cover all of these topics in-depth, and more.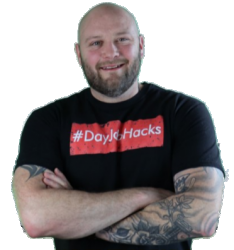 Latest posts by Joey Babineau
(see all)