While understanding marketing strategies and principles is important to make your business succeed, that's not enough.
To reach your business's full potential, you also need tools that give you access to accurate and valuable data, allow you to automate tasks, and provide you with data-based suggestions on how to adjust your marketing strategy while following best practices.
And that's where AI marketing bots come in.
In today's article, we'll be covering what AI marketing bots are, what they can do for you, and the top 5 AI marketing bots in the market to help you scale your business.
What are AI marketing bots?
AI marketing bots combine software and real-time data to help you make better decisions and do some of your tasks for you.
Here are some of the things that AI marketing bots can do for you or help you do better and faster:
Generate content
Optimize your content, site, and social media profiles for SEO
Manage social media profiles
Create automated chatbots
Automate email campaigns
Help you understand your audience to optimize your strategy
Forecast sales
Control dynamic pricing
And more…
Some of the AI marketing bots we'll cover today are all-in-one tools that provide solutions for most of those functions, while others are aimed at more specific purposes.
Let's get started.
Top 5 AI Marketing Bots
Here are my top picks:
---
Jasper AI is an AI content generation tool that helps you create content for your blog, social media, website, and more
Quick take:
"I have been using Jasper AI for over a year in my business. My team and I use it for many purposes including youtube content, blog content, advertising, and landing page development.
Its ability to write sales copy is impressive and better than hiring some content writers. Best of all no one gets writer's block!"
BEST FOR:
Scaling your content on your blog, social media, landing pages, advertising, and email marketing.
PRICING:
Starts at $24 per month
Jasper is an AI content creation tool that combines machine learning and data to create content in a variety of formats for different acquisition channels.
It comes with over 50 templates that you can use to create articles, landing pages, video titles and descriptions, ads, and more.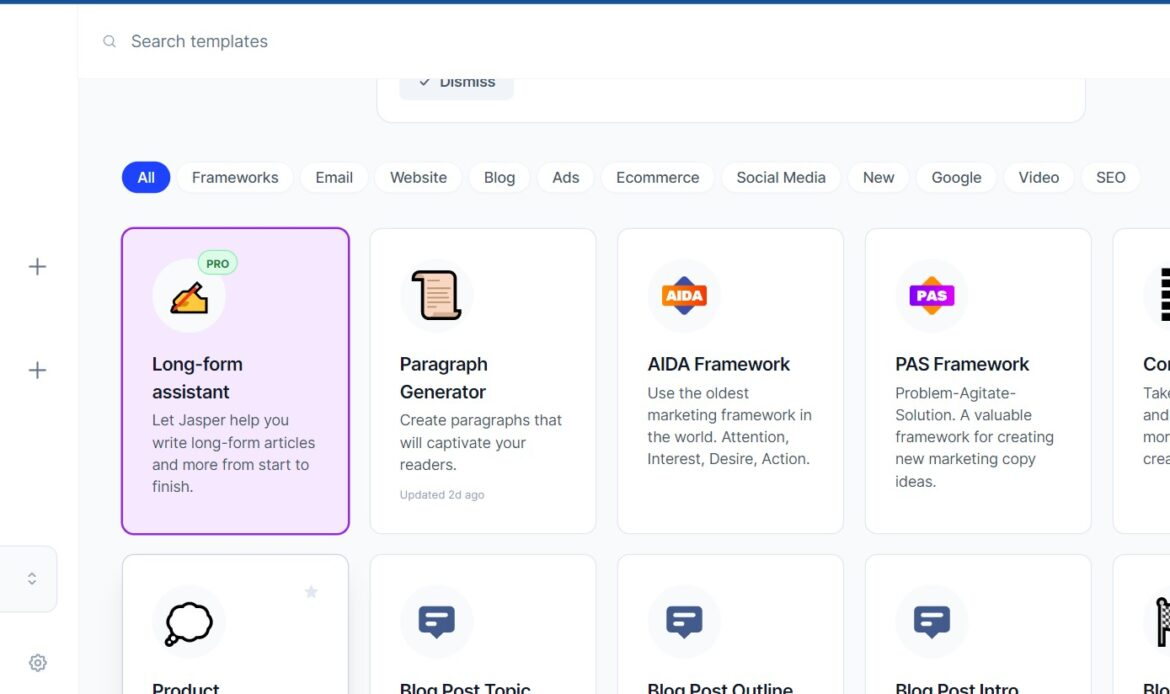 To create content, all you have to do is choose a template, insert the inputs, and let Jarvis generate different outputs (you choose how many). It even lets you pick a ton of voice for your content.
You can then choose the best output and edit it however you want.
Jasper also has a machine learning algorithm that can learn your personal writing style over time to adapt its outputs to it.
You can also insert keywords to have it come up with SEO-optimized content and it offers a Surfer SEO integration.
Jasper also comes with art features that allow you to easily create design for ads, thumbnails, illustrations, and more.
Key templates and features:
–Long-form articles
-Paragraph Generator
-AIDA Framework (Attention, Interest, Desire, Action)
-PAS Framework (Problem, Agitate, Solution)
-Facebook & Google Ads
-Blog Post Outline
-Blog post intro
-Blog post conclusion
Reputation
Jasper has 4.8-star ratings both on g2.com and Capterra, from 848 and 1,364 reviews respectively, so there's no question that it delivers on its promises.
Users often praise the quality of the AI-generated content, the variety of use cases, tutorials, and the customer support it offers.
On the other hand, some users complain about some expressions appearing out of context in the outputs and about the fact that unused words aren't carried to the following month if you don't reach your usage limits.
Here's a Jasper AI review on Capterra:
Pricing
Starting at $24 per month with a 20,000 words limit in the Starter plan, this tool is a drop in the bucket considering how much time is saved.
This is typically more than enough for most bloggers.
The Boss Mode plan starts at $49 per month and both plans increase in price according to your monthly usage needs.
Check out our complete Jasper AI Review
---
PROS of Jasper AI
-Cost-effective
-Extensive functionalities
-Provides data-based recommendations
-Great customer support
CONS of Jasper AI
-Limited training on how to manage teams
-Reliance on cloud services
-Unused words aren't carried to the following month if you don't reach your usage limits
---
WordHero is another AI writing tool that combines pre-defined templates, Machine Learning, and data to come up with original content in different formats
Quick take:
WordHero AI offers features for all sorts of use cases and the quality of the AI-generated content is way beyond what you'd expect.
In addition, it's highly rated across review platforms and comes at affordable pricing.
BEST FOR:
Entrepreneurs and writers looking for a versatile tool that can create content and copy in a variety of formats
PRICING:
Starts at $29 per month
Like Jasper, WordHero AI is one of the best AI writing tools out there and can help you come up with topic ideas, headlines, ads, paragraphs, and even entire blog posts in a matter of seconds.
It works in over 100 languages and, if you use it right, you'll get to spend more time planning and editing your content rather than creating it from scratch.
WordHero has a total of 65 features to generate and improve content in different formats and for different use cases.
That includes blog posts, paragraphs, sales pages, Google and Facebook ads, and more.
It works similarly to Jasper AI. By choosing a template and inserting inputs, it comes up with different outputs.
For instance, you can use the bullet point expander feature to turn bullet points into well-written text.
Other really helpful features are the example and analogy provider tools. They help you prove and support your points with real-world examples, one of the most important things when creating high-quality content.
It also includes tools to help you create FAQs, social media posts, Quora answers, cold emails, fictional stories, job descriptions, quotable quotes, elevator pitches, and much more.
Finally, the Grammar Corrector and Tone Changer tools help you improve and change the style of your writing.
Key templates and features:
-Blog topic ideas
-Blog post paragraphs, intros, headlines, and conclusions
-Bullet point expander
-Example and analogy provider
-Sales page headline & opener
-AIDA & PAS Frameworks
-Product Description
-Facebook and Google Ads
-FAQs
-Grammar corrector
-Tone changer
Reputation
WordHero AI has a 4.6-star review on Appsumo from 344 comments.
Users often praise the quality of the AI-generated content, as well as the number of formats, use cases, and features available.
On the downside, some people complain about the lack of a built-in plagiarism checker and a free trial.
Here's a WordHero AI review on AppSumo: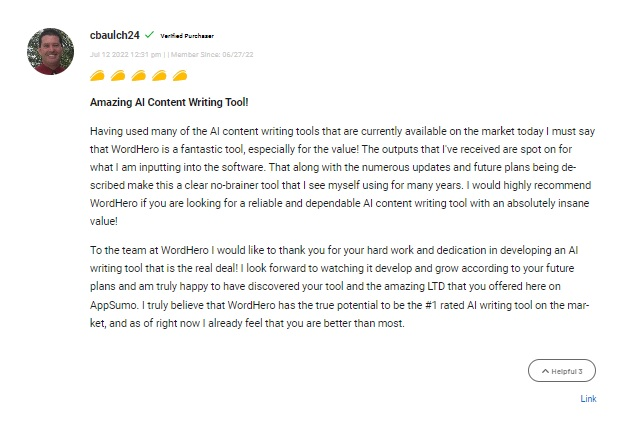 Pricing
WordHero offers only one plan at $49 per month or $348 per year (which comes down to $29 per month).
Unlike many AI writing tools, it has no usage limits, which means you can generate as many outputs as you want without losing peace of mind. When you work with AI writing tools, that's extremely valuable as it might take a few attempts to get the outputs that you're looking for.
WordHero also has a lock-in price policy. This means that, once you subscribe, you'll pay the same amount forever, regardless of how much they increase the price for new users over time.
WordHero also offers 24/7 support. Unfortunately, as mentioned, there's no free trial.
Check out our complete WordHero AI review
PROS of WordHero AI
-Unlimited content generation
-Works in 100+ languages
-Lock-in low price forever
-Great customer support
CONS of WordHero AI
-No built-in plagiarism checker
-No free trial
---
Semrush is an all-in-one AI marketing bot that addresses different functions
Quick take:
Semrush is the ultimate solution for those looking to optimize and scale their marketing efforts and attract more free and paid traffic efficiently.
While larger businesses might benefit from using a combination of tools built for specific purposes, SEMrush provides all the features most businesses need without giving up on quality.
BEST FOR:
Solopreneurs and small to midsize businesses
PRICING:
Starts at $99.95 per month
Semrush is an all-in-one marketing tool that helps you optimize and scale your marketing to attract both organic and paid traffic.
It has dozens of features that allow you to do SEO, market research, content, PPC, and social media marketing from a single place, and is trusted by large brands such as Tesla, Samsung, and IBM.
Its SEO features allow you to optimize your site and content for better ranking, as well as to track your site's performance on SERPs (search engine results pages).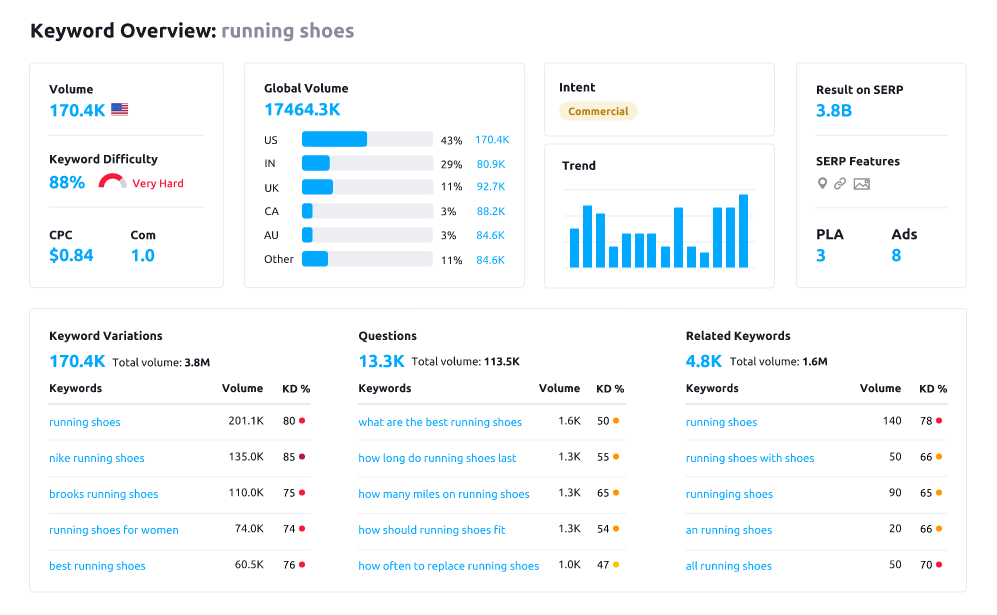 The content features help you plan, create, and optimize existing content with features like topic research and content audit tools. They also include a social media management tool.
Semrush also offers a content marketplace where you can find content creators selected and vetted by them to create content for you.
Its market research tools allow you to understand market trends and get valuable data from your competitors, including their traffic volume, journey, and more.
The paid advertising tools allow you to gather deep knowledge of the advertising landscape. That includes getting detailed analyses of your competitors' ads, live ads examples, keyword information, and more.
Finally, Semrush also offers other helpful tools that can help you do PR work, optimize your copy, run A/B tests, and more.
Reputation
Semrush has a 4.6-star rating on g2.com and a 9 out of 10 score on TrustRadius.
Many users claim that it is the best AI marketing bot they've ever tried, citing the wide range of high-quality features that allow them to do all they need from one place as the main reason.
Some people also mentioned that it might take a while for new users to dominate the platform given how extensive it is. Regardless, they said it was still beginner-friendlier than most AI marketing bots that they had tried.
Here's a Semrush review on g2.com: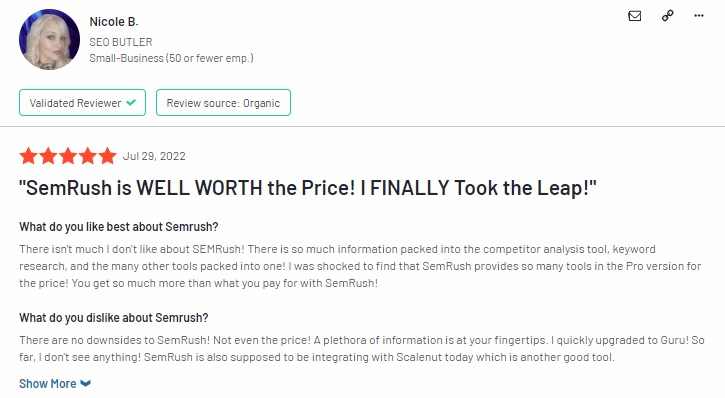 Key features:
-SEO: site audit, on-page SEO checker, SEO writing assistant, position tracking, and backlink analytics & audit
–Content: topic research, marketing calendar, post tracking, content audit, social media management, and content marketplace
–Market research: market explorer, traffic analytics, competitor analysis, and competitor PR tracking
–Paid advertising: advertising research, PLA advertising (product listing ad), and PPC keyword
–Other features: Impact Hero, Prowly, Split Signal, and My Reports
Pricing
Semrush has a free plan with limited features for you to get started.
Or, you can try the Pro, Guru, or Business plans to ramp things up. They start at $99.95, $191.62, and $374.95 per month respectively.
While that might seem expensive, the number of features you'll gain access to with a single subscription will make up for the investment for most businesses.
Check out our complete Semrush review
PROS of Semrush
-Supports Google, Facebook, Instagram, Twitter, and LinkedIn
-Starts free
-Beginner friendly
-Great customer support
CONS of Semrush
-Higher price tag
-Speed at implementing new features
-Not primarily built for YouTube
HubSpot offers marketing, CRM, CMS, and customer service tools in one platform
Quick take:
HubSpot goes a step further than other AI marketing bots by also providing customer relationship and team management features.
It's the ideal choice for those looking for an all-in-one tool to manage other parts of their businesses besides marketing and sales
BEST FOR:
Businesses with more complex customer acquisition processes
PRICING:
Starts free – premium marketing plans start at $45 per month
Unlike other AI marketing bots on this list, HubSpot also helps businesses manage and improve customer relationships and operations in addition to their marketing efforts, making it the ideal choice for larger businesses looking for an all-in-one tool to address those needs.
Its Marketing Hub includes tools to create SEO-optimized content, build landing pages, manage email marketing campaigns, ads, and more.
It also comes with Marketing & Analytics Software. It allows you to measure the performance of all your marketing campaigns in one place with built-in analytics, reports, and dashboards.
Its Sales Software includes features like Email & Call Tracking, Sales Automation, Live Chat, Meeting Scheduler, Account-based Marketing, and more.
The Operations Software allows you to sync & clean customer data and automate and manage team processes.
Finally, the Customer Service Software helps you better serve your customers by creating things like customer portals and knowledge bases and connecting them to your customer support team.
Reputation
HubSpot has a 4.5-star rating on Capterra and 4.4 on g2.com.
Customers praise the wide variety of things you can do with the platform and the number of features on its free version.
On the downside, some features are only available on higher-tier plans. For instance, the SEO features are quite limited in the Free and Starter plans, getting better only in the Professional plan starting at a whopping $800 per month.
Here's a HubSpot review from g2.com:
Key features:
-SEO
–Landing page builder
-Ad tracking & management
-Social media management
-Landing page builder
-Marketing automation
-Lead tracking & management
-Marketing analytics
Pricing
HubSpot has a free plan with no credit card required that includes email marketing, forms, landing pages, live chat, ads (Facebook, Google, and LinkedIn), and contact management features.
The Starter, Professional, and Enterprise plans start at $45, $800, and $3,600 per month respectively.
PROS of HubSpot
-Free plan
-Great customer service
-All-in-one tool for multiple business needs
CONS of HubSpot
-Some important features are only available on higher-tier plans
-Some features might feel overwhelming for new users
Sprout Social is one of the best-known social media management tools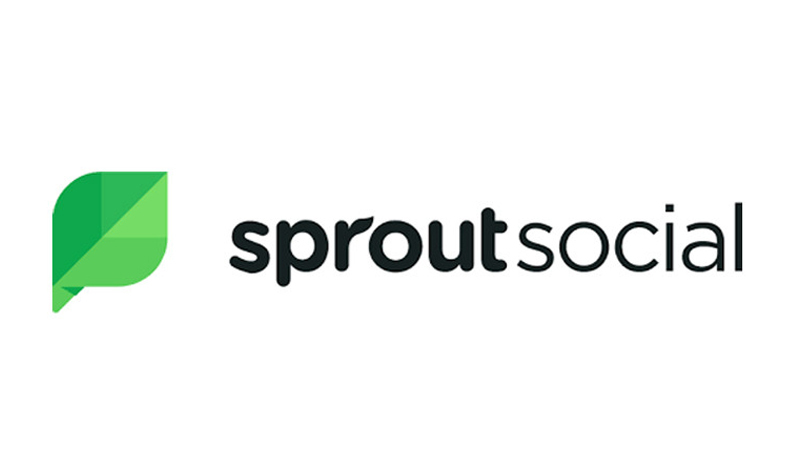 Quick take:
Very effective social media management tool out. Sprout Social offers amazing features, a clean interface, and an amazing learning portal.
Time savings and optimizations made possible by this tool will most likely make up for the investment with a high return in most cases.
BEST FOR:
Businesses that rely heavily on social media
PRICING:
Starts at $89 per user per month
If your business relies heavily on social media, this is a must-have AI marketing bot for you.
It covers nearly all the needs that businesses might have when it comes to social media, with tools to publish, interact with their audiences, track results, and optimize their strategy.
The publishing features allow you to create, schedule, and publish posts across different social media platforms from one place. There's also the ViralPost feature, which allows posts to be published automatically at the times that they're most likely to get the highest engagement levels from your audience.
Likewise, the interaction features allow you to respond to messages and comments from different platforms from a single dashboard. And the Message Spike Alert lets you know when there's a sudden spike in interactions with your brand, which could mean a crisis or another event that requires a fast response.
Other relevant features when it comes to interacting with brand followers include a bot builder, CRM integrations, message labeling, and more.
Analytics features generate reports for each social media profile with general information such as profile growth over time, post performance reports, as well as others.
Finally, Sprout Social offers social listening features as an add-on package. They allow you to gain insights into how customers perceive your brand and competitors.
Key features:
-Publishing features that allow you to create posts and publish on all social media platforms at once, with additional features that help optimize results
-Features to interact with your brand's followers on all social media platforms without ever leaving the Sprout Social app
-Analytics features that help you find out what's working best, optimize results and improve your team's efficiency
-Social listening add-on that allows companies to understand how consumers perceive their brand and competitors' and find ways to improve their strategy
Reputation
Sprout Social has a 4.4-star rating on Capterra and 4.3 on g2.com.
Users often say good things about the number of features, the beginner-friendly interface, and the extensive learning portal.
On the downside, it comes with a higher price tag than other tools and lower-tier plans might lack some important features.
Here's a Sprout Social review on Capterra: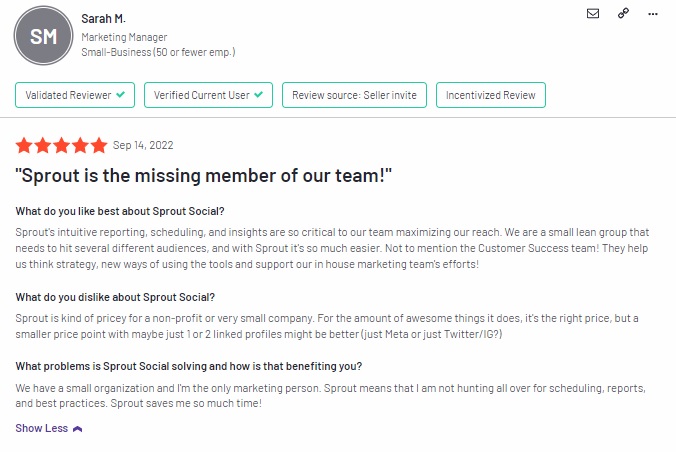 Pricing
The Standard, Professional, and Advanced plans start at $89, $149, and $249 per user per month respectively.
All packages come with a 30-day free trial with no credit card required, one of the longest trial periods on the market.
Add-on packages include Premium Analytics, Social Listening, and an Ambassador Employees program.
Check out our complete Sprout Social review
PROS of Sprout Social
-Great number of reporting and optimization features
-Clean and easy-to-use interface
-Extensive learning portal
-30-day free trial with no credit card required
CONS of Sprout Social
-Some important features are restricted to higher-end plans
-Higher pricing
---
Final thoughts
Regardless of what kind of business you run, at least two or three of those tools can likely help you reach the next level, perhaps a combination of them.
If your business relies heavily on content, Jarvis and WordHero AI would make your life a lot easier.
If you're looking for an all-in-one tool that addresses a wide variety of needs, then Semrush and HubSpot would be incredible additions.
And if your business has a strong presence on social media, Sprout Social is the way to go.
Either way, don't forget that most of these AI marketing bots offer free versions or trials, allowing you to try them out without spending anything.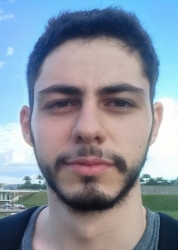 Latest posts by Pedro Tilki
(see all)