Founded in 2010, Sprout Social claims to be one of the most popular social media management tools in the world. They also claim to be the go-to choice for those looking for a reliable social media management suite with great features and a high value for money.
In this Sprout Social review, we'll take a closer look at all the features and benefits of this tool to help you decide if it's worth the price tag and if it's the best choice for you.
Let's get started.
Honest Sprout Social Review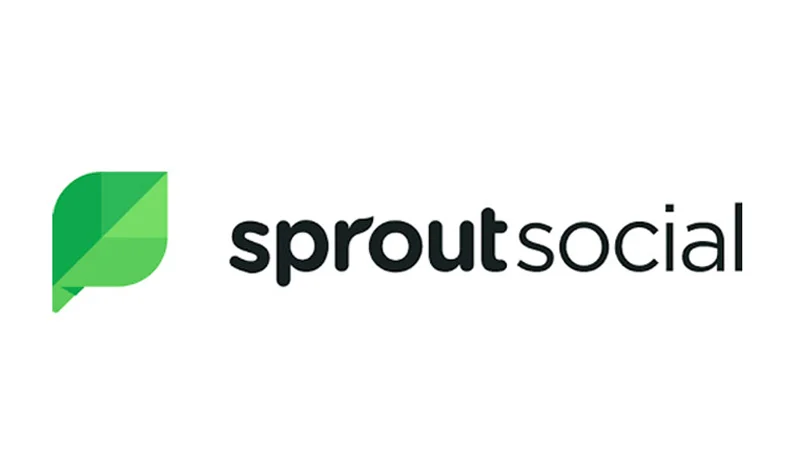 Quick Take:
Very effective social media management tool out. Sprout Social offers amazing features while making it easy for new users to learn how to use it thanks to its clean interface and amazing learning portal. Time savings and optimizations made possible by this tool will most likely make up for the investment with a high return in most cases.
BEST FOR:
Influencers and businesses that are present on multiple social media platforms and aim to save time and optimize results
PRICING:
Starts at $89 per user per month in the Standard plan and goes all the way up to $249 per user per month on the Advanced plan – all plans come with a 30-day free trial with no credit card required
What is Sprout Social?
Sprout Social is a social media management tool that allows you to manage posts, interact with users and gain insights from your social media accounts across different platforms without having to switch between them, all done from Sprout's own platform.
This not only saves a lot of time for influencers, entrepreneurs, and social media managers working for brands with a strong online presence, but it also allows them to gain clearer insights that ultimately improve outcomes.
Sprout Social can be used to manage accounts on a variety of platforms including Facebook, Instagram, Twitter and LinkedIn. It can also be linked to other platforms where brands can interact with previous and potential customers such as TripAdvisor and Glassdoor.
Key Features and how they work
Sprout Social Key Features
-Publishing features that allow you to create posts and publish on all social media platforms at once, with additional features that help optimize results
-Features to interact with your brand's followers on all social media platforms without ever leaving the Sprout Social app
-Analytics features that help you find out what's working best, optimize results and improve your team's efficiency
-Social listening add-on that allows companies to understand how consumers view their brand, as well as competitor brands, and find ways to improve their strategy
Sprout Social Publishing Features
One of Sprout Social's most valuable features for its users is that, instead of having to create and publish posts in each social media platform they use, they can simply create them all at once in Sprout's platform, adding text, media, and even emojis, and then publish or schedule them to be published on all platforms at once.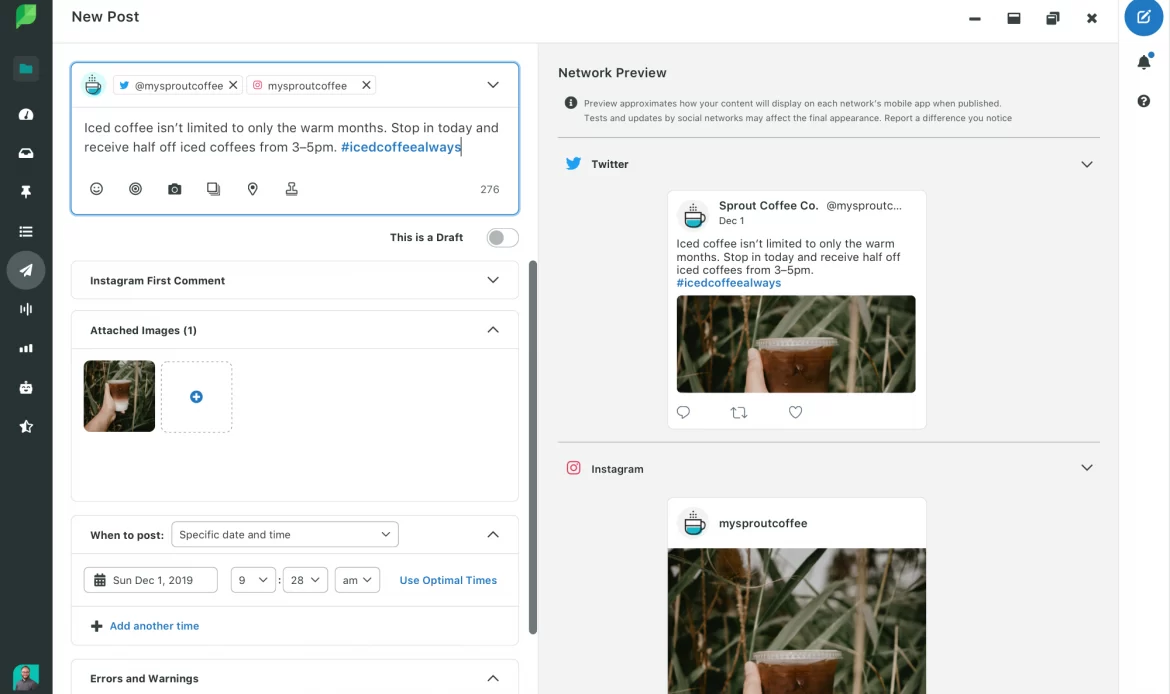 The interface is clean (which doesn't mean it lacks important features) and makes it extremely easy to organize posts in a calendar and/or by tags, allowing users to easily split posts by groups according to their topic or utility and see when they are supposed to go public.
It also comes with the ViralPost feature, which allows posts to be published automatically at the times that they're most likely to get the highest engagement levels from your audience, according to Sprout's data.
Other features that help users create and publish effective CPA marketing campaigns include content suggestions, URL tracking through a Google Analytics integration, media integrations and more.
Sprout Social Features to interact with your brand's followers
One of Sprout Social's most helpful features is the Smart Inbox, which brings all the messages from your different social media accounts together in a single flow, making it easy to see and respond to them without having to switch between platforms.
The types of messages available on Smart Inbox vary by platform, but this might include direct messages, post and ad comments, direct mentions, and others. For Instagram, for instance, Smart Inbox allows you to manage post and ad comments, direct messages (DMs), story mentions, regular mentions, and media tags.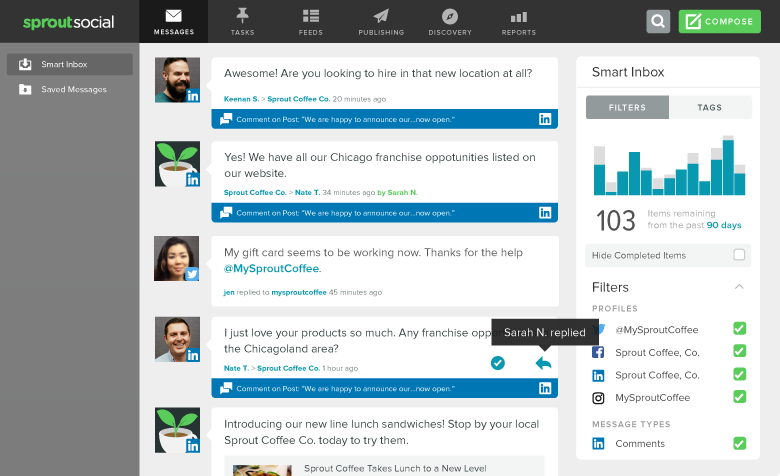 Another valuable feature is the Message Spike Alert, which basically lets users know when there's a sudden spike in interactions with the brand's accounts, which could mean a crisis or another event that requires a fast response in order to avoid damage or to take advantage of an opportunity.
Other relevant features when it comes to interacting with brand followers and others include a bot builder (that allows you to create an automatic chatbot to respond to messages, support requests, and others), CRM integrations, message labeling, and others.
Sprout Social Review – Analytics Features
Sprout Social generates reports for each social media profile with general information such as profile growth over time, post performance reports (that allow brands to see which types of posts generate more repercussion and engagement) and others.
The analytics functions vary by platform. On Facebook, for instance, it allows you to examine the number of page impressions, growth in the number of followers and the performance of paid and organic content, while on Pinterest it allows you to use URL tracking to track the number of new website visitors you're getting from it.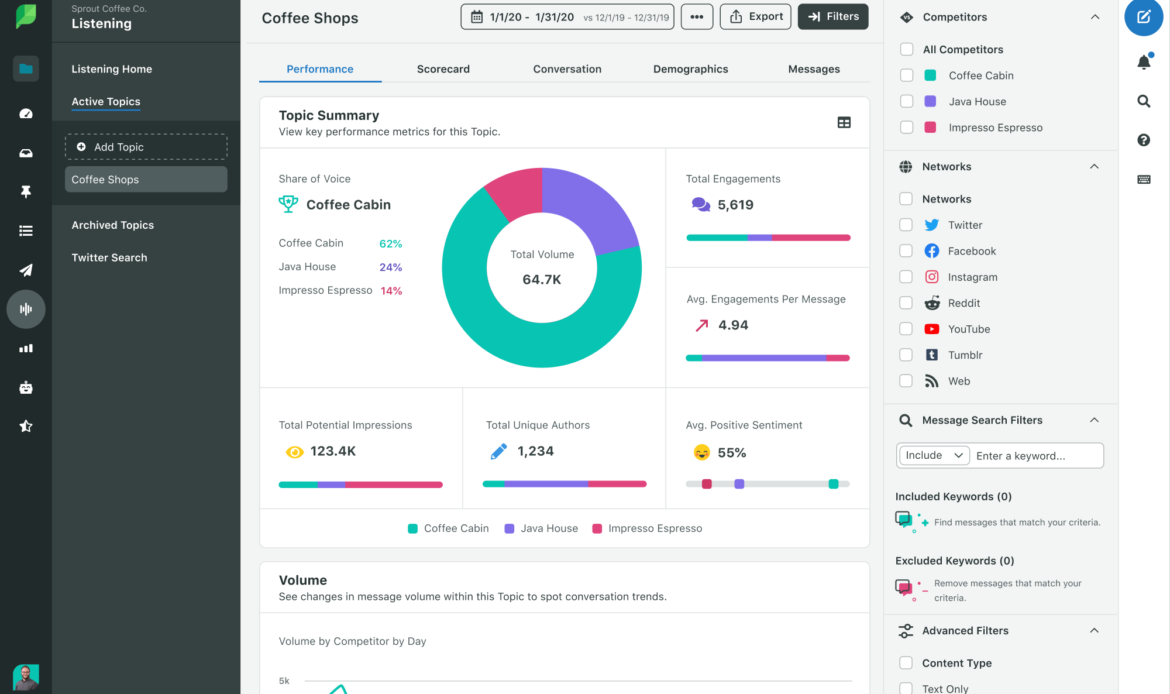 Another valuable reporting feature is the competitive analysis. Its function is to track competitors' performance on social media platforms to allow brands to identify new opportunities in the market.
The paid performance reports, on the other hand, allow you to run paid campaigns and then let Sprout Social find out and tell you in detail, based on numerous insights, which strategies are working best with your targeted audience before you increase your budget, so you can enjoy a better ROI.
The Sprout Social platform also generates team and task reports that allow you to track the speed at which each user in your network replies to social messages and performs activities that were attributed to them, ultimately allowing you to measure and improve your team's performance and customer support.
The company also offers the Premium Analytics add-on. It comes with over 150 additional reports, as well as access to customizable report creators and interactive panels.
Social Listening
Sprout Social's Social Listening features are available as an add-on package and they allow companies to gain insights into how customers perceive their brand, as well as competitors.
Key features in the Social Listening package include:
Audience analysis: this allows you to examine your public's preferences to improve your marketing strategy and base your business planning on it.
Customer feedback: this allows you to follow conversations about your brand to learn more about your customers' experiences and attitudes towards it.
Client research: helps you identify demographic data about your public, including age, gender, geographic location and device usage to better understand and reach potential clients.
Influencer recognition feature: identifies influencers and innovative leaders in your industry based on the number of followers and post engagement they get, who could later become ambassadors for your brand.
Feeling research: explore consumers' feelings and views on themes, products and specific competitors to optimize your positioning.
Campaign analysis: rapidly register your public's reaction to your marketing campaigns and create summarized reports to evaluate their performance.
Competitor comparison: identify gaps in the sector, follow the share of voice (SOV) and understand your customers' attitudes towards competitors to find out new business opportunities.
Trend identification: follow customers' behavior towards specific themes and be aware of trends.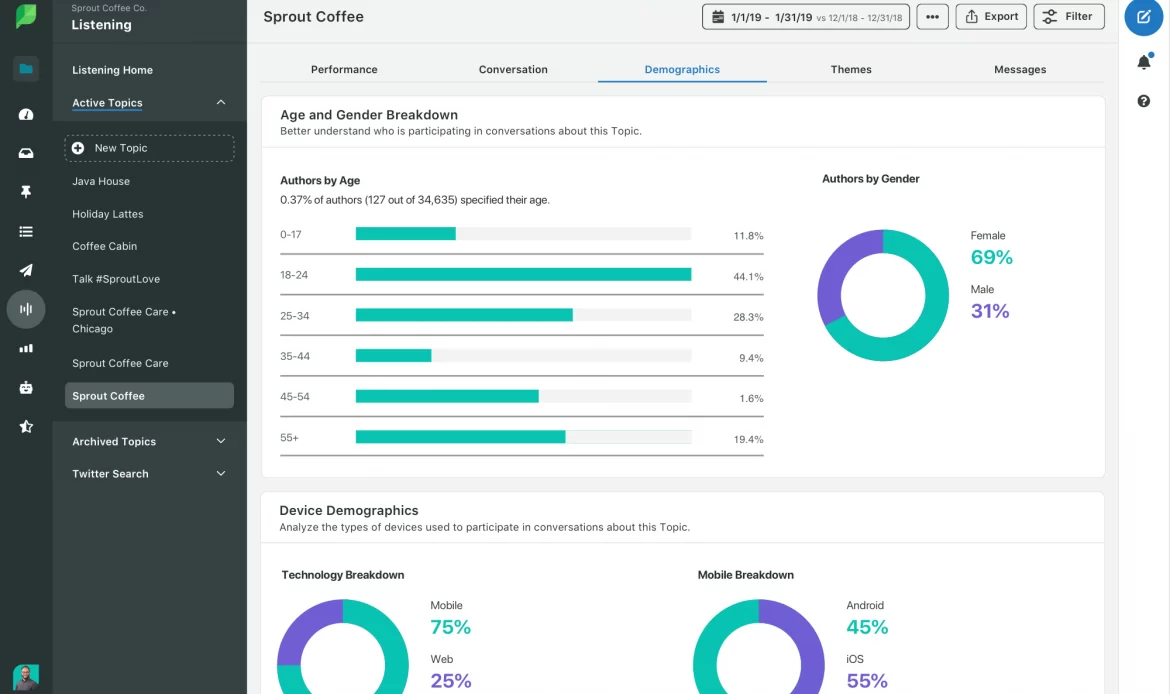 Sprout Social Review – Support
Sprout Social offers 24/7 support via email, support requests on their platform or via social media platforms like Facebook. Their help, however, is not always needed as there is a huge learning portal with a wide variety of content on different topics.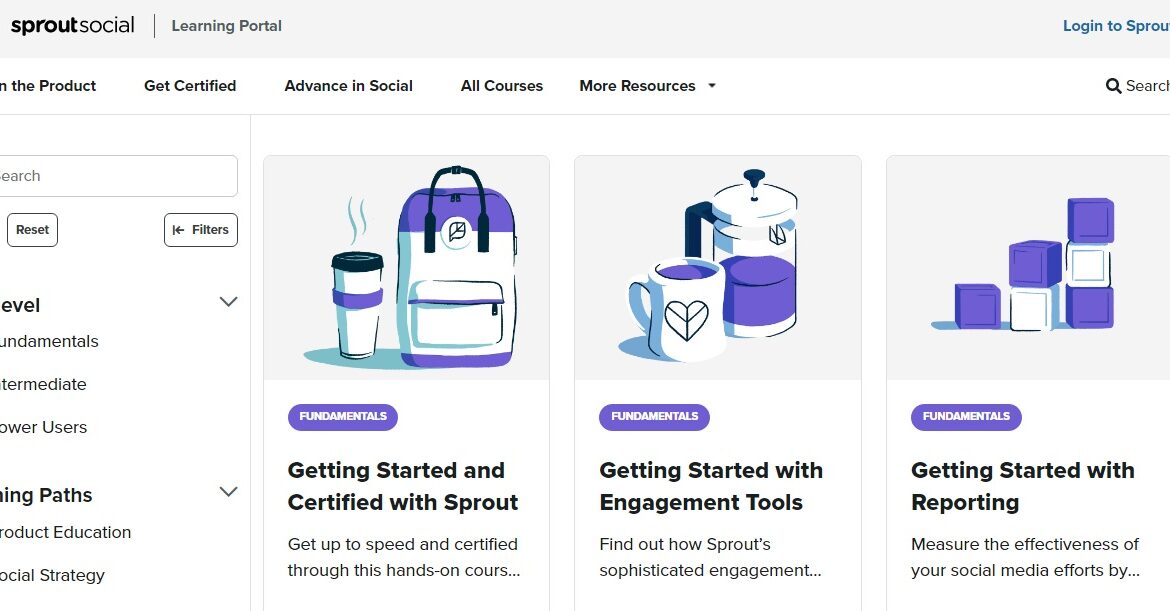 Their learning portal offers over 100 different courses (many of them lasting several hours), split by skill level, learning paths, 'recommended for', product area, content types and content topics.
There's also the Sprout Blog, guides, webinars and case studies that might give you insights on how you can use Sprout Social's features to help your brand in unique ways.
Sprout Social Pricing
Pricing starts at $89 per user per month on the Standard plan, which includes up to five social profiles, the Smart Inbox, publishing features, content calendar, comment management, and more.
On the Professional plan (the most popular, according to their website), pricing starts at $149 per user per month and includes, besides all the Standard features, up to 10 social profiles, competitive analysis on Instagram, Facebook and Twitter, personalized workflows for many content approval steps, the ViralPost feature, paid performance reports and more.
Additionally, there's the Advanced plan starting at $249 per user per month. It includes up to 10 social profiles and, besides all the Standard and Professional features, it also includes message spike alert, chatbot automation, a Twitter research that allows you to find the CSAT or NPS, as well as 10+ additional features.
All packages come with a 30-day free trial with no credit card required, one of the longest free trials on the market.
Add-on packages available include, besides the Premium Analytics and Social Listening ones already mentioned, an Ambassador Employees program (?), that allows employees to easily share content about the brand and become brand ambassadors themselves.
Sprout Social Pros and Cons
One of the greatest upsides of Sprout Social is a large number of reporting and optimization features available, making it easy for businesses to track results to find out what works best and to identify opportunities to improve their strategy by listening to what people are saying and watching what competitors are doing.
Another key upside is the clean and easy-to-use interface, with quick-access buttons that allow users to access important features with very few clicks and without lacking any important features.
And last but not least, we can't forget about the extensive learning portal that has everything new users need to learn how to use the platform, as well as for businesses to train employees to do the same without having to spend valuable resources on it.
On the downside, the first thing that comes to mind is the higher price tag in comparison to alternatives that offer some of the basic features for a fraction of the price, like SocialBee. In addition, pricing per user on all plans can sharply increase the final cost for businesses with many team members who'll be using the tool.
Another downside is the fact that many of the most attractive features on this platform are restricted to the higher-end plans, despite the lowest-end one (the Standard plan) being more expensive than most alternatives.
However, there is a 30-day free trial with no credit card required, one of the longest in the market, that allows you to find out if the features are worth the price tag in your case. Besides, the features can easily pay off the investment with return optimizations and time savings for the team.
Sprout Social PROS
-Great number of reporting and optimization features
-Clean and easy-to-use interface
-Extensive learning portal
-30-day free trial with no credit card required
Sprout Social CONS
-Higher price tag than alternatives
-Some key features are restricted to higher-end plans
Final Thoughts
Sprout Social has amazing features that allow users to save time, track results and gain valuable insights on how to optimize them, all while having a clean and easy-to-use interface. On top of that, it's constantly very well-reviewed by its users.
When it comes to marketing a business, any small improvements on conversions or time savings for the team can easily pay off the fees, even if they're high. So, while Sprout Social's price tag may be higher than many alternatives, its features can certainly make up for that.
Besides, the 30-day free trial is one of the longest in the industry and gives you enough time to find out whether this is the right tool for you and your business before you actually spend anything.
Considering all the facts above, as well as my personal impressions of the tool, I think it's fair to say that Sprout Social is definitely one of the best social media management tools out there, if not the best, and it's no wonder why this is the favorite tool of its kind for many industry leaders and experts. Hopefully, our in-depth Sprout Social Review has helped you make an informed decision.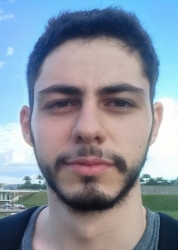 Latest posts by Pedro Tilki
(see all)