Recently I decided to move Shopify to a subdomain. There were a few reasons for this change. I love Shopify, but I want to retain some control over my own blog content.
Luckily I haven't started any heavy promotion on this store yet so if I want to make this change now is the time. My Shopify store is currently on my main root domain and I want it on a subdomain like shop.mydomain.com.
There are some reasons why I want the Shopify subdomain setup done now. Here are the reasons I want to move Shopify to a subdomain rather than have it on a root domain.
Putting Shopify on a subdomain, gives me full control and ownership of my root domain and website, and let's me build my blog on my root domain which I plan to use for search engine optimization.
I want my search engine optimization to be heavily focused on the main root domain where I will install WordPress. This will give me more blog functionality, as well as improved SEO.
With Shopify on your root domain, you are not able to have WordPress in a folder. For example yourdomain.com/wordpressblog.
With Shopify, you would have to put your blog into a subdomain if you want to host the blog yourself. This is why I want to move Shopify to a subdomain, rather than move my blog to a subdomain. I think it is much easier to do SEO on the main domain rather than the subdomain.
So Why Not Just Use the Shopify Platform for Both My Blog and Store – Why do I Need to Move Shopify to a Subdomain?
The reason is that I don't want Shopify to "Own" or "Control" my blog content on their servers. I plan to do some major promotion both on social media and on other paid ad platforms, and I plan to build a massive following through organic Search Engine Optimization tactics. My concerns are that Shopify could technically have complete control over all of my content.
Does Shopify actually own my blog content?
Well, not really, but if I set up my blog using Shopify, they technically have control over me, at least that is the way I see it.
Not only would I be trapped or locked into their monthly billing but it would be a pain to have to migrate all blog content in the future if it wasn't on my server.
Time and time again over the years of building content, I have been at the mercy of massive companies changing their terms and conditions or changing their platforms to better suit their business and not mine.
So this time I am going to prepare myself. That is why I want to host my blog myself and move the store on Shopify to a subdomain.
If I put my Store and Blog both on Shopify, here are two potential problems I foresee.
"New Rules" – As I have already mentioned I want to build a massive amount of content and I want to distribute this content across the globe. The reason I want 100% full ownership of this content on my own server, is because I want to have full control with no worries of future changes unless I make them. I have seen major platforms try to "regulate" what content is allowed on their servers. If I am going to put my full commitment into building a ton of content, I want to eliminate any possibilities of that content being at the control of another company. If my content is hosted on a giant platform like Shopify, who is to say one day they won't just make up a rule where my content is no longer allowed on their platform, or I am not allowed to monetize it with certain ads, or they go out of business? This type of stuff happens all the time with big companies. I think it would be a lot easier to set up products again on a new ecommerce platform, than to re-create or move all of your blog content from a server you don't have control over. It would be a ton of work. It would also be detrimental to your site's SEO.
2. Shopify has Limits – If I use their templates and server for my blog, I am limited on their system. With Shopify blog articles you can edit templates but you don't have all of the functionality that WordPress has. WordPress is a beast, and it allows me to do so much more. With WordPress, my content is on my own server and I have much more control and access to plugins which can help me with my SEO efforts.
If you are not sure if you should move Shopify to a subdomain there are a few options to consider:
If you put shopify on a subdomain your store would be something like shop.yourdomain.com. You can then put your main WordPress blog on yourdomain.com and host it yourself. This means you set an A record for the subdomain to point to shopify's IP, and then point your root domain to your server. (my preferred option)
You can put your store on the root domain, and put your blog on Shopify. This way everything is on the main domain, and this is good for SEO in terms of Google since they only see one website. However, you are limited in functionality for your blog, since Shopify doesn't have the features yet for powerful blogging. You may miss out on features that WordPress has for SEO and linking social media accounts.
You could put Shopify on your main domain, then put your blog on a subdomain. This is very similar to option 1 but your main content is now on a subdomain. If blogging and SEO is not your main focus for traffic this may not be a big concern and having your store on the root domain may make sense for you.
Whatever the reason may be to move Shopify to a subdomain let us get into the Shopify Domain Setup.
Shopify Subdomain Setup
Ok so here is how to move Shopify from your root domain to a subdomain. (assuming you already set it up on your root domain)
Step 1: Create an A Record for the subdomain you wish to use for your store. (you may need to delete the existing A record which is already there for your root domain) I am using Cloudflare to do this.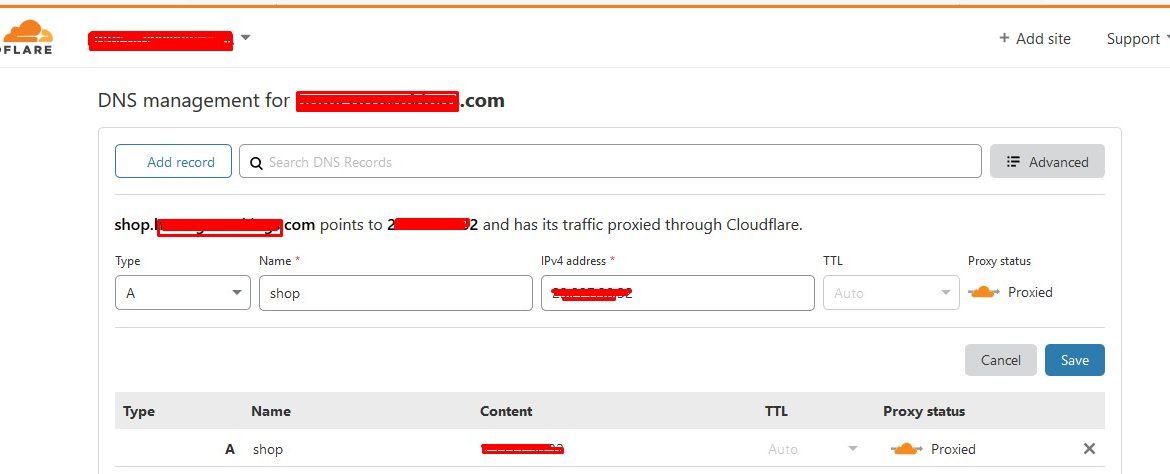 I am using "shop" as my store. So I set shop as the name of this A record and pointed it to the IP address given to me by Shopify. Now that the subdomain is pointing to the Shopify IP address provided to you, go and change Shopify settings.
Login to Shopify and then go to Online Store >> Domains.
Now you need to remove the existing domain (root domain) from your Shopify so you can then add in the new subdomain that you set the new A record for.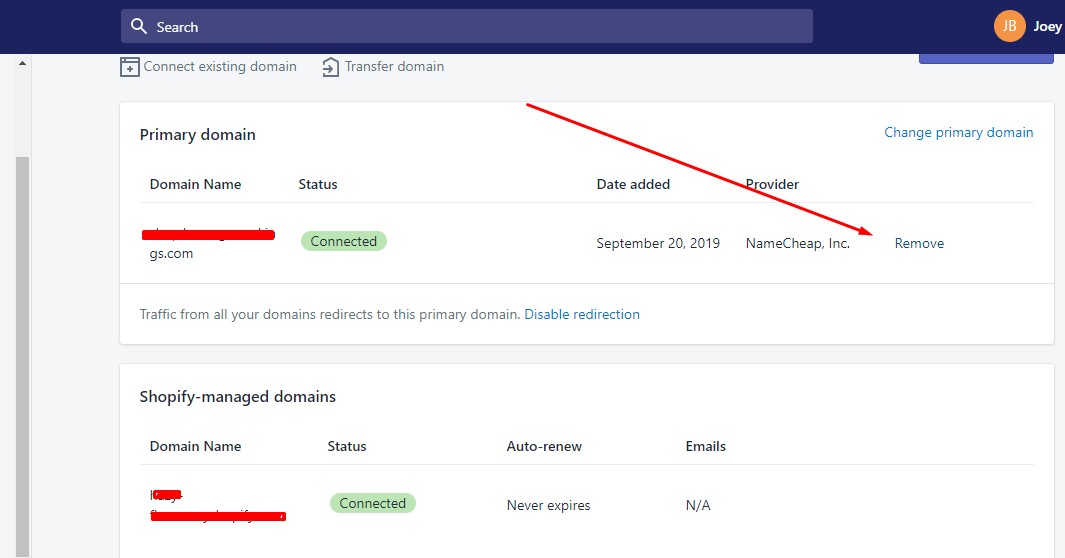 The next step is to then add or "connect existing domain" again, but this time you would enter in the new subdomain that you created in the new A record.
Now the next step is to make sure your root domain is pointing to your own server so you can then have your main website or WordPress on your root domain. Since I am using Cloudflare I would just create an A record and point it to my own server.
Now I simply install WordPress into the root folder of my domain and I should be able to create a highly optimized website on my Root domain while sending people to my store at the subdomain shop.mydomain.com
Shopify is a fantastic platform for setting up your own store, but depending on how you plan to send traffic to your product page, moving Shopify to a subdomain may be a good strategic move.
This all really depends on your strategy for driving traffic and building an organic following. It also depends on what you are actually selling. For me, I will be selling products that fit with my niche, but are not something I am branding and manufacturing myself. If branding your products and store is your main strategy then it likely makes sense to leave your store on the main domain.
The plan for the store I am working on is to develop a very strong web presence by delivering a lot of solid content in the niche I have chosen. When people want information about this niche I want them to come to my domain as the place to get the best information. I believe this will drive more sales of actual products through the website if I funnel the traffic over to the subdomain.
I wrote this article because I searched for almost 30 minutes on Shopify to find an answer on how to move Shopify to a subdomain. I would be interested in knowing why others are also moving their store to a subdomain. Please post a comment below.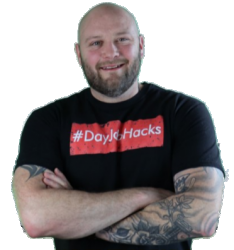 Latest posts by Joey Babineau
(see all)