Used by over 50,000 businesses across 40 different industries, WebinarJam/Everwebinar is one of the most popular all-in-one webinar software + automated webinar software tools around.
But how great is it actually, and how does it compare to alternative platforms like GetResponse and Zoom?
In this WebinarJam review, we'll take a closer look at all the features, pros & cons, pricing, and more to help you decide whether this is the right choice for you and your business.
100% Tested WebinarJam Review
Quick Take:
WebinarJam is an industry pioneer, and it's definitely one of the best options for those who use webinars as a key part of their sales strategy and need advanced features that only a tool primarily designed for this purpose can offer
BEST FOR:
Solopreneurs and teams presenting and selling to large audiences
PRICING:
Plans range from $39 to $379 per month with a 30-day money-back guarantee
WebinarJam Review – What is WebinarJam?
WebinarJam is an all-in-one webinar platform that allows you to run online presentations for up to 5,000 people.
Unlike other automated webinars and online meeting tools, it was primarily built for webinars, which means it's better adapted and has more features for this specific purpose.
It's owned by Genesis Digital, the same owner of EverWebinar (which is the auto webinar program we'll be talking more about ahead), and Kartra, an e-commerce solution. The two systems can be accessed in one single account.
WebinarJam has four pricing plans starting at $39 per month, and all of them include unlimited webinars, replica replay, on-screen whiteboard, and live broadcasting to Facebook and YouTube.
WebinarJam Review – Key Features
WebinarJam includes all the features that you'd expect from a webinar tool, including live chat, a drawing board, polls & surveys, and more. But, unlike other tools in the market, its features go beyond the webinars themselves.
Instead, it helps users manage other parts of their funnels as well, with features like the Page Builder and the Full Email & SMS System, as well as analytics tools that help them understand attendees' behavior before and after the webinar.
WebinarJam Review – Key Features
-HD across all devices and mobile-friendly even for presenters
-Live chat
–Automated Recording
-Page builders with A/B testing
-Full Email & SMS System
-Panic Button to ask for support in case of technical issues
-Polls & Surveys
-File Handouts & Drawing Board
-Automated integrations (connect WebinarJam with your autoresponder or CRM of choice)
-Free or Paid webinars
-Password-Protected Rooms
-Analytics
-Automatically ban inappropriate words
-Control panel for presentations that need staff assistance
Let's dive deeper into some of these features and how they work:
Automated Recordings
WebinarJam's Automated Recording feature allows you to record all your webinars and replay them when you want to.
Their Replica Replay feature mimics, second-by-second, everything that happened in the Live Room, including comments, surveys, product offers, and more, at the exact point of the original webinar that they came up rather than displaying them all at once.
You also get to schedule the Replay Rooms as you wish. For example, you may schedule an encore replay event to be played out 24 and 72 hours after the live session.
Page Builder and Full Email & SMS System
WebinarJam also allows you to build other parts of your funnel using its Page Builder and the Full Email & SMS System. This is a useful feature if you don't already have a landing page creator.
The Page Builder allows you to select a template from a large library and customize it as you wish with their point-and-click editor. It also comes with free unlimited hosting and easy split-testing, and all templates are mobile-responsive.
The Full Email & SMS System, on the other hand, allows you to schedule a series of reminder notifications, via email and phone text, so your registrants never miss your events. For the post-webinar, you can also craft emails based on their actions such as missing your webinar, leaving early, or staying until the end.
Automated Integrations
WebinarJam has developed smart API connections so you can configure different rules depending on your registrants' behavior.
For example, you might want to subscribe them to a different mailing list or assign them a different tag, depending on whether they show up to the live event or not, and whether they watch it all the way to the end or not.
This level of granularity allows you to segment your leads with high accuracy so you can craft your follow-up marketing strategy based on their behavior.
WebinarJam's integrations include GetResponse, Zapier, ConvertKit, and more, and its integration features allow for easy email integration, seamless tagging, 3rd party tracking, and If/Then rules.
WebinarJam Review – Control Panel & Analytics features
The control panel is ideal for professional users running large webinars that might require hands-on assistance from a staff member and comes with moderate chat and Q&A, real-time analytics, 'Operate the room' and 'Control the attendees' features.
WebinarJam's dashboard also brings traffic and engagement analytics that allow you to learn your registration and show-up ratios.
The analytics features also allow you to know things like whether your attendees are dropping out of the live room early, your costs per registrant and attendee, whether people are logging in late or not, how many people are replaying the recordings, and more.
Other features
Other relevant features include a Panic Button (that allows you to request urgent support in case technical issues occur in the middle of a webinar), the ability to charge for webinars through their platform, creating password-protected rooms, establishing an automatic ban on certain words you deem inappropriate, and more.
WebinarJam Review – Support
One downside of WebinarJam is the lack of phone support and a 24/7 live chat (which is limited to between 8 AM and 2:30 PM Pacific Time).
On the other hand, it's fair to say that they do provide many online resources that might solve your problems without even requiring support assistance.
Those are the Jam Academy, which comes with step-by-step video training on how to use WebinarJam's functions, the Documentation Wiki, which offers tutorials on how WebinarJam and its advanced features work, and their Facebook Community.
WebinarJam Review – Pricing
WebinarJam offers four pricing plans that range from $39 to $379 per month.
All of them come with most of the key features, including Unlimited Webinars, Live Chat, Flexible Scheduling, Replica Replay, Page Builder, Email & SMS System, Whiteboard, Custom Backgrounds, broadcasting to Facebook and YouTube, Bad Words Filter, A/B Split Testing and more.
Some other features, like the Panic Button and the Control Panel, on the other hand, are restricted to higher-tier plans.
Each plan comes with different maximum durations for the webinars, as well as different host and attendee limits.
Their lowest-tier plan, Starter, allows only one host, up to 100 attendees, and 1 hour in maximum duration, while the Enterprise plan, the highest one, allows up to six hosts, 5,000 attendees, and a maximum duration of 4 hours.
All plans include unlimited webinars and are billed annually. They also come with a 30-day money-back guarantee.
WebinarJam Review – Pros and Cons
One of WebinarJam's biggest upsides is the fact that, among the top platforms available for webinars, it's one of the few that was primarily built for this purpose.
This means that it's better adapted and has more relevant features for this type of usage than other platforms, and makes it one of the best choices for those who often use webinars as a key part of their sales strategy.
The platform is also easy to set up and use and all plans come with unlimited webinars and most features.
Another advantage is the fact that it allows you to manage other parts of your funnel rather than just the webinars themselves.
This allows you to integrate the different parts of your funnel more easily, and get access to more data about your attendees' behavior before, during, and after the webinars.
One of the cons, however, is the lack of 24/7 live support, and the absence of a month-to-month billing option.
On the other hand, they offer many resources that can be accessed at all times like the Jam Academy, while their 30-day money-back guarantee eliminates the risk of trying it out.
WebinarJam PROS
-Easy to set up and use
-Primarily built as a webinar tool
-Unlimited webinars on most plans
-Features allow you to manage other parts of your funnel
-Accessible pricing and 30-day money-back guarantee
WebinarJam CONS
-Lack of 24/7 live support for most users
-Only annual billing is available
WebinarJam Review – How It Compares to Alternatives
There are many automated webinar tools available, including some that were primarily built for webinars and others that are flexible for more use cases, like Zoom.
Let's take a look at how three of these tools compare to WebinarJam:
EverWebinar
Owned by the same company as WebinarJam (Genesis Digital), EverWebinar is the evergreen auto webinar software which you can have access to for an additional fee inside your account. It's mainly focused on replaying webinars rather than displaying them live, all while delivering the exact same experience to attendees as the original one. They can be set up to appear like they are live webinars starting within a few minutes, replays of recent webinars, or users can choose to signup to the next "live" event. (which is actually a recording)
The good news is that, since it's related to WebinarJam, the two platforms can be easily accessed in the same account to complement each other.
If you intend to replay webinars frequently, possibly several times a day, to allow your prospects to watch your webinars at any time, this is a great option to explore in addition, as it comes with additional features for this purpose.
GetResponse
GetResponse was primarily built as an email marketing software but offers a very decent webinar tool. It's slightly more expensive than WebinarJam, with the webinar feature available in the Plus plan that starts at $49 per month.
If your main goal with webinars is just to collect email addresses to make the sale during another stage of the funnel rather than doing it live, this is a great choice to consider.
Zoom
Everyone knows that Zoom is one of the best-known remote work tools in the world.
But, unlike WebinarJam, it wasn't primarily built for webinars and, instead, is more flexible and suits different use cases, like online meetings with fewer participants.
This might be the right choice for you in case your meetings typically include a lot of participation from attendees, or if your main goal is to run meetings with your team, but it certainly lacks some advanced webinar features when compared to WebinarJam.
WebinarJam Review – What Previous Users Have to Say
Previous customers often highlight the platform's ease of usage, the attendee's experience, the integrations available, and more.
Complaints, on the other hand, are mostly focused on customer support, and not enough customization options on templates.
Overall, though, if you look for WebinarJam review testimonials on sites like getapp.com or g2.com, you'll find a great number of customers who are happy with the platform on all its key aspects.
Here's a WebinarJam review from getapp.com: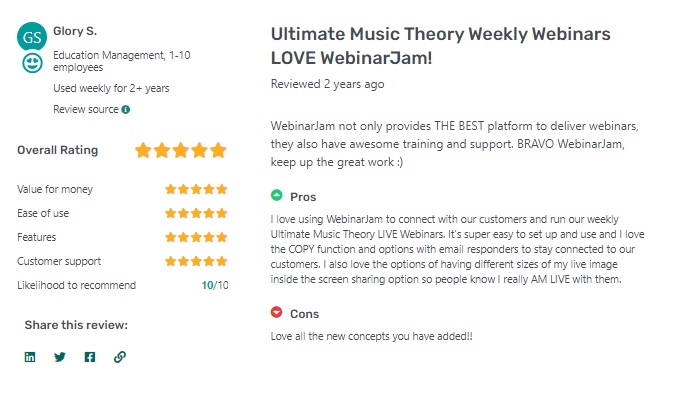 Final Thoughts
While it's good for webinar tools to have the flexibility for different use cases, when it comes to businesses and entrepreneurs that use webinars as one of their core sales strategies, it can be incredibly helpful to have a tool that was primarily built for this purpose.
For those cases, WebinarJam comes as one of the best options around, if not the best.
The platform is easy to set up and use for beginners (while not lacking any advanced features), comes with unlimited webinars and most features on all plans, and it allows entrepreneurs to easily integrate their webinars with other parts of their funnels, reducing their workload, bettering attendees' experiences and giving them access to more data.
Its accessible pricing (starting at $39 per month), the 30-day money-back guarantee, and previous users' comments on the platform also make compelling cases for business owners to try it.
While it's important to evaluate different options and evaluate how they fit your specific needs, we hope this WebinarJam Review has helped you gain clarity on what this tool was made for, its pros & cons, the main benefits, and helped you make a better-informed decision.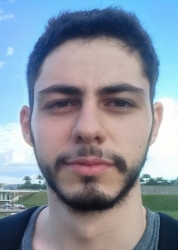 Latest posts by Pedro Tilki
(see all)