Most in-depth Adplexity Vs Anstrex Review – What is the Best Native Ads Spy Tool?
Adplexity and Anstrex are both very popular competitive intelligence tools used particularly for native and push ads. They both offer a lot of features, but which one is better?
First, let's describe what these tools do.
A native ads spy tool is a software program that lets you see exactly which native ads are performing well for your competitors, so you can get ideas to use in your own campaigns. This can help you get more views, clicks, and conversions on your own ads by giving you insights into what's working for other advertisers.
Using a native ads spy tool can give you insights into the ads that your competitors are running, including details on what ad copy they're using, which images they're featuring, and other information to help you optimize your own campaigns.
This can help you improve your click-through rates (CTR), conversions, average order value (AOV), and more. If a competitor is doing something right, there's no reason you can't do the same thing and get similar results.
There are a few different native ads spy tools on the market, but the two most popular are Anstrex and Adplexity.
Here is our quick take on which ad spy tool is best when comparing Adplexity vs Anstrex.
Types of Ad Formats Available:
Native Ads, Push Ads, Mobile, Desktop, Ecommerce, Carriers, Enterprise.
Ease of Use & Filtering Options
Easier filters by affiliate networks, advertisers, duration of ads, country, language, ad platforms, and tracking tools.
Landing Pages & Downloads
View & download landing pages or export to Landerbolt.
Ease of Use:
Adplexity is easier to use and filter with all filtering done on the same page making it more efficient.
Pricing: Native $169 / Push $129
(Prices are based on our discount link)

Types of Ad Formats Available:
Native Ads, Push Ads, Dropshipping, Popups.
Ease of Use & Filtering Options
Ability to filter by affiliate networks, duration of ads, country, language, ad platforms, ad score, and tracking tools.
Landing Pages & Downloads
View & download landing pages or queue multiple downloads.
Ease of Use:
Anstrex has as many filters as Adplexity but it does not save filters when switching pages and it is a bit more clunky.
Pricing:
$69.99 Native / $139.99 Native + Push
Adplexity offers more features and is more user-friendly, while Anstrex is more affordable. Both tools have their pros and cons, so it depends on your needs as a marketer.
Adplexity vs Anstrex Review – Native Ads Spy Tool Video
Adplexity Overview & Features
Depending on what types of ads you are most interested in, the choice between these two native ads spy tools could be easy.
Spy Tool Ad Types:
Adplexity offers you access to mobile, desktop, native, push, ecommerce, carriers, and enterprise (all options).
Filtering Options:
Adplexity wins hands down for filtering options and ease of use.
On Adplexity if you want ads running for 14 days, you can do that by moving the sliding bar up to 14 on the days running option on the left bar. What we like about this platform is that you can do a date range and select the dates you want the ads to have been running.
Another win for AdPlexity is that you can sort by receiving the most traffic (on the sort by drop-down in the top right corner) so you can see immediately what ads are getting the most traffic.
Adplexity also puts all of the information on the main page, making it much more efficient. When time is money, this tool is the option for many marketers, even with a higher price tag.
Data and Reports Analysis
On AdPlexity, you can start looking at all of the data straight away. You can easily see all of the countries that are running, the placements, the devices, the affiliate networks, and the traffic sources.
It makes it much easier to filter through, as most of the information is in the form of easy-to-read graphics. You can see the days of the week they target, and the trends running. You can see all of their publishers by duration, placement IDs, and more on one page.
A super win for AdPlexity here, because it's all together, plus you can just look at the landing page chart on the top right, and see which one's been running the longest by the number of days running. If you click on the show more button, they will filter out by referrer, and it will show the landing page.
Landing Pages & Downloads
When you Join Adplexity they give you 250+ downloadable landing pages in all of the top verticals. this is a pretty cool feature if you know how to edit pages.
Once you have all the information, you can move on to Google Display Network if you're running compliant and run your ads on there and probably make some serious cash if you find some good placements. If you're thinking about this, make sure to check on the Mistakes That Will Ruin your GDN Campaign!
Another thing you can do inside of Adplexity is download the landing pages directly from the Ads you find.
Adplexity Pricing
Adplexity does come in at a higher price with the lowest option being $129/month.
Adplexity Support
Adplexity generally answers within 24 hours. They have also been very accommodating when we switched plans from native to push. They did not charge extra to make the switch.
Adplexity Pros and Cons
PROS:
– Faster and more efficient filtering
– more ad types you can spy on
– Ability to filter by date range
– All results are on the same page for reporting
– Ability to filter by the advertiser and similar ads
CONS:
– Pricing is higher and can only select one account type.
Anstrex Overview & Features
On the main screen when you log onto Anstrex, this is what you would see.
One of the great things here is that you can simply switch between Push and Native on the drop-down menu from the Anstrex logo. On AdPlexity, on the other hand, you have to pay for each platform separately. (win for Anstrex)
If you're unsure of the difference between these two types of ads, and which one is preferable, check out this full article on Push Ads vs Native Ads.
Spy Tool Ad Types:
Anstrex focuses mainly on native push and pops. They also have some information on dropshipping but who does dropshipping anymore?
Filtering Options:
While Anstrex does offer very in-depth filtering options, they are a tad clunky, and if you switch pages to view reports or data, your original filters get wiped out. this is a bit annoying at times.
Anstrex offers more affiliate networks and ad platforms to spy on than Adplexity.
Data & Reports Analysis
Anstrex does offer similar reporting to Adplexity, but it is a bit more spread out. When entering the ad, you're not getting all of the other data on the one-pager you would see from AdPlexity.
You can go into the little tabs at the top and find the stats, which will give you the same info we found on AdPlexity. It's just harder to navigate.
So, it's not a big win for AdPlexity considering that you can still get that same info here. If time is not important and you are looking for a less expensive native Ads spy tool, you will get similar data on both.
Another small win for Anstrex in the stats is that it shows you the percentage of the traffic that they think this affiliate is running on. You can see the publisher as well as the traffic source.
Landing Pages & Downloads:
Anstrex does allow you to download landing pages similar to that of Adplexity. One cool feature of Anstrex is that they have WYSIWYG editor so you can do edits right in there. Another cool feature with Anstrex is the landing pages are stripped of other people's links.
Anstrex Pricing
The pricing is more affordable at Anstrex with the lowest being $69.99/month. you can also bundle native and push together, which is attractive for people running both native and push.
Anstrex Support
There is no difference in the support from my experience. They typically also respond within 24 hours.
Anstrex Pros and Cons
PROS:
– Pricing is less for similar data
– More ad platforms and affiliate networks to spy on
– WYSIWYG editor for landing pages.
CONS:
– very clunky filtering
– inability to filter by date range
Other Considerations: Adplexity Vs Anstrex Review
Sorting by Days Running
Sorting the ads by the number of days running is one of the biggest filters that you need. You want to see ads that have been running for a long time, because these will be the ones that you can confirm are converting.
What we like about AdPlexity is the fact that we can easily sort this from the slide bar on the left side menu. In this platform, it's all there, not only the days running but the rest of the parameters too.
It's similar on Anstrex, where you can see the number of days these ads have been running on the sliding bar at the top, but it will reset if you switch pages. (not a big deal for the amount you save)
Different Networks To Work With
Going back to the spy tools, another difference here is that on AdPlexity, they don't have as many affiliate networks as you would see over here on Anstrex.
If you filter out by affiliate network, you will see the exact ads that people are running from that network. On AdPlexity, you'll find the affiliate network option on the left-hand side menu, where you can choose ClickBank (or whatever network you decide to use). On Anstrex, the option for affiliate networks is on the top bar instead.
Traffic Sources On Each Platform
The next thing we need to consider is that there are a ton of traffic sources out there. There's a wider selection of ad networks on the top bar menu on Anstrex.
Depending on wherever you're getting your traffic from, you can sort by the exact traffic source that you're using. On Anstrex, you can see there are a ton of Taboola ads here as well as Outbrain, together with pretty much all of the mainstream traffic sources.
On AdPlexity, there aren't as many traffic sources as you can see on the sidebar. There are less than a dozen of them, so this is another win for Anstrex.
On Anstrex, on the other hand, we can't do that date range. We can only filter by the number of days it's been running (on the top bar as shown previously).
Other Filters That You Can Use
On Anstrex, we can't filter by the most amount of traffic and we can only see these two stats on each ad. The stats shown are their gravity and their ad strength.
In conclusion, it's a lot faster to work on AdPlexity to find these offers.
Searching by Category & Anstrex Fail
So the next thing you'd want to do is to filter by the category you're after, in this case, diet. We are looking for ads or landing pages about diet.
On AdPlexity you can choose if you want to see what's on the landing page or the ad info. You can also filter by images, advertisers, publisher placements, and much more. All of these options are available on the query bar.
Anstrex it's a little bit more cumbersome for these settings. You have to go over to the search button on the top right, but when you add the parameter you want to look for… It resets all of the previous parameters!
Basically, you have to start over. AdPlexity keeps all of the filters in place when a new search is done, and filters out ads about diet when requested.
Final Thoughts
Adplexity for the win.
They both can process the same amount of information.
That being said, we do like the filtering better on AdPlexity because of all of the ease of use. And it doesn't reset your searches every time you do a new search, you can still look at all of the placements, all of the publishers, and everything inside AdPlexity.
While you're paying more for AdPlexity, the ease of use is worth the additional price. Anstrex is a lot cheaper, but AdPlexity is a lot easier to use. If you're on a budget though, and you want the same information, you can use the Anstrex listings.
In reality, they're both good tools. If you want discounts on either of them, check out these links: AdPlexity and Anstrex. Using our discounts is also a great way to support our work, and it's always highly appreciated!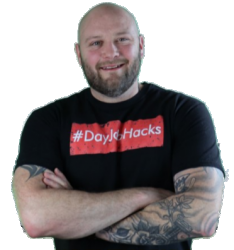 Latest posts by Joey Babineau
(see all)