Sweepstakes CPA Offers: How to Make $100 a Day
Are you a newbie to CPA affiliate marketing, and looking for a great way to get started, while making $100 a day with sweepstakes CPA offers? Today I'm going to talk to you about a proven method that doesn't require a ton of effort. It doesn't require a ton of budget, and we're going to be using a very cheap traffic source. I will also be talking about an awesome spy tool that will make your life much easier and point you toward how to build a landing page that is very easy to do quickly. I'm going to show you where to find the information to do that, how to find winning campaigns immediately and how to start doing this today.
Phew! That's a lot of great information packed into this article, so let's get started!
Before we do, though, I'd like to draw your attention to a video I recorded for my DayJobHacks YouTube channel. The video covers this information in detail. You may find it helpful to refer to this video as I walk you through the steps that I will describe below.
Setting up a Website
If you're new to affiliate marketing and you don't have a website, and you don't have any experience, then check out page right here. It's a step-by-step guide on how to build a cash-ready affiliate marketing website quickly in 60 minutes or less.
Just go to PowerhouseAffiliate.com/action-plan and you can watch the video training series here on exactly how to set up a website, how to set up landing pages, and set up your tracking quickly and easily. It's very easy to do.
Once you've done this and understand how that works, you're now in a position to start making money. Most people will start with affiliate marketing, since it's generally considered to be the easiest way to get started online. Many of those people will try direct-linking, which doesn't really work very well. They will spend a lot of money direct-linking, and probably get banned because they're direct-linking to affiliate links.
But you're smarter than they are and you're not going to make that mistake.
Forget about direct-linking. Do not waste your time or your money. Instead, I'm going to instill upon you the importance of creating a landing page!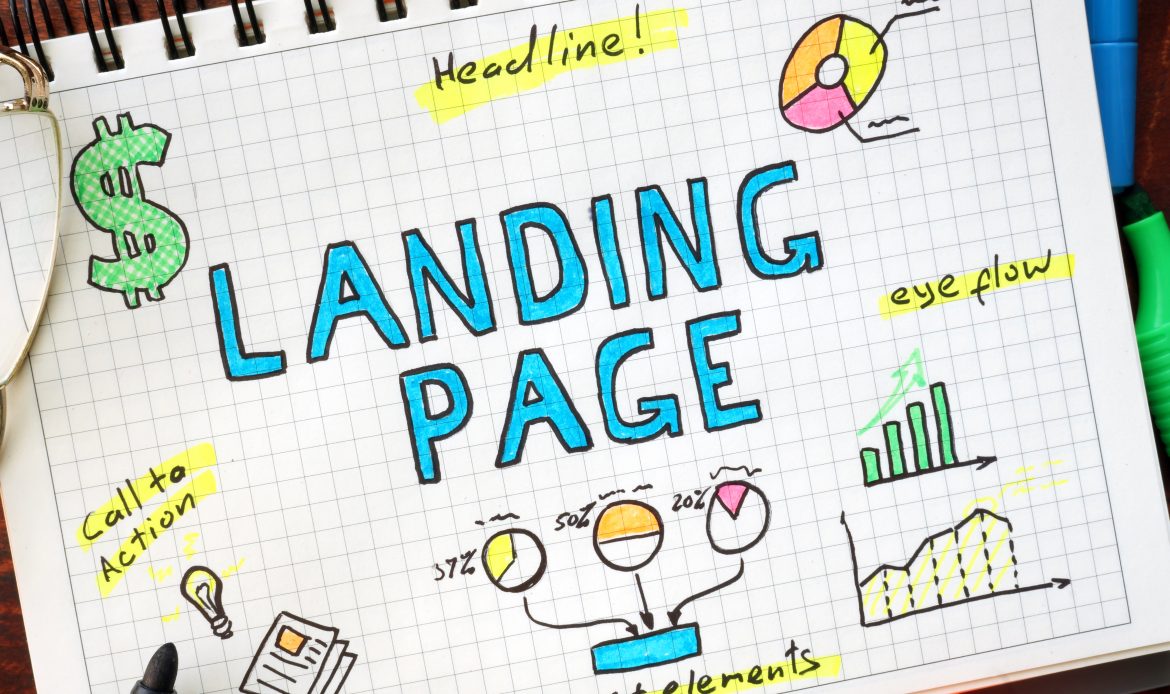 We're going to find landing pages that actually work. Then I'm going to show you were to find information on how to create a similar one. Lastly, I'm going to show you how to find the perfect offers and drive traffic to your site.
If you're a brand new affiliate, and you want to start making money fast, this is where it gets good.
Find a CPA Affiliate Network
One of the first tools you're going to need is a CPA affiliate network account. If you are not a CPA affiliate yet, then you need to join a CPA network. There are tons of networks out there. Consider what kind of offers you plan to run or what niche you think you want to get into. If you don't know your niche yet, then don't worry. I'm going to show you a simple way to find what is working.
For this example, I'll use OfferVault.com. If you search for something like "dating", you will get plenty of results related to dating. Within the results, you can see all of the different networks that will allow you to promote their offers. After you find something that you are interested in promoting, you will have to apply to the networks.
To apply to a CPA network, you must provide them with your name, and your number. These networks want to ensure the quality of their members, so this information will confirm that you are a real person.
TIP – It helps to have your website built BEFORE you apply to a CPA affiliate network. Remember how I mentioned PowerhouseAffiliate.com/action-plan? It takes literally 60 minutes to follow the instructions there. Once you have a website built, you're ready to go and apply to these networks.
One network that I use in most of my training is MaxBounty. This CPA network has been around for a long time. It can be hard to get into if you're a brand-new affiliate, but if you have traffic and you're proving that you're really serious about this, they will accept you and you can find a ton of offers.
Once you're in the CPA network, you will find a ton of offers. To help make your decision easier, one of the key things that you want to look at right now is to find offers that have some EPC.
Remember, EPC is Earnings Per Click. It's not really the most effective data to go by, however, it is a good starting point because you know people are actually running these offers. The networks themselves calculate this data based on how many conversions the entire network is getting and based on how many clicks the entire network is getting.
I'm going to look for sweepstakes because sweepstakes is generally one of those hot topics, especially in the last year with push ads. We're going to focus on this because it's very easy to convert these types of offers. They're also known as email submits. You essentially get paid just to get people to enter their email and click submit. Sometimes it's a little more than that – enter their name and email.
These single opt-in offers are very common because they are generally super easy to convert. They are also very easy to try and scam, which is the reason it can be difficult for new affiliates to get approved in a CPA network. Be warned, though… CPA affiliate networks employ sophisticated software to catch these scams. If you try to cheat, you will get caught and you will not get paid. So, let's do this the right way.
Here are some offers that I've found that could potentially work. There are different countries listed here. You can see that some accept USA, some accept Australia, some accept UK and basically any other country you want to target. As you go down the list you can see, based on the payouts, that the lower payout probably means an easier conversion.

Finding Cheap Traffic
Now where do you get super cheap traffic? I use a tool called Adplexity. It's a competitive intelligence tool, otherwise known as a spy tool. You can go in and spy on what other people are doing with their ads and landing pages.
Adplexity gives you the ability to spy on mobile, desktop, native push, e-commerce carriers and API. We're going to focus today on push ads because the most likely scenario for most people is this: you're a newbie, you don't have a big budget, you don't want to spend a lot of money, and you want to test this out. Push ads can get you penny clicks, literally a penny per click. In some big countries the amount of traffic is endless. It's very easy to set up so you can test direct linking (not recommended) and you can test landing pages (highly recommended) with this traffic source.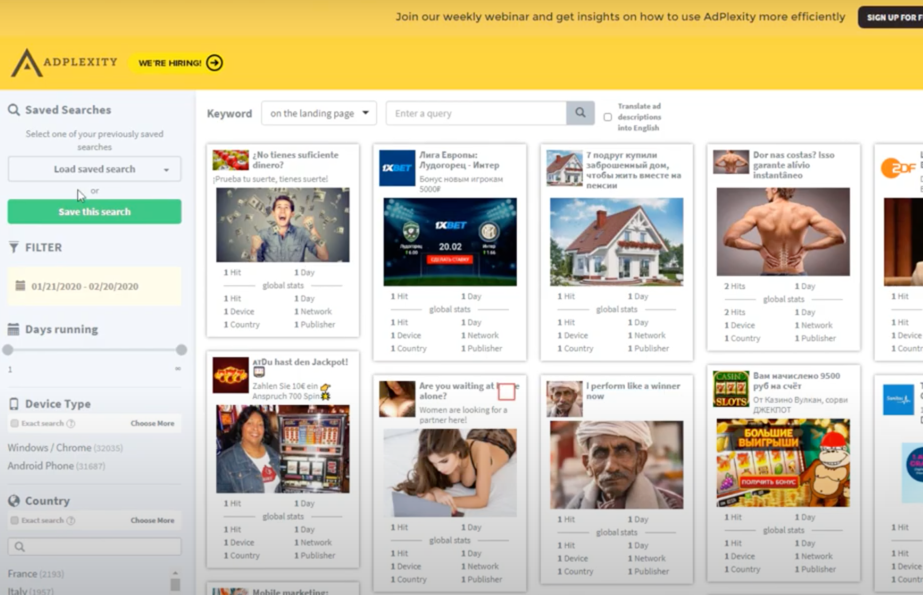 This strategy works very well and you can pretty much get any offer approved on push ad networks so you don't have to worry about your account getting banned.
If you're thinking of trying to run Facebook ads, you may as well just not even bother until you understand the logistics behind how to create landing pages, how to set up funnels and how to really ensure compliance. When you're just starting out, focus on CPA affiliate networks and push ads. If you end up making a mistake, they will not ban you instantly for doing something that is against terms.
Let's go into the push view now and have a look. Inside Adplexity push, you will see a ton of different affiliates running ads there. A lot of these may be affiliates. Some might be product owners, but for the most part you're going to see a lot of affiliates on push ad networks.
Most of these ads are just fresh ads that this tool has discovered. Basically, what this tool does is it scrapes the internet and finds these popups that are happening on people's computers, push notifications or simply the little notifications that pop up in the bottom corner. When you sign up to a website and you agree to subscribe to their push channels, you are going to get these notifications. You probably see them all the time and you probably think it's your computer giving you these notices. In reality it's a program in the background of your browser that's giving you notifications.
Find the Sweepstakes Offers
Let's say we want to run sweeps because sweeps really is probably one of the easiest topics you can start with. When you look at what is available, let's say you want to run Fortnite V bucks here. Single opt-in, USA $1.95 per lead. You can see the restrictions and what you're allowed to do. Then you have to request approval. But first let's just see if push ads are allowed. The offer allows native ads, and native is usually the same as push on most of these networks, so we can assume that push is allowed.
Now you have to request approval. If you don't know who your account manager is, then you need to contact them and ask for an expedited approval, which usually works better than just waiting for the network to approve you. Now we know that the EPC here is 49 cents, you know that you're allowed 50 leads a day until you prove that your quality is good. You can also see that the United States is the country that you can target.
So, let's go back and take this word, Fortnite, and see if anybody is actually targeting this right now. What we can do is just put Fortnite into the search and it should bring up some ads if people are running them.
Here are some of the results for Fortnite. You can see the angles that people are running and you can actually go in even further.
I would recommend that you sign up for Adplexity because it really does a fantastic job of pulling back the curtain on what other people are doing. You can see for yourself what is working and what is not, and choose to replicate the best campaigns.
If you sign up for Adplexity using my affiliate link, DayJobHacks.com/Adplexity, you will receive a 25% discount. This great for you, helps support my business, and allows me to create more free training content like this.
Using Adplexity, now let's look at what you get in here when you actually click on one of these ads. Basically, it's going to filter out even more data for you, it's going to show you the landing pages, and it's going to show you some other stuff like time. This allows you to determine how long the ad has been running for. If it's a short amount of time, chances are that someone is using it as a test.
Richpush Case Study
You will notice in the Adplexity results that Richpush is mentioned a lot. Richpush is a push ads network. In fact, I am currently running a live case study using the Richpush network. You can get access to this case study by joining PowerhouseAffiliate.com. You can see the ads, you can see the settings, the tracking, and all of the conversions. Everything is in there. And what you'll also see is that I'm actually paying pennies per click. As you can see, here's one campaign running, it was running at 1.7 cents per click. This one's running at 5 cents, 2 cents, 4.5 cents. Literally pennies per click!
What is going on is that you're getting really, really cheap traffic. So as an affiliate, you can come in here and start spending money and only pay pennies per click. This is what makes the math possible to convert these $1.95 payouts. Because, if you can send traffic that costs 2 cents per click, you're getting 50-100 clicks before you even break-even on your payout. So if you can send a hundred clicks, it's likely you're going to get one person to convert out of those hundred people.
As you become more experienced and you have bigger budget, you're going to start to want to run the credit card submit offers. Although they pay higher, they're harder to convert, but they do work. I've proven this in my case study for PowerhouseAffiliate.
Final Thoughts
As you can see, there is a very basic methodology to starting with push ads and sweeps. This is a great area for newbies to get their feet wet and start to learn the basics of CPA affiliate marketing. As your knowledge (and budget) grow, you will naturally want to take on bigger and better projects. Experiment with Sweepstakes CPA offers! Try different tactics. Have fun with it.
If you really want to take your business to the next level, head over to PowerhouseAffiliate and sign up for my free training course.
Thanks for reading!