There are many new and aspiring affiliates who are extremely confused when trying to take the first few steps in their affiliate marketing career. Who can blame them though with so much information being pumped out daily, it is hard to know what is true and what is not.
The internet is overloaded with information on affiliate marketing, so much that it can be extremely difficult piecing it together and seeing the bigger picture. What's even more frustrating is knowing where to start.
Should I create an affiliate marketing blog?
Should I start by making a YouTube Channel?
Or maybe I should start buying traffic to send to CPA offers?
All of these methods could potentially make you money. However, the likelihood of success is fairly low if you have no experience. Let's take a look at the easiest method for newbies to achieve success and ultimately their first commission!
---
Starting A Niche Affiliate Marketing Blog
Starting your own affiliate marketing blog is easily the BEST method for beginners that has the highest success rate. It is also something that you can use to make long term commissions as you continue to learn and build your blog.
This is also the most cost effective means of affiliate marketing since we take advantage of free traffic from google and other sources.
---
Affiliate Marketing is a Marathon, Not a Sprint!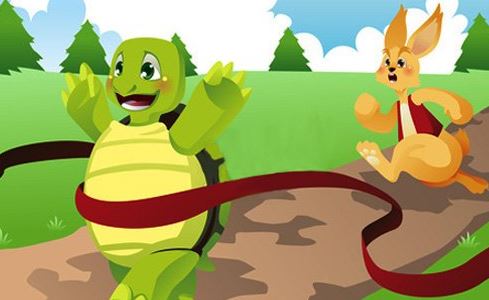 Many affiliates do not take advantage of this method because they are more focused on short term gains and profits. These affiliates focus on more high risk methods that produce large amounts of profits in a short period of time. The irony is that they typically spend months and even years chasing high payout methods before they actually find success. They could have been building their own niche affiliate marketing blog in the mean time and took advantage of both methods.
Many successful affiliates will eventually see the value in affiliate marketing blogs and start implementing the method later on in their career.
Luckily, you can take advantage of this method now and avoid the mistakes of 90% of affiliate marketers. Affiliate marketing blogs are a long term strategy to generate a consistent income as well as a real affiliate marketing asset.
---
Niche Affiliate Marketing Blog Defined
So to give you an exact idea of what this method entails, lets define niche affiliate marketing blog.
This simply is a website that focuses on a particular topic or subject matter.
One example could be "Dog Grooming". This website or blog could be full of posts and articles pertaining to dog grooming. As the blog owner continues to create high quality blog posts each day, they will start to see traffic from search engines like Google or Bing. This traffic is "free" and can build up fast depending on time and effort spent building the blog. (of course your time is not free, and neither is your web hosting)
Traffic is really the key to everything in affiliate marketing. The more traffic you have, the more potential you will have within affiliate marketing. The quality of your traffic will also determine the profit potential of your affiliate marketing blog.
One easy way to monetize your affiliate marketing blog is to use Google Adsense. Its as simple as placing a small section of code on your website. This will allow Google Adsense to display banner ads on your affiliate marketing blog and in turn, pay you for the visitors who view and click these banners.
---
Getting Started Overview
Is it really as simple as creating a website, writing content, adding Adsense and then sitting back to collect your commission? As easy as I made that sound, there are some key things you need to learn as a beginner.
I have broken these down into 5 actionable steps that will get you started with your very own niche affiliate marketing blog. Also just so you knw we have this approach defined in much more detail inside our free Affiliate Marketing Certification Training. (you can also ask questions in the forum)
---
Affiliate Marketing Blog Method Step #1 – Choosing A Niche
The first thing you need to do before creating your own affiliate marketing blog is to determine which niche you will focus on.
Niche research is well beyond the scope of this article as there are some factors that may help you determine if your niche is worth pursuing.
The key thing right for a beginner is to focus on a niche he/she already knows.
Everyone is knowledgeable about something. What are your main interests? What do you focus on in your spare time? What topic or pass time motivates or excites you? Whatever this might be, this should be your focus for your affiliate marketing blog.
The key to this method is to be able to produce large amounts of quality content that is valuable to your readers. It is hard to create content around niches or topics that you know very little about. You don't want to spend hours, day and weeks writing about a topic that is not interesting nor something you have no knowledge about. Your blog readers will be able to tell if you're an actual authority on the niche or if you're just going through the motions by regurgitating things you've read from other blogs.
Once you have found a niche in which you're passionate about and knowledgeable in, proceed to Step #2
---
Affiliate Marketing Blog Method Step #2 – Domain, Hosting & WordPress
This is actually much easier today that it was in years past. The hardest part of this step is choosing a domain name. You want to choose a domain that is directly related to your niche. You can choose a domain name and also purchase hosting by accessing Bluehost web hosting. The reason I recommend Bluehost is because of their promotion that offers a FREE domain for the first year when you buy their hosting package – plus it is built to maker using wordpress extremely easy.
Bluehost also has a 1-Click WordPress Install feature that will drastically speed up the process of creating your affiliate marketing blog. You can signup with Bluehost by clicking here. The instructions to install WordPress on your bluehost domain can be found here.
---
Affiliate Marketing Blog Method Step #3 – Finding Keywords & SEO
Before we focus on writing articles or creating content, we need to take a look at some keyword data to determine which topics to focus on while writing content for your affiliate marketing blog. Writing content around your niche can be effective, however we want to take full advantage of the free traffic from search engines like Google and Bing.
We can do this by analyzing search data from Google then optimizing our affiliate marketing blog content for those keywords. Here is an example of some search data from Google's keyword planner tool.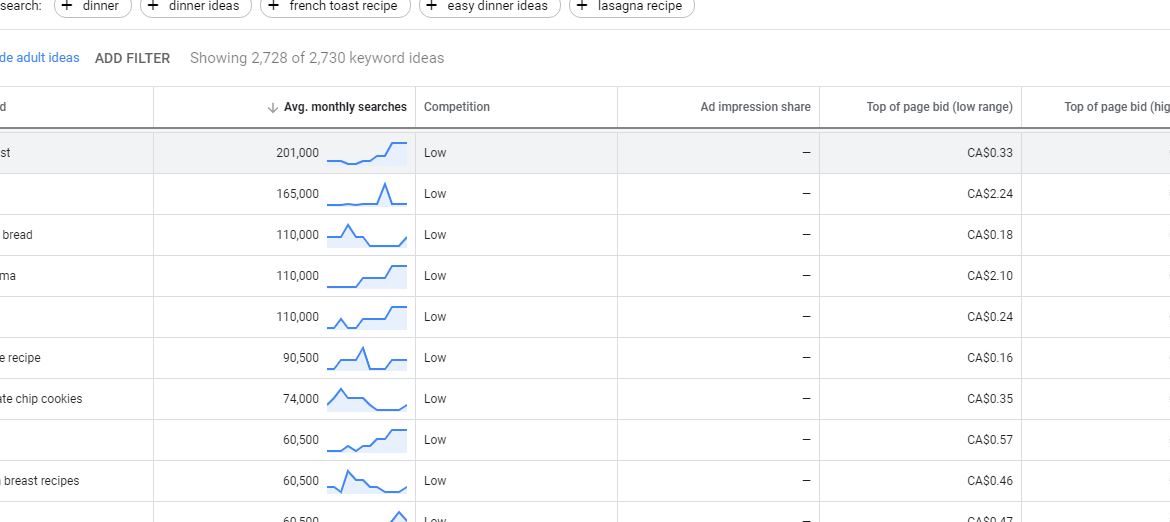 For this example I choose the keyword "Recipes" as the example niche affiliate marketing blog would be related to cooking or recipes. As you can see above, there are hundreds of thousands of monthly searches for these keywords with low competition. These keywords would be perfect to target for your first affiliate marketing blog post.
In order to target this keyword, you need to focus on Search Engine Optimization. To fully explain SEO is well beyond the scope of this article. To make this simple, you need to find a WordPress plugin for your blog such as RankMath.
I also did a video about 20 things I do for pretty much all WordPress Posts:
RankMath will tell you exactly what you need to do in order to optimize your posts for these particular keywords. You will be given a score on each post. The higher the score, the more likely you will be at the top of the results when someone searches for the particular keyword you focus on. Here is an example of the RankMath SEO check list.
Completing each item on the list will increase your over all SEO score and in turn, rank you in Google for this particular keyword.
Compile a list of keywords that you will focus on within your affiliate marketing blog.
---
Affiliate Marketing Blog Method Step #4 – Creating Content
The next step will be the most time consuming and also something that really never ends. You will always be creating new content in order to build your affiliate marketing blog for long term commissions. Using the keyword research done in the previous step, create a high quality blog post that focuses on keywords related to your niche.
Create 20 articles in total to establish a foundation for your affiliate marketing blog. In the next step we will be focusing on monetizing your affiliate marketing blog with Google Adsense. In order to get approval from Google, you will need to have a fully functional affiliate marketing blog that is rich with original content.
This step may take you several weeks or even months depending on your aptitude for writing and how much time you actually focus on your affiliate marketing blog. Remember that this is not a sprint but a marathon.
---
Affiliate Marketing Blog Method Step #5 – Monetize Your Blog
Now that you have created at least 20 well written quality blog posts surrounding keywords related to your niche, it's time to turn these blog posts into money. You can start by signing up with Google AdSense here.
Once you have signed up with Google AdSense, you will need to provide details about your website in order to be approved for ads. Fill out all information required.
Once you have completed this step, Google will provide you with some Java code to place on your website. If you're unfamiliar with placing code on your WordPress website, you can install free wordpress plugins like Advanced Ads.
---
Conclusion
Building an affiliate marketing niche website takes time and patience. You will not get rich over night but remember every single piece of content you add to your site builds value. Once you have installed Google Analytics to see your traffic statistics you will have a better sense of what your website is truly worth. If you build this website over a long period of time it will only get more and more valuable and you can either reap the rewards from its consistent income, or even sell it for a multiple of 30 – 40 times its monthly revenue on places like Flippa.com.
Since this strategy takes so long to develop alot of people fail at it because they don;t see results in the first 6 months.There is no sugar coating this – it takes hard work. If you need faster results and you don't have the patience to build something like this then you need to check out our PAID traffic strategies inside Powerhouse Affiliate Premium.
You now have all the necessary steps to start your very own affiliate marketing blog and start earning commission. One key thing to remember is to create fresh content daily no matter how much commission your blog seems to be generating. This is what we call the snowball affect. The only reason these sites are successful is because of the constant updates.
Make a posting schedule and be sure to at least create one new post every 3 days to ensure you keep adding to your blog and growing your potential traffic.
---
Additional Resources
If you have enjoyed this article, I highly recommend you check out the following resources…
6 Must Have Tools to Build a Profitable Niche Authority Site
What is the Typical Affiliate Marketing Salary? (The TRUTH)
Top 5 Best Affiliate Marketing Programs For Beginners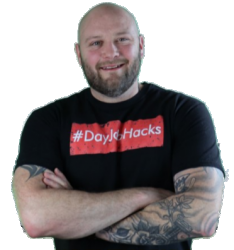 Latest posts by Joey Babineau
(see all)