7 Awesome Ad Spy Tools For Affiliate Marketing
For Affiliate Marketers, it is crucial to run offers, create landing pages and have ad copies that bring good results in terms of metrics and conversions. As an Affiliate Marketer, you frequently spend hours split testing by experimenting with different combinations of ads, landing pages and offers.
This can take a very long time and also cost a ton of money to see the results you're looking to find. This can be discouraging when your own time, energy and money are on the line and you're not seeing results. This is not something people typically expect when starting out as an affiliate marketer.
Is there some better method for you as an Affiliate Marketer or even Advertiser which can bring in fast results and may save you some time and money? Is there something you're missing out on as an Affiliate? Well, the great news is there is a key method that will help you as an affiliate. The answer is to use ad spy tools! This is not a replacement for testing but can help you get on the fast track with your testing efforts.
Using these ad spy tools as an affiliate gives you access to large databases of assets and resources to help with your marketing campaigns. You can use ad spy tools for display ads, PPV, ads, native ads, Facebook, and even mobile ads.
This enables you to do a thorough competitive analysis and find the elements that make ad copies effective with the correct target audiences.
You can learn and improve on your landing page, find better offers and perhaps design more appealing ad copies. It can even expose traffic sources that you were unaware existed. The end result is to save significant time on your split testing efforts, and also decrease your overall testing costs.
These 7 ad spy tools for Affiliate Marketers listed below will certainly help to improve the outcome of your marketing campaigns.
---
Ad Spy Tools #1 – Mobidea
Have you ever heard of Mobidea Push and Native Spy tools? I'm sure that you have, otherwise you're likely living under a rock.
These tools are extremely effective, not only because they provide you instant access to countless push and native campaigns, but also since they let you know which are currently crushing it for other affiliates. With the data provided by these tools, you'll be able to determine just which creatives are receiving the most clicks and are converting the best.
Mobidea's ad spy tools allow you to access winning native and push campaigns operating in all the major countries around the world.
Here are some of the main features:
CPC Bid Visibility
Access to All the Latest Offers
Landing Page Downloads
New Ads Added Daily
Easy-to-use Interface
Powerful Search Filters
Detailed Ad Insights
Geo Partitioning
New Campaign Alerts
So, if you want to be kept in the loop and not miss out on the opportunity to get ahead of your competition, it's time for you to unlock the best performing elements of the world's most profitable campaigns and make some real money online.
---
Ad Spy Tools #2 – Adbeat
From their website >> Adbeat provides a great platform for accessing the marketing strategies of the top online advertisers. It even provides mobile competitive intelligence for devices such as iPhone, iPad, Android Smartphones, and as well as Android Tablets. Using Adbeat, you see your competitors' advertising strategy and then can leverage their results to improve your personal ROI on your campaign costs.
You will come to find out which Ads are working and which Ads fail to deliver effective results. Get to know which Ad campaigns are being launched on a daily basis. Adbeat provides you with one of the most extensive ad intelligence databases so that you can use the data to directly impact your current campaigns.
It provides you with the best ad copy data for any traffic source. The data gives you the insight to know which ad networks are delivering the best results.
---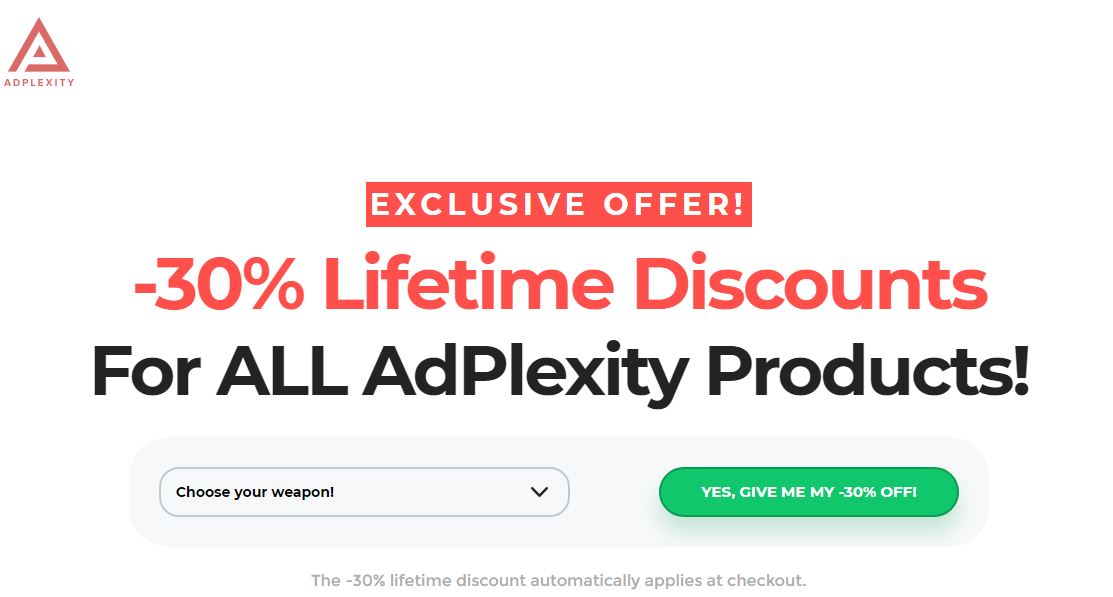 The best thing about Adplexity is the fact that it is a perfect ad spy tool for mobile, desktop, and native intelligence. It is among the best tools available to keep track of your competitors and I use it often.
Adplexity provides you with the opportunity to uncover hidden campaigns that run exclusively on mobile traffic networks from all around the world. It covers every major country and many "lower-competition" countries that most would not expect to be profitable. It provides an ultra-fast search function with results returned within a fraction of a second.
You can monitor ads running on thousands of Android apps. It even tracks campaigns running on popup ad networks. You can discover ads promoting businesses directly as well as affiliate offers. You can download every landing page directly from its user interface. You also get real time data and filtering options surrounding the individual campaign.
You can find out how long a particular campaign has been running, which landing pages are being used, and much more. You can find out what is working well for others on all major desktop, native and mobile traffic sources.
At the end of the day, Adplexity is one of the best competition intelligence tools that you can use for monitoring desktop, mobile, and native ad campaigns.
---
Ad Spy Tools #4 – Anstrex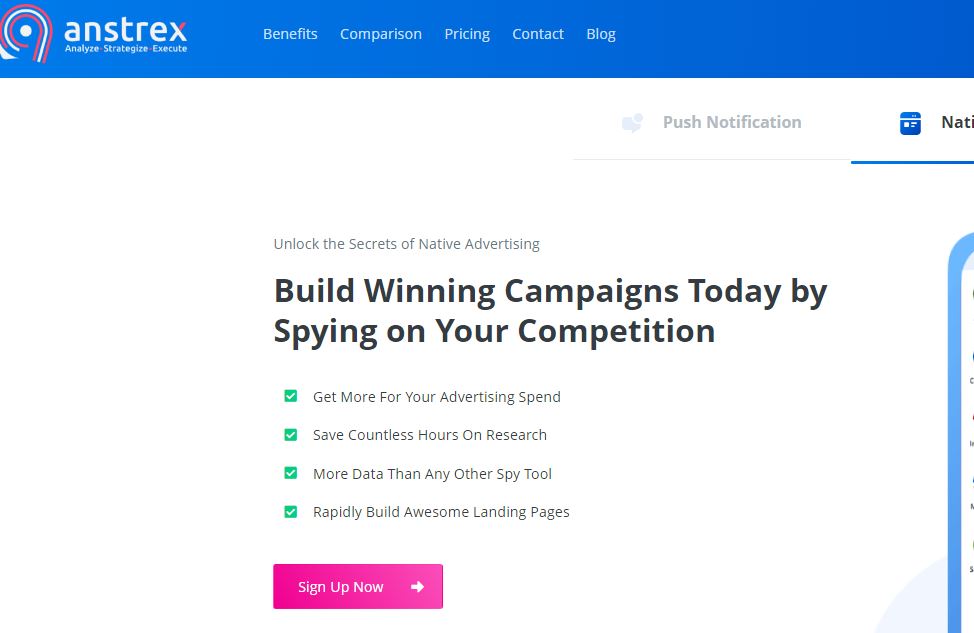 Anstrex is another Native Ad Spy Tool that offers plenty of competitive intelligence you will need for your campaign. It has a massive database that is updated on a regular basis.
It gives an easy to use interface that helps you to find successful native ad campaigns in almost any niche. Anstrex presents filtering options, making the search super easy for you. Anstrex offers a preview of the landing pages instantly including ad network details. You can go on to filter ads by different metrics such as Alexa rank, days running, and ad-strength
You can even download the landing pages that are winning. It also covers both mobile and desktop platforms. You can analyze native ads in many different countries, niches, and languages. Using Anstrex, you get relevant information such as how long the ad was running, on how many platforms the ad has been running on and much more.
It is a perfect time saver as you can analyze tons of native ads withing seconds. It allows you to follow the affiliate campaigns of your competitors in your niche. There are also some awesome search and filter capabilities.
In conclusion, Anstrex proves an unbelievable native advertising spy tool that allows you to stay well ahead of your competition with ease.
---
Adplexity Adult is one of the best adult ad spy tools out there. It allows you to keep track of your competitor's profitable ad campaigns on virtually all adult traffic sources. So, if you want to start make better marketing decisions, then Adplexity is one of the best ad spy tools that you can use. With Adplexity Adult, you will known exactly which ads are the most successful. Adplexity Adult offers a comprehensive database on profitable adult campaigns worldwide.
It covers every major country, in fact 75 countries in total. It enables you to uncover profitable campaigns on adult popup traffic sources. It's much more powerful than most people think. It allows you to find hidden campaigns that run exclusively on mobile traffic sources.
---
Ad Spy Tools #6 – SEMRush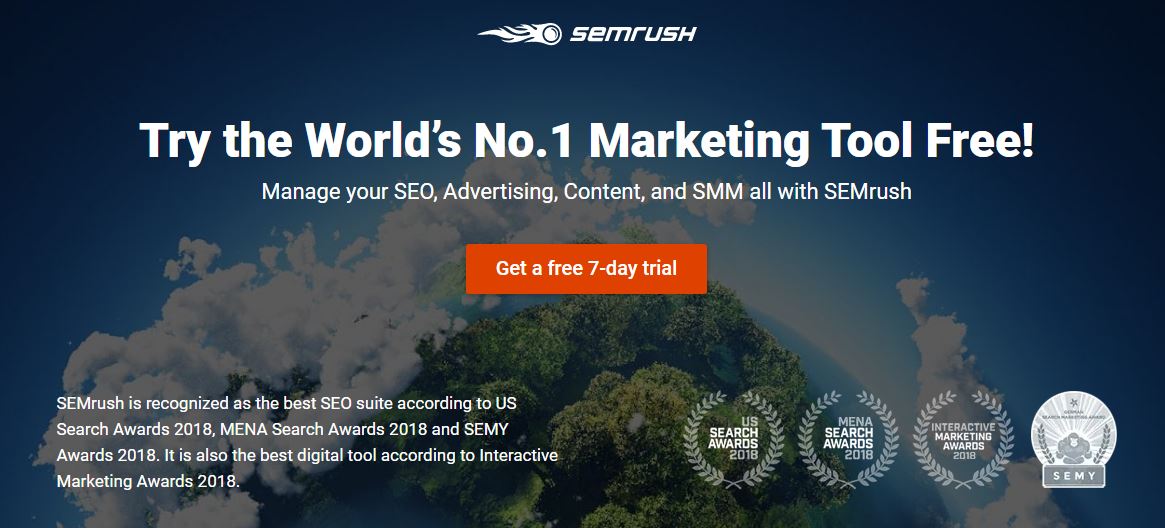 SEMRush is easily one of the most popular all-in-one SEO and competitor ad spy tools. It is one of the top PPC tools that provide complete information about your competitors and their websites. With SEMRush, you can quickly find your advertising competitors based on the keywords you intend to target in your own campaigns. It provides an easy to use interface and allows you to keep track of almost every detail related to your competitors. You can even query data on your competitors Facebook and Bing accounts.
The free version of SEMRush allows you to search your competitor's website and view their exact ad text. You also get details related to average position of keywords within their campaigns. Not to mention, you get data related to the percentage of total keywords used by competitors. SEMRush has a paid version as well. With its paid version, you get an increased volume of statistics, and you get even more data not provided by the free version.
---
Ad Spy Tools #7 – SpyFu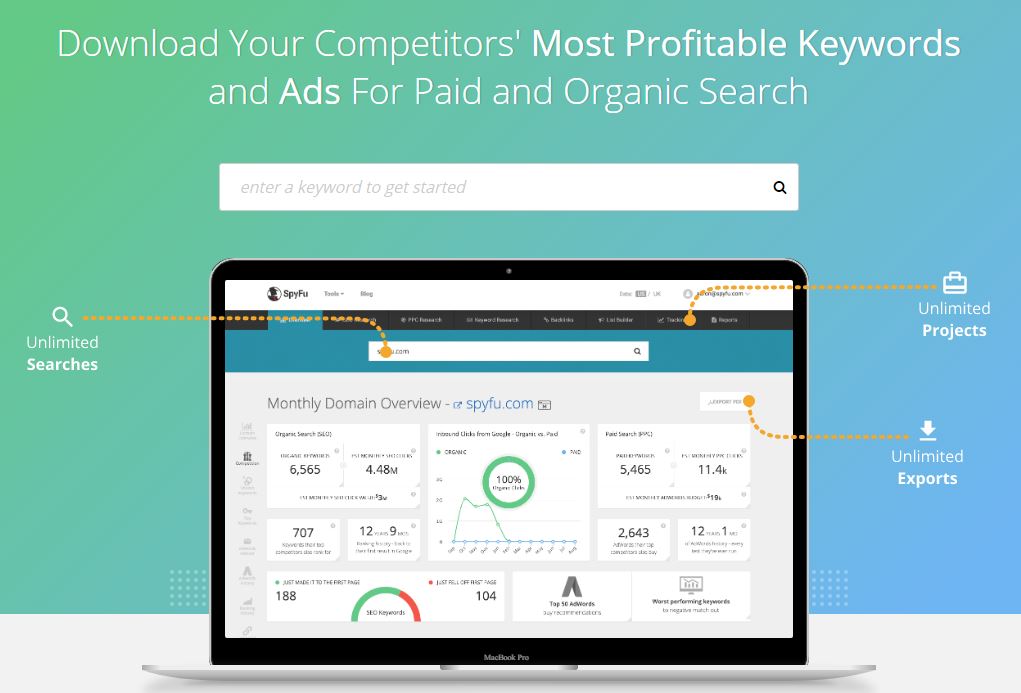 SpyFu has been rated as one of the best competitive research tools available to affiliate marketers. It comes loaded with impressive features that make it one of the leading ad spy tools on the internet. SpyFu allows you to see every possible place where your competitor has shown up across the Google search network. It provides detailed data about all the keywords that have been used by your competitors as well as any ad variations they may have used presently or even in the past.
SpyFu allows you to compare your campaigns along side that of your competitors. With the help of SpyFu, you can discover the most profitable keywords that you may have overlooked. You can even eliminate non-performing keywords very easily.
What's even better, SpyFu shows you the most important and profitable keywords of competitors using their historical marketing history. You get to know the exact ad copies that were used by your competitors. You simply need to type in the url used by your competitor. It then reveals the estimated budget, keywords, clicks, ad texts, ad position and much more.
---
Did You Enjoy This Article? Want More?
If you enjoyed reading this article on ad spy tools, you won't want to miss the following:
Performance Marketing Explained In 5 Minutes
Top 5 Best Affiliate Marketing Programs For Beginners
What is the Typical Affiliate Marketing Salary? (The TRUTH)
3 Easy Affiliate Marketing Clickbank Strategies That Will Make You Money
5 Tips On How To Write Listicles That Convert
Latest posts by Joey from Day Job Hacks & Powerhouse Affiliate
(see all)