Back in February 2020, I posted a video on my YouTube channel asking, "Are push ads dead?". What a crazy few months it's been since then with the COVID-19 pandemic.
So, while the world has changed dramatically since that time… what about push ads? Is it still business as usual, or were the industry rumblings about push ads being turned off a real concern?
Think back to January of this year. Friends and relatives converged in groups of all sizes. We ate in our favourite restaurants. Only doctors wore masks, and even then, only when operating. Online marketers bought cheap traffic on push ad networks and unleashed them on unsuspecting web users. It was a simpler time!
Then, January 7, 2020, an update appeared on the Chromium Blog that would spark a discussion (and more than a little panic and fear) throughout the online marketing world.
Chrome 80 would launch February 4, 2020 and introduce a new "Quiet User Interface" that would block a website's ability to ask the user for permission to serve notifications… and ads. Does this mean that push ads are dead?
---
This was Inevitable
We all knew this was coming. People that have been following push ads, the people that have been buying push ads, people that are setting up ad networks that are focused on push ads. Everyone knew that Chrome and Firefox had the ability, at any time, to shut this down whenever they wanted.
The same thing happened back in the App Installs days; when you could just install an app by clicking a button and then Chrome intervened to make it a lot more difficult. Now you have to get it from Chrome store.
Chrome and the other browsers are trying to make their users happy. There are a lot of things that can happen when you allow people to just send visitors messages whenever you want.
So, what is going to happen with Chrome and what is going to happen with push ads? If you're looking for an in-depth discussion of how push ads work, hop on over to my YouTube channel and watch my Push Ads Tutorial. I did a video about push ads and how people become notified, or sign up to somebody's push ads, notification lists and all that stuff. I show the app that people use (one of the apps) and I also talk about push ads in general.
So how is this going to affect the industry? Well, this is my opinion. I want to engage all of my readers to think about this and join the conversation. If you agree, or if you disagree that push ads are dead, then please comment below. Tell me what you think. I'm always happy to engage in conversation and I'm sure others would like to see those comments too.
---
Chrome 80 and Quiet UI. What's the big deal?
Essentially, what it means is they're going to make an option now to have a quieter user interface. They are going to have the ability to automatically enroll people into this Quiet UI and block any type of request for notifications.
We're all familiar with these notification requests. When you visit a website, you'll sometimes see a pop up come up in the corner that asks you to subscribe to notifications or this site wants to notify you and you can either accept or block it.
Those will now still happen, but these browsers are going to have what's called automatically enrolled capability in the quieter user interface. You could be automatically enrolled into this quiet UI in one of two ways.
The first way is if a Chrome user is always blocking these notifications. After an amount of time, Google is going to see that the user usually denies permission to these notifications. Chrome will automatically set it in the settings, so the user doesn't have to worry about doing that anymore. They will never see those popups come up again.
The other way that a user will be automatically enrolled is if a website typically has very low opt-in rates. That website will be deemed one of those sites that is going to automatically be enrolled in the quieter user interface. They won't be able to send a user a pop up to ask if they would like to receive notifications.
---
The Real Worry
That change, alone, would certainly provide some marketers with a headache, but what really caused a stir in the industry was a little unassuming paragraph almost hiding in text of the announcement. A warning, of sorts, that more changes were coming.
"We plan to enable additional enforcement against abusive websites using web notifications or ads, malware, or deceptive purposes."
That is the part that is going to have a bigger impact. So, first of all, there's a few players at work here. Let's identify these players so we can talk about them.
Affiliates
General marketers
Affiliate marketers
Media buyers
Product owners
Ad networks
People who build their own push ads notifications lists
In my push ad video tutorial, I showed you that I'm one of those people that has a website and I collect the push subscribers through an app called OneSignal. Once that is in place, I can then send them message updates.
For someone like me, who just uses push ads for that purpose, these changes won't have much of an impact on the business. But for people that are big into push, this is going to really hurt their subscribe rates. Now people are automatically going to be enrolled into this quiet user interface. While it is possible to automatically change that setting in Chrome, 90% of people aren't going to actually go in and change it. So, they aren't going to see that automatic pop-up anymore, and they won't have the option of subscribing.
Now they're saying place your notification lower in the page, tell people why they need to join. Give them an incentive to join your push list. So that is obviously going to impact the number of users that you get into your push list. Once they implement the other piece later in the year, if you start pushing up too much stuff and they see that it looks like spammy, you're probably going to be getting those messages blocked as well.
---
The Impact on Ad Networks
The bigger impact, I feel, is going to be on the ad networks and the people buying the ads. For the last couple years, the price of push ads has been extremely low. This is why a lot of affiliate marketers in particular are going there because the price per click is extremely cheap.
And I've done some case studies on this. In fact, I've done a case study on push ads inside the Powerhouse Affiliate members' area. I show how easy it is to get conversions and how cheap the traffic is.
That is why a lot of affiliates flocked over from big places like Facebook and Google. Push ads allowed us to come in and get super cheap traffic and we could run pretty much anything we wanted on these networks.
Obviously now there's going to be more scrutiny on how people can get onto these lists. There's going to be lower volume and lower inventory. The demand is going to be there, but the amount of traffic is going to be less because there's going to be fewer subscribers.
This is going to raise the price per click. Anyone running these really low profit margin campaigns are probably not going to be profitable anymore. You're going to have to find another traffic source. We're going to have to find higher payout offers or we're going to have to do something more creative.
Will it be as easy as it used to be to run push ads? No, absolutely not! You're going to start to see prices slowly climb and the amount of traffic you get will start to slowly decline. I'm not saying this is going to be immediate. This is going to probably take a year or two to actually happen in my opinion, maybe faster. You never know. Google can make these changes instantly if they want.
For the ad networks themselves, I think that any ad networks that jumped on the bandwagon and only focused on push ads are going to be hit hard. Because of this, their revenues are going to take a hit, and they're going to have to find unique ways to preserve their user base.
What Can We Expect?
In my opinion, you're going to see the rules get a lot tighter in terms of what you can actually advertise on these push ad networks. Right now, we can run pretty much anything. It's very much like Wild West. Push ad notifications are popping up everywhere, but soon there's going to be a big watchful eye over these ads.
You can expect that whatever ad you put in the network is probably going to be scrutinized by an ad review team that's a little more aggressive than what we've been used to.
Networks that are focused only on push ads are going to find it difficult to survive in this new environment. Other ad networks, like Revcontent, who brought on push advertising to complement their existing native ads are probably still going to be fine. Above all, diversification is key.
Let's talk about the media buyers and affiliates. Where are they going to go? Is this the collapse? No, absolutely not! Push ads were just one of those additional things, just like pop ads. For a long-term game plan to get into push as your major business model, it might be one of those times to really reconsider that.
---
It's June. Now What?
When I created my YouTube video in January, Google was set to release these updates with Chrome 80 on February 4. It's now June, and Chrome 83 is currently the latest release. What's changed?
The truth is, not much. As I expected, these changes are being rolled out slowly and I haven't seen a negative impact. That doesn't mean that Google isn't serious about cracking down on some push notifications. Chrome 84 is scheduled for release next month and promises a new muted push-notification UI for suspicious websites that fail its Abusive Notification Check.
Final Thoughts – Are Push Ads Dead?
In conclusion, I think these browser changes are going to force a shift in how advertisers market their ads. I think affiliates are just going to go back to their native ad platforms, run more native ads, build email lists, do what they've always been doing.
Affiliates who don't use competitive intelligence tools to find out whats trending will have a very hard time getting profitable. My company recently partnered with Adplexity to offer affiliate marketers up to $80 off their regular price.
GET UP TO $80 OFF Adplexity – Native/Push Ads Spy Tool Here
Push advertising was a new trend. It came. It's here. It's working. But are push ads dead moving forward? I don't know.
Please comment below. Tell me, what do you think is going to happen with push ads? Are push ads dead? Where is it going to go? Is this Google update that big of a deal?
Thanks for reading!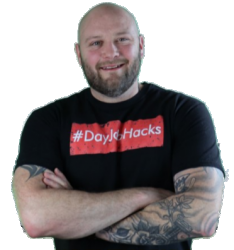 Latest posts by Joey Babineau
(see all)