Hiring a media buyer can be a big challenge in today's digital landscape. With so many different ad platforms online finding the right one can be tough.
Whether you are a media buying agency, an e-commerce business owner, a CPA Marketing Network, an affiliate, or just looking to 10X your business, a good media buyer could be the perfect addition to your team.
In this post, I will answer everything you need to know about media buyers and everything to consider when figuring out how to hire a media buyer.
I have used media buyers to help scale my own business and the hiring process I use works very well.
Ultimate Guide on How to Hire a Media Buyer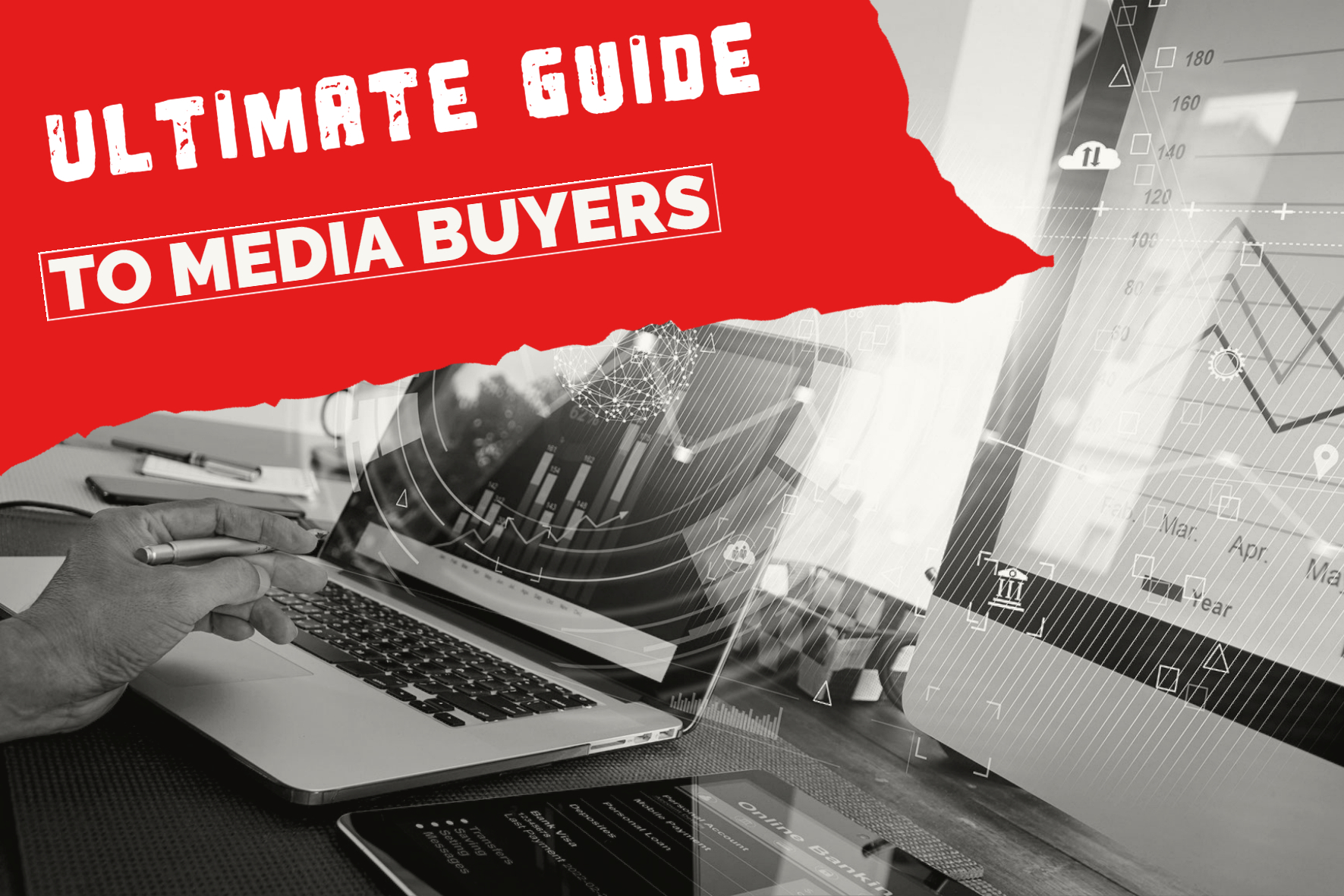 What Do Media Buyers Do?
A media buyer's job is usually to purchase ad space on behalf of their employer or client. Hiring a media buyer is typically not the same as hiring an ad agency. Ag agencies have a completely different payment model than hiring a media buyer.
Ad agencies often charge you a retainer, plus a fee based on the amount of money you spend on ads vs media buyers who charge a base salary plus bonuses.
The media buyer does not spend their own money on ads which is the difference between recruiting an affiliate marketer who typically spends their own money.
If a media buyer is working on getting direct placements from specific website owners (publishers), they need to research and negotiate prices with those publishers, and then monitor the results of the ads to see how they perform. They should have an extensive background in performance marketing.
The ultimate goal for a media buyer is to get the best possible results for their employer or client while staying within a specific budget.
Media buyers typically work in advertising agencies, though some may be employed by large corporations or media companies. They usually have a background in advertising, marketing, or sales.
Media buyers may be specialized in many different areas such as social media advertising, Google advertising, native advertising, direct media buys, or email.
Before you begin the hiring process you really should define what your goals are for your business and what key performance indicators (KPI's) you want your media buyer to reach.
What do media buyers charge?
Before you hire a media buyer you should consider what the average salary is for a media buyer, and what base pay and bonus commissions they typically expect.
Hiring a good media buyer means being competitive in your base pay and bonus commissions.
A media buyer's salary can range from as low as $30,000 to upwards of $200,000. Most media buyers also expect some type of incentive or bonus for reaching KPI's and achieving profitable campaigns.
Not all media buyers are created equal. Sometimes you may want to hire a freelance media buyer to do specific tasks like assisting a senior media buyer or just testing new ideas to bring to your team. A freelance media buyer hourly rate could vary from $15 an hour to $100 an hour depending on what they do.
According to Comparably the average base salary for a media buyer in the united states is roughly $57,000 USD with approximately $4000 in bonuses.
A media buyer typically expects a "base pay", which is paid no matter what happens in the ad campaigns. This can be done as a salary or hourly wage.
Base pay is paid just for them showing up and working.
In addition to base pay, a bonus or commission may also be expected.
For example %2 to %10 of all profits with or without a cap.
If you are running at a large scale sometimes it doesn't make sense to pay millions in bonuses, so a cap on profit share makes sense.
There are many different payment models when it comes to hiring media buyers so it really comes down to your own business goals.
How to Hire a Media Buyer – Sample Payment Structures
– A junior media buyer starts on a probationary period which pays a low hourly rate of $15 – $40/ hour with a higher commission on profits. (10% or more).
– A junior media starts with no base pay but gets to prove themselves on a commission structure and moves to the Base Pay + Commission once they achieve a good result. (this is typically more common in the affiliate marketing space when networks or affiliates are building teams and testing)
– A senior media buyer with past experience and proven results starts with a medium to high base pay salary, plus a yearly bonus for achieving specific KPIs or a percentage of profits bonus.
Media buyers can be expensive, so you'll want to make sure they're within your price range. Additionally, you'll want to consider the experience of their ad buys. Keep reading to learn more about how to ensure they are going to be effective.
How do I find good media buyers?
There are a few strategies that work well for finding good media buyers.
Job Postings
The first strategy is to craft up a good job description as outlined below and place it on some of the top virtual assistant services websites or job boards like Indeed.com or places like LinkedIn.
Trade Shows
If there is one thing media buyers love to do it is party. If you go to trade shows like Affiliate Summit or Affiliate World, you are bound to find some really good media buyers. Here is where you can make your pitch.
The Sniper Method
One of the more slick ways to find good media buyers is to use competitive intelligence software and spy and find affiliates running similar products.
Affiliates are probably the most crafty media buyers in the industry since they have the most to lose when it comes to buying ads. They need to spend their own money in order to make a profit.
If you see they are running successful ads, then they must be good at what they do. Many affiliates would rather work for base pay and guaranteed income. You can reach out to them through their website.
How to Hire a Media Buyer – Job Description
Depending on the type of business you operate this will obviously change but here it is.
How to Hire a Media Buyer – Job Description:
We are seeking a highly motivated and experienced media buyer to assist with acquiring customers and leads for our company. You will be responsible for conducting in-depth market research, negotiating with various online publishers and ad platforms, managing digital advertising campaigns, testing new ideas on various ad platforms, and reporting on the ROI of all ad campaigns.
The candidate should have excellent negotiation skills, the ability to create landing pages and advertisements, the ability to work with various ad tracking software platforms, experience in running previous advertising campaigns on top digital marketing channels, the ability to think strategically, and the ability to work in a team environment.
Typical duties and responsibilities
Identify and target our key demographics & create new ad campaigns
Negotiate with publishers and ad platforms for better rates and placements
Develop new marketing plans and work within budgets.
Monitor campaigns daily and adjust when appropriate.
Ensure all advertising accounts remain in good standing. (no breaking policy)
Track all ad budgets, manage advertising spend, and report weekly on return on investment
Education and experience
Required skills and qualifications
Experience with digital advertising and most recent trends
Solid ability to analyze and act on data from analytics tools
Strong negotiation and communication abilities
Ability to manage multiple projects in a team environment
Exceptional attention to detail
Ability to find new marketing angles and ad channels to scale
Preferred qualifications
Experience with various traffic sources including Facebook Ads Manager, TikTok Ads, Google Ads, LinkedIn Ads, Youtube Ads, or other programmatic media platforms
A proven track record of successful results.
How do you interview a media buyer?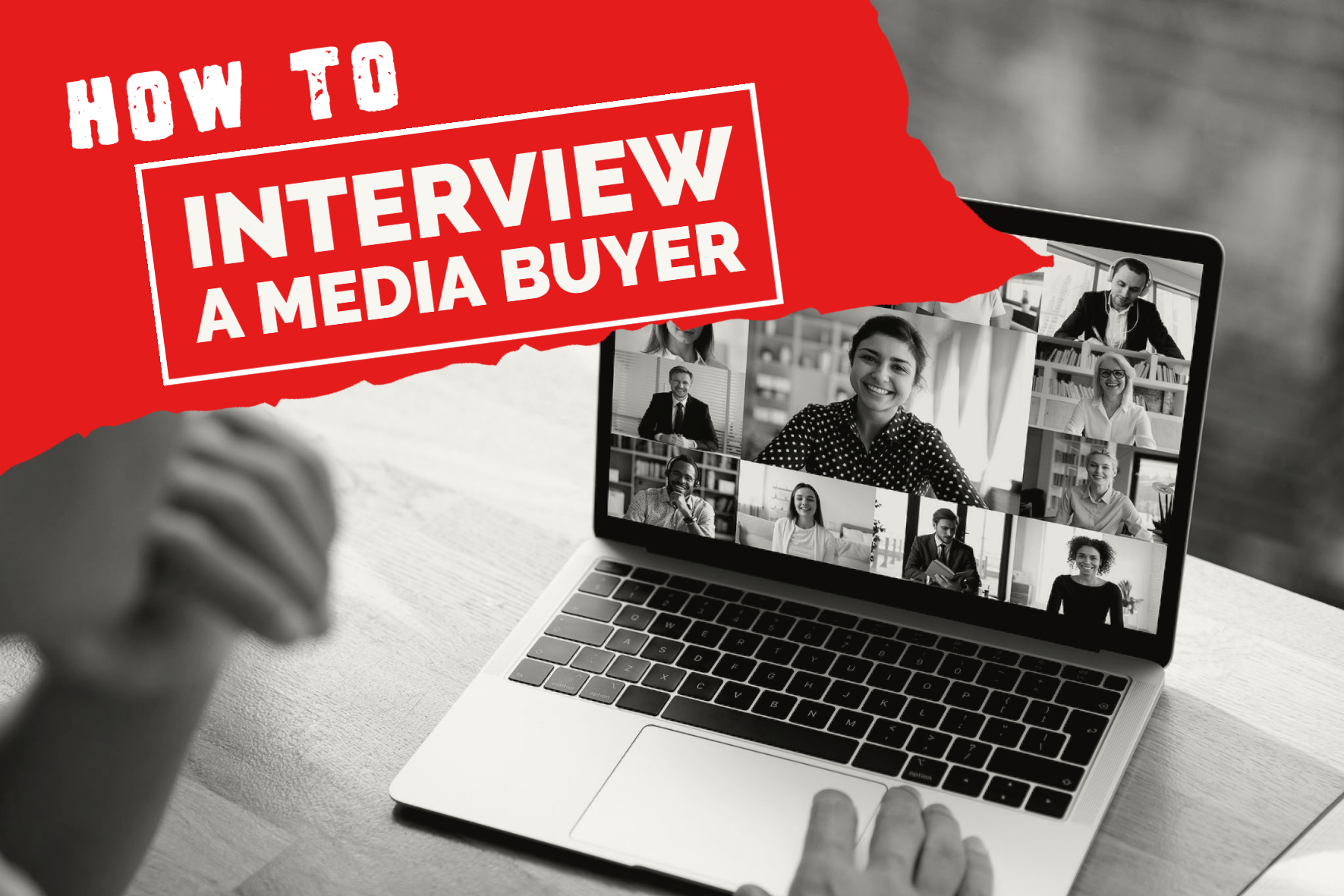 When you hire a media buyer having good interview questions that are open-ended is critical in determining if they have the skills required to be part of your team.
It is important they understand their role in the advertising process. To get the most out of your interview, here are some key questions to ask:
How to Hire a Media Buyer – Interview Questions
1. What is your role in the advertising process?
2. What are your responsibilities as a media buyer?
3. What is your experience in the industry? (Please explain an example of one of your successful ad campaigns)
4. What is your opinion on the current state of the media buying industry?
5. How do you think the industry will evolve in the future?
6. What are some of the challenges you face in your role?
7. What is the most rewarding aspect of your job?
8. What are some of the biggest factors you consider when making media buying decisions?
9. How do you measure success when executing a media buying campaign?
10. What are some tips you can give to advertisers who are looking to improve their media buying strategy?
By asking these questions, you will gain valuable insights into the mind of the media buyer and how they operate. This will give you a better understanding of the strategies and tactics they use to get the best results for their clients.
Additional Things to Consider on How to Hire a Media Buyer
There are many different ways to successfully find a media buyer.
You'll want to identify what traffic sources or ad platforms they are used to buying on. There are many different ad platforms available and each has its own benefits and drawbacks. Make sure the media buyer you're considering is experienced in the platform you're interested in using.
You'll want to consider their experience. Make sure the media buyer you're considering has experience in your industry. They should understand your target audience and know how to reach them effectively. If they don't have this experience, then they're not going to be able to help you reach your goals.
Here are 6 more things you need to consider when hiring a media buyer.
1. Their experience running ads at higher or lower budgets. (depending on your own requirements)
2. Consider contacting their previous employers. There is a reason they don't work there anymore – so perhaps it is important to know why.
3. What platforms are tey most experienced with. Are their methods dying?
4. The Size of their successful ad campaigns. How profitable were they?
5. Their Understanding of Your Target Audience
6. How they Can Help You Reach Your Goals
If you keep these things in mind, you'll be well on your way to finding the right media buyer for your needs.
How to Train a New Media Buyer
Congratulations on hiring a new media buyer!
Here are some tips to help you train them so they can hit the ground running and be successful in their new role.
First, it's important to give them a good overview of the company's marketing strategy and objectives. This will help them understand the bigger picture and how their work fits into it.
Next, they need to be familiar with the company's target audience. Who are we trying to reach? What do they care about? What are their pain points?
Next, you need to describe your key performance indicators, and what exactly is the goal of your ad campaigns. They should be able to help you in defining this further.
Once they have a solid understanding of these basics, you can start teaching them about the various types of media you have already tested, and the results.
There's a lot to cover, but with some patience and guidance, your new media buyer will be up to speed in no time.
Summary – How to Hire a Media Buyer
There are a few key things to look for when trying to find good media buyers. First, you want to find someone who has a lot of experience in the industry. This way, they will be able to help you navigate the often confusing world of media buying.
Second, you want to find a buyer who is willing to work with you to get the best possible price for your media. This means that they should be willing to negotiate on your behalf and fight for the best rates possible.
Finally, you want to find a buyer who is honest and trustworthy. This is important because you will be working with this person closely and you need to be able to trust them.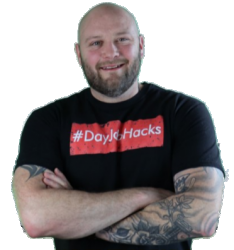 Latest posts by Joey Babineau
(see all)