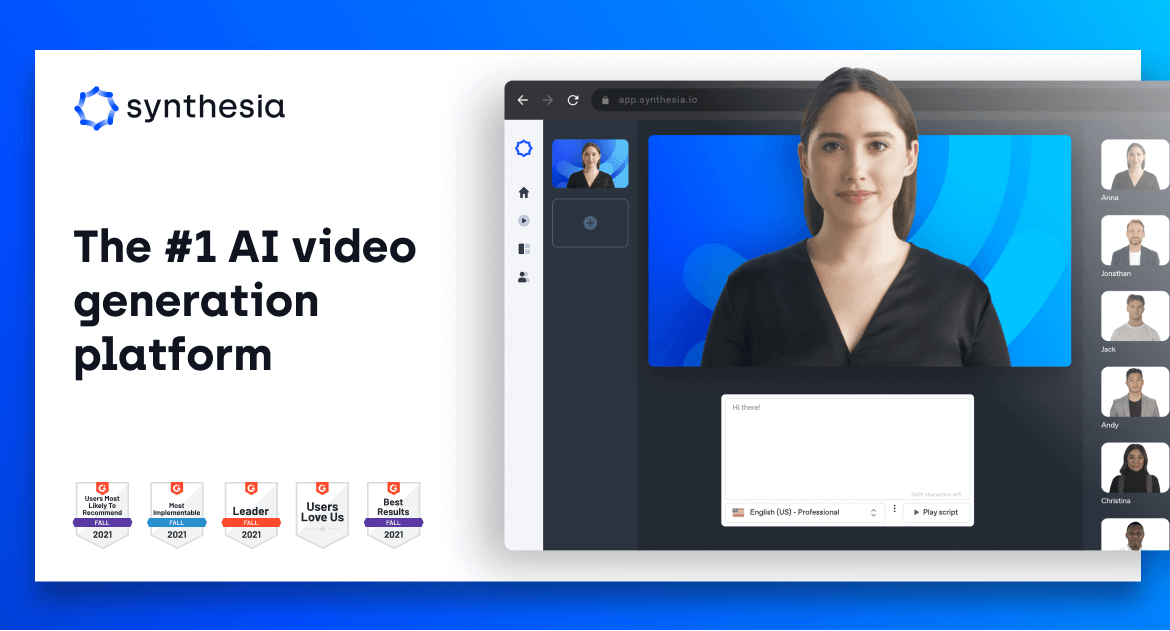 Creating videos can be an excellent way for businesses to provide better product guides, training, and marketing content.
They're more engaging and pleasant to consume than text and make their message more likely to stick.
However, creating professional videos can take a lot of work and cost thousands of dollars. But did you know that there are artificial intelligence tools that can create videos from scratch without requiring you to record anything?
Synthesia AI is one of those tools, and it claims to be the world's #1-rated AI video software.
In this Synthesia AI review, we'll be looking at how it works, its features, Synthesia AI reviews from real users, and more to find out what it can do for you and how it compares to alternatives.
Let's begin.
Synthesia AI Review

Quick Take:
Synthesia AI is an affordable tool that allows you to transform plain text into high-quality videos presented by realistic avatars. Its beginner-friendliness and ease of usage are also impressive.
BEST FOR:
Any business that requires video content
PRICING:
Starts at $30 per month
What is Synthesia AI?
Synthesia AI is an artificial intelligence tool that can generate high-resolution videos from plain text in minutes.
Just by typing the text, selecting a template, and picking an avatar and voice, you can create videos for various purposes featuring human avatars without actually having to record anything. You can also include screen recordings and slides.
This can save thousands of dollars and hours for businesses that rely on video content a lot.
Besides, it can be extremely valuable for solopreneurs and small to midsize businesses that don't have the resources to create professional videos in the traditional way.
Finally, if you're trying to grow your YouTube channel, this tool allows you to create more content faster, boosting growth.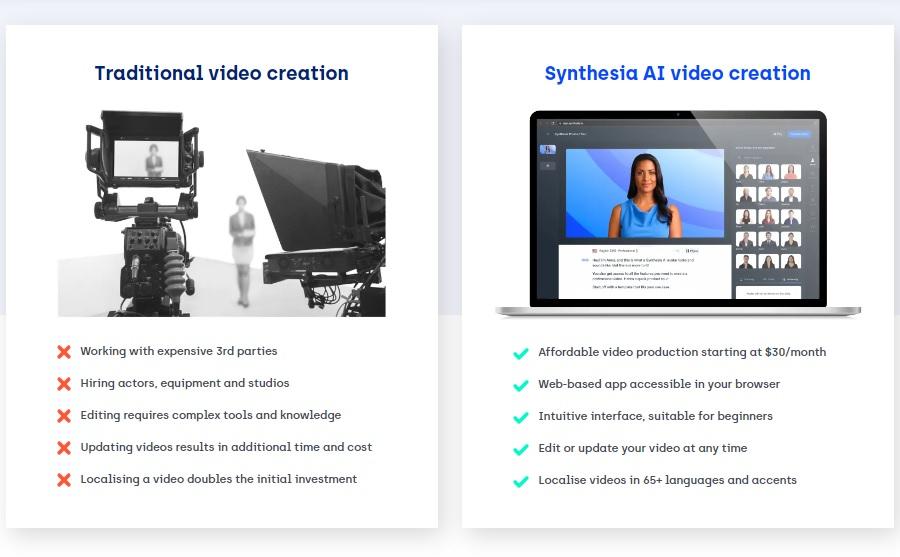 Synthesia includes voices in over 60 languages and accents, allowing businesses to adjust their communication for different markets easily.
It's used by more than 20,000 companies, including brands like Amazon, Accenture, and Reuters, and promises to save over five thousand dollars per video created when compared to filming in a studio.
Let's take a look at its features.
Synthesia AI Review – Features
AI Avatars
Synthesia features over 65 avatars from multiple ethnicities, styles, and age groups.
They're based on video footage of real actors that have gone through Synthesia's AI system and can say anything while mimicking a real person's expressions and body language.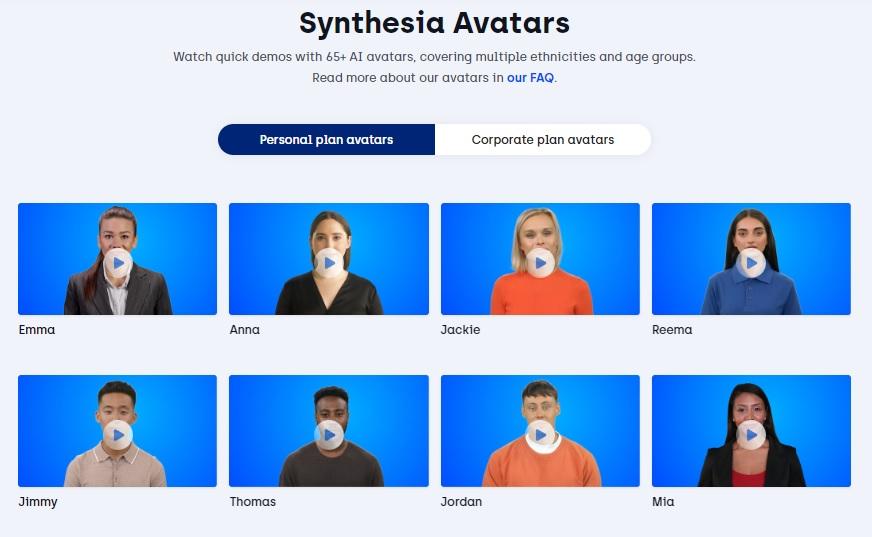 They come in different styles and outfits, including casual, formal, and dressed for specific situations and places like construction sites. By browsing Synthesia's avatar library, you'll even find Santa avatar!
You can then combine them with different synthetic voices, leading us to the next feature.
AI Voices
Synthesia features hundreds of voices in over 60 languages and accents.
In the English language, for instance, you can find voices with accents from 12 different countries, including the U.S., U.K., India, and Australia.
German, on the other hand, is available in German, Austrian, and Swiss accents.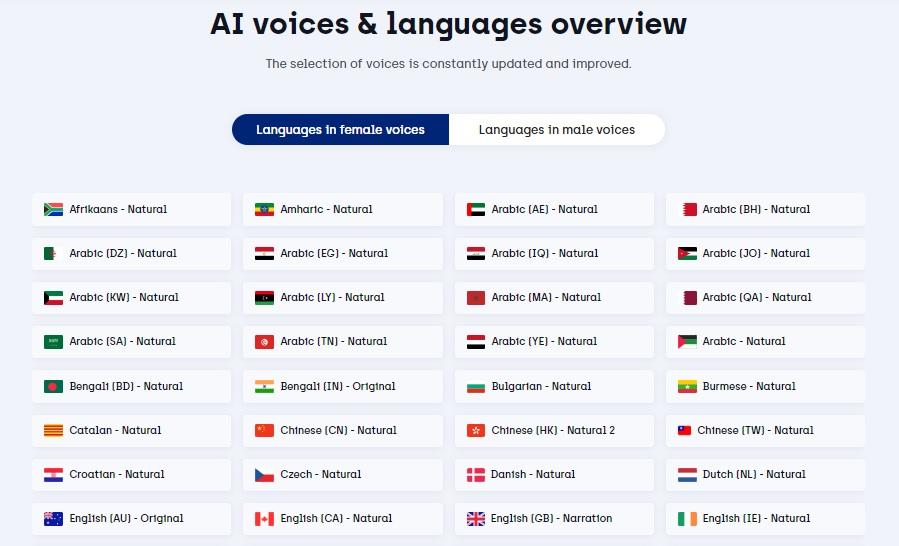 For Spanish, you could use the accent of a specific country like Peru or a more general version that works well for all Spanish speakers.
Other languages available in multiple accents include Arabic, Chinese, Portuguese, and more.
Finally, you can often find more than one language from the same country. If you're talking to an Indian audience, for instance, there are seven languages other than English that you could choose from.
Video Templates
While Synthesia's drag-and-drop editor allows you to create backgrounds and slides from scratch, there are over 50 pre-made fully-customizable templates in ten different categories:
Training
Sales
How-To
Professional
Business
Pitch decks
Reports
Simple HR
Creative
Most of them are designed to feature an avatar, but you can also opt for a voice-only template.
After picking a template, you can edit it in several ways with Synthesia's editor. You can replace images, add music, logo reveals, and videos, change the background color, create new shapes, and more.
You can also create an editable video template from scratch to use on multiple videos.
Custom AI Avatars
If you'd like to turn yourself or a team member into an avatar, you can also do that. Synthesia's custom AI avatar feature is an add-on service that comes at $1,000 per avatar per year.
Creating a custom avatar usually requires about 10-15 minutes of video recording in front of a green screen, preferably in a professional studio.
After submitting your footage to Synthesia's team, you should have your avatar ready within ten days.
You can combine it with Synthesia's synthetic voices or produce your own voice through a Descript Overdub integration. However, this is only available on the Corporate plan.
Synthesia AI Review – Use cases
Synthesia's most common use cases are training videos, how-to videos, and product marketing videos.
Let's go over each of them.
Training videos
Learning & development teams can use Synthesia to create sales enablement, onboarding, compliance, technical, and cybersecurity training videos.
For onboarding, for instance, you could turn a boring slide presentation into an engaging video with an avatar teaching new employees how to perform tasks and use your company's software.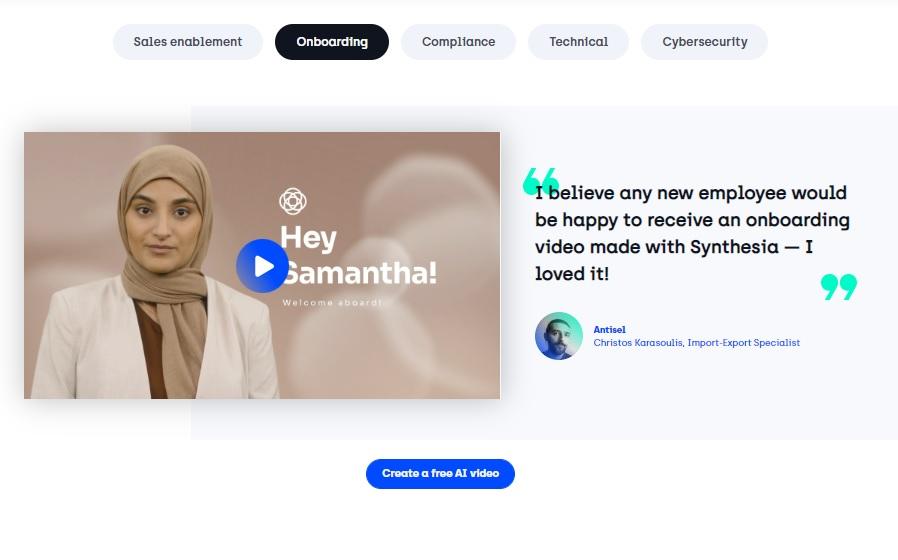 That would enhance their experience and make them much more likely to retain that information, all while taking just a few minutes more to create than text-only training.
How-To videos
You've probably come across product tutorials and knowledge bases on companies' sites, especially when it comes to SaaS products.
With Synthesia, customer support teams can easily create videos that help customers overcome product usage challenges and learn about all its features.
Since video content is more pleasant to consume than text, this would improve customers' experience while signaling more commitment from the brand to address their needs.
Product marketing videos
This is probably the most appealing use for most businesses, especially ones that don't have the resources to hire actors and pay for studios to create marketing material.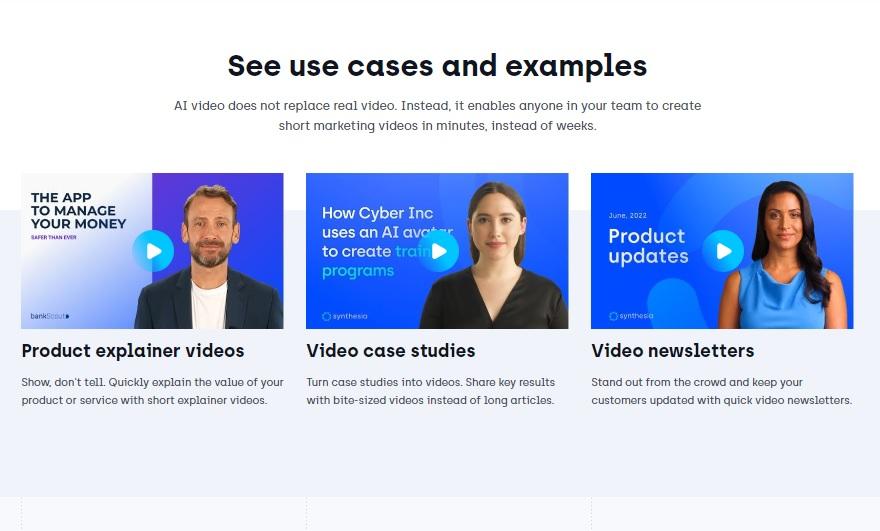 With Synthesia, you can create highly-engaging videos that communicate your product or service's value propositions and display how it works and how it can help your audience achieve its end goals.
They make it easier for prospects to visualize how your product or service can help them achieve their end goals and are more likely to get shared than other content formats.
How to create a video on Synthesia STUDIO
By clicking on Create new video on Synthesia's dashboard, you'll end up on the STUDIO, where you'll be able to create your videos. You can also import an existing PowerPoint presentation and start from there.
Below the video preview, you'll find the script box. When typing it, you can also add pauses between lines and paragraphs to give your viewers time to digest information.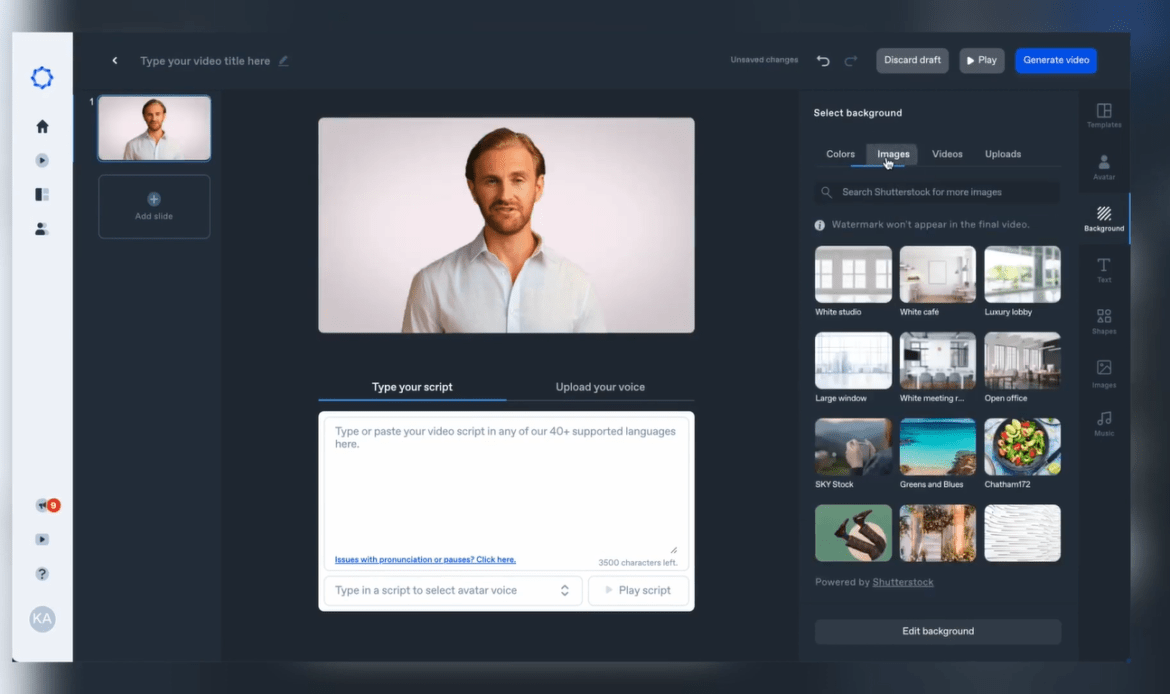 On the right side, you'll find tabs with the other relevant aspects of your video, including the avatar and template libraries, customization options, and more.
Editing features allow you to add or change background images, colors, logos, text, music, and more.
When you're done, you can click on the Generate video button and add a title and description. After that, Synthesia's AI will still take a few minutes to generate the video.
Finally, your video will appear on your dashboard, and you'll be able to share it.
Synthesia AI Review – Pricing
Synthesia offers two plans: Personal and Corporate.
The Personal plan comes at $30 per month and gives you access to most of Synthesia's features, including AI avatars, voices, and templates.
It allows you to create up to ten minutes of video per month and add up to six slides per video.
The Corporate plan, on the other hand, comes at custom pricing and usage limits and includes additional features such as premium AI avatars, branded templates, and access to premium services like video editing and motion graphic creation.
Synthesia doesn't offer a free trial, but the company lets you create a free AI video to get a taste of the platform.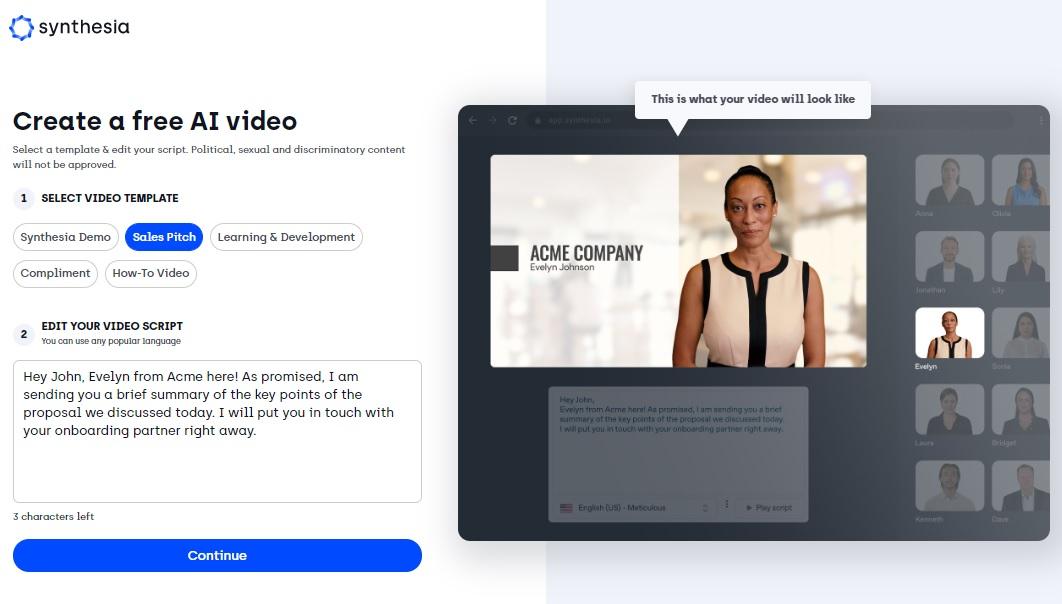 Synthesia AI reviews from real users
Synthesia claims to be the world's #1-rated AI video software.
On g2.com, it has a 4.8-star rating from 359 reviews, higher than other AI video creation tools, which backs those claims.
Here's one of them:
There are also many verified reviews on the company's site from businesses of different sizes and industries using it for various purposes.
Check out some of them: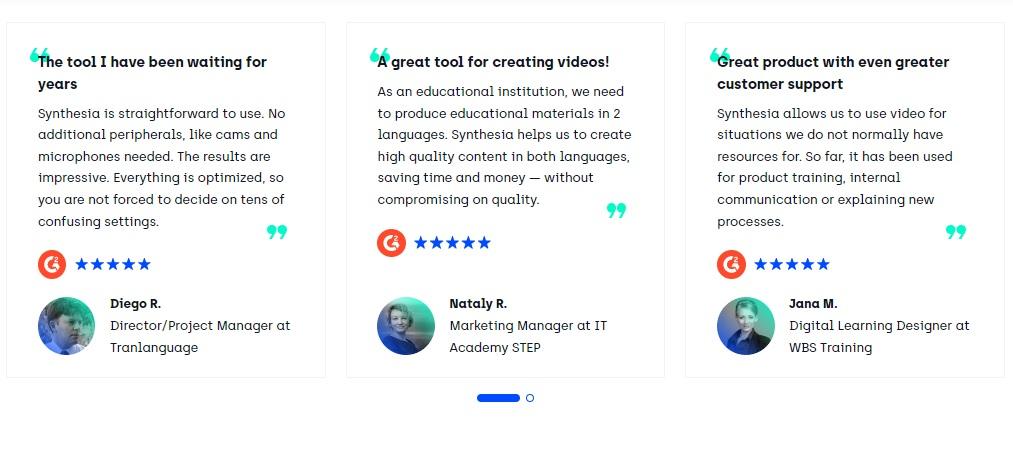 When browsing through these reviews, we saw many users praising how realistic the avatars on the AI-generated videos were and the number of customization features available.
Another positive aspect that pleased a lot was the ease of usage of this tool, which allowed them to dominate it quickly and provided them with a seamless experience.
Most complaints were related to limitations on the Personal plan, including the usage limit, which many said wasn't enough for their needs. Some also mentioned the lack of a few editing features, like not being able to change the aspect ratio of the videos.
Alternatives
Popular Synthesia alternatives include Synthesis, Rephrase, InVideo, and more.
After comparing them and reading some customer reviews, we found that most of them are pretty similar in terms of functionalities and features.
However, users from other tools often complained about their complexity, positioning Synthesia's beginner-friendliness as a differential.
Another advantage of Synthesia is giving users more flexibility and allowing them to create longer videos and add more slides than competitors, especially on the Corporate plan.
When it comes to pricing, Synthesia is also more affordable than most alternatives. Compared to the three tools we mentioned, it's only more expensive than InVideo, which starts at $15 per month.
All things considered, Synthesia provides excellent value for money, probably the best in the market.
Pros & Cons
Synthesia AI Review – PROS
-Beginner-friendly
-Easy to use
-Great value for money
-Available in 60+ languages
-Number of customization options
Synthesia AI Review – CONS
-No free trial
-Personal plan is a bit limited compared to the Corporate one
Final thoughts
Video content can be an incredible way to enhance your customers' and employees' experiences and make your brand and message more memorable. Synthesia allows you to do all of that with just a few clicks.
Compared to alternatives, it's easier to use, doesn't lag on features, and is more affordable than most.
If you're considering trying an AI video creation tool, Synthesia is definitely worth checking out.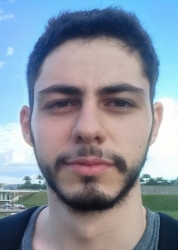 Latest posts by Pedro Tilki
(see all)