Today I'm going to show you how to make money online with search ads, by spying on your competitors' ads running on the Google and Microsoft search ad networks.
These theories can apply either if you're an affiliate marketer or a product owner. For today's example, I'm going into the Make Money niche. I'll look at the competitors and see what people are running. You can use this to help figure out what to do with your ads and make money with them.
What You Need To Know
I'm currently running a campaign on Google Search, so I thought it would be great for this tutorial. Now, if you're looking to set up Google search ads for affiliate campaigns, let me refer you first to a full in-depth course I have.
If you go to Powerhouse Affiliate and sign up in the members' area, you can go over to the webinars, and find full training on Google Ads Training. The first part of this webinar is on search ads. You will learn how affiliates should set up their campaigns step by step on that platform. This way, you'll avoid any potential bans or setbacks.
For the rest of this tutorial, I'm going to assume you already know all this stuff. So let's jump into it!
How To Spy and Find Your Competition
To start with, we'll go into Max Bounty, which is one of my preferred affiliate networks. In this example, I'm going to use the BizOp niche, which means business opportunities.
I'll use an offer called "Work at home moms" which I'm showing you below. It's not something I'm currently running, but I thought it'd be a good example because it does allow search ads—as you can see, Google, Yahoo and Bing are allowed.
What I'm looking for in order to sell this offer are people that are interested in working from home. So, how do we do that? The first thing you're going to need is a tool that switches your IP if you are not in the USA or Canada. You need to see what your competitors are running in these countries, and the only way to do that is to switch your IP address.
I use a tool called HMA: Hide My Ass. It's a VPN (virtual private network) so you can mask your IP. This makes it appear that your computer is in the United States. You can choose any country, so if you're running a campaign in Germany, it will look as though you are there.
Once the IP is switched, the next step is to find a list of your competitors. You want approximately five, maybe even ten domains of people that are your competition and preferably running ads. We're going to go into Bing and search 'work at home'. As you can see below, there are some ads running: they're clearly defined as ads, but if you don't find ads in your first search, then search for something else, like 'make money online'.
We're trying to look for affiliates. There's one called AffiliateResource, so this would be a competitor that I want to target. We can also do the same thing with Google and find other competitors. We're basically trying to get a list of the top people running in our space.
Another way to get a list of competitors, if you're already running Google ads, is to come into your Google ads account and check on Auction Insights which is inside the Ad Groups on the left menu.
It's going to show you the domains of the people competing against you, which is huge. As an advertiser, it kind of sucks, because people are going to see that you're competing against them. They can come after you and start targeting your ads. But at the same time, you can do the same thing to them. If you're not actively trying to beat your competitors, you're going to eventually get beat down the road. You have to be active on your campaign, there is no "set it and forget it" with search ads.
Using Semrush To Analyze Your Competition
Now that we have a list of our competitors, the next tool we want to use is Semrush. If you haven't used this tool before, click on the link and you'll get a seven day free trial. This is a great way to try it out without spending any money!
Once inside, you can go to the left menu, and click on advertising research. In my opinion, this is one of the best sections of this tool. This will bring up the Advertising Research section, where you're going to enter the domain you found that's advertising, hopefully, on both Bing and Google.
When you click on search, it'll pull up all of their ads, the keywords they're bidding on, and everything you need to know about what they're doing with their advertising. It even shows you how long they've been going.
Now, instead of guessing what keywords to use, you can look at all these great keywords you can choose from. You can even download all of these and add them into your Google ads or search ads campaign using the strategies I teach in the Powerhouse Affiliate course I referenced earlier.
This is how you're going to find your keywords and especially your ad copy. There's a tab on the top called ad copy, where you can see all the ads this particular domain is running.
Now, best of all, once you have your competitors list, you can keep adding in more and doing multiple searches. Each of those searches is also going to give you even more competitors, so you don't have to do your research anymore, all you have to do is find one good competitor, stick it in the search bar, and it'll give you a list of all the competitors from the one competitor you selected. You can search for this in the Competitors tab.
This will save you hours and hours of work, and you can find out exactly what these people are doing. Now, you have everything you need to know about running these ads, so what are you waiting for? Go spy on your competition!
Stats on My Campaign
This is a campaign I'm running to a lead generation page. I created a squeeze page by building funnels with OptimizePress and creating an ad for a free giveaway. If you're not sure what I'm talking about, you can check this 10 Minute Squeeze Page Tutorial.
If you're running work at home, especially on Google or Bing, you're going to want to collect the leads first before you start sending them to CPA affiliate offers. Now, I know I'm kind of getting off track on the spying here. It's important that you understand that whatever you're going to run as an affiliate needs to adhere to a certain structure.
In this case, I'm getting leads in the tier two and tier three countries, getting them for as low as as $1.77 Canadian, which works out to about $1.20 U.S. This campaign literally just started, and I haven't even optimized it yet. It ran for about 8 days at $30 a day. I'm not even up to the 10 day mark where I'm going to do some serious optimizations. I'm going to bring these costs per lead down below a dollar easily in the tier two and tier three countries by spying, using tools like Semrush, finding my competitors for Powerhouse Affiliate and doing the exact same thing I showed you before.
These strategies work both as an affiliate and as a product owner. These tools like Semrush are amazing when it comes to spying on what's happening in search ads online!
Do you have any questions about how to spy on affiliate offers or any other traffic sources? Post your comments below! Post your strategies too, as they're always helpful to the community. That's what we're all about here – helping you and others in the community find tools and strategies so they can make more money online!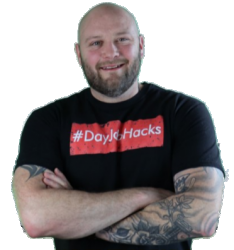 Latest posts by Joey Babineau
(see all)