Today I'm going to talk about advertorials and how you can use these in your native ad campaigns. This is one of the best ways I find to make a lot of money using paid advertisements online. If you're new to DayJobHacks, I do a lot of paid advertising online. I am an affiliate marketer, I've been doing it since 2002, and I can tell you that one of most effective landing pages is the advertorial.
In today's post, I'm going to talk about why they're so damn profitable. I'll talk about the psychology behind them and how I build my own advertorials. I'll show you some examples and why they work. If you're not using advertorials, you should really consider adding them. You're going to learn the steps and a few tricks to make your advertorials insanely effective.
Advertorial – What is it?
If you are an advertiser online, then you've probably seen these before. Even if you're somebody that's not an advertiser and you're browsing the Internet, you've likely seen an advertorial before. Basically they're are ads, but they're disguised as editorials and they're often found on actual editorial or news websites.
So if I go to the Washington Post website, and scroll through an article, I'll see a bunch of ads. They're monetizing The Washington Post using advertisement placements. Now, people who buy advertisements can buy ads on this page. They're using AdSense.
This is a Google ad, but at the same time, they're also using native ads. Usually this is where you can find the advertorials being used. So here you can see these are Outbrain ads. Most of the time the people that are buying these ads are using what are called advertorials.
So they're setting up an ad and they're piggybacking on the credibility of The Washington Post because these advertorials are designed to look as though they are part of the Washington Post's native content. Most people probably don't even realize that they are being advertised to.
I'm going to show you an example. There's a link for a gut cleanse, and if I click that link, the advertorial opens up.
Notice that it says advertorial at the top. It also has a very good headline. So it's it looks like a news article and as you scroll down, you're going to find that they're going to be advertising something.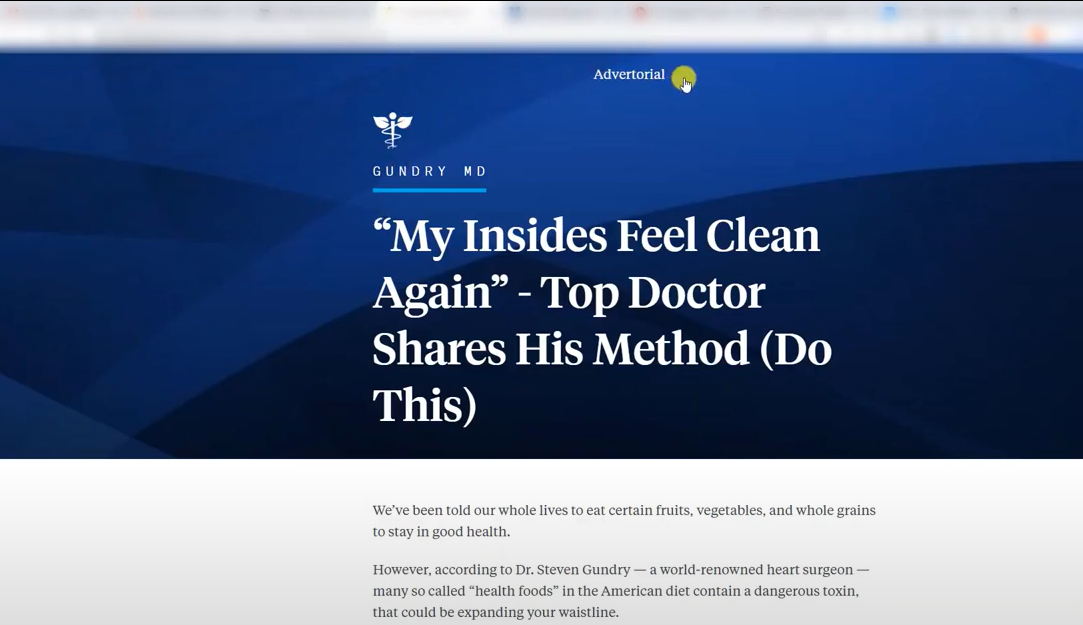 Click here to watch the presentation. And once you click on that, it's going to take you to a video sales letter and they're going to try and sell you something. So they piggybacked off The Washington Post and they're trying to get you to watch this video because in that video, they're going to sell you something.
Why do Advertorials Work?
The reason why they work so well is because you are actually providing people with content so they don't feel like they're actually being advertised to right away. Most people are turned off by ads. They don't really respond well to getting interrupted while they're reading their articles. So you need to get something that engages them. And to do that, you give them actual content.
I want to show another one, this time from Boston.com. These are Revcontent ads, another native ad platform. I really like this one about dog barking. It's genius. It has a nice headline, which makes you want to click it. It uses a picture that I'm sure has a high click-through rate.
This looks like a mean dog, and people want to see what's going on. They click on it and then it brings you to this headline. It has a nice landing page. They're trying to collect a push subscriber, but at the same time, again, we have the advertorial at the top.
If you're wondering why they all say "advertorial" at the top of the page, it's actually a requirement on the ad platforms that you have to tell people that you're advertising to them. At the same time, the FTC also has requirements for people running advertorials.
So make sure you follow the rules so you don't get into trouble because this is one of those ad strategies that works really well. It can be somewhat deceptive in terms of how aggressive you get with your headlines and your news stories, so be careful.
Building Your Advertorial
So now how would you actually build an advertorial? I use WordPress to build my pages, so it's very easy to build an advertorial. I've said this many times, but it's true. OptimizePress is perfect for landing pages, including advertorials.
If I was going to promote something like a product to help improve blood pressure, then I could come here and write an article about ways that people could improve their blood pressure.
At the same time I might be promoting a ClickBank offer, or a supplement that helps people or even an income offer, like a blood pressure monitor.
If I go into in my WordPress dashboard, and create a new page, I'll find a bunch of different templates. I'm looking for something like a news article, so I need a good striking headline.
Let me also say that writing an advertorial does require some copywriting skills. If you don't have skills in copywriting, you should probably go online and take some training or watch some YouTube videos about copywriting.
Another way to find ideas is to search ad platforms for ads related to your topic. I use a tool like AdPlexity to search for ads related to blood pressure.
I can type something like blood pressure and it will show me certain ads that are running for blood pressure. Here are some pages that likely contain some blood pressure information. So I could use these and look and see what their landing page headlines look like.
And here is a great one that I found – Why doctors no longer prescribe blood pressure meds.
That is a kind of headline that kind of gets people to click on it. It might be a little deceptive, so you have to be careful again with ad platforms and even your own ethics.
As you can see here, this is a fairly aggressive type of page. I probably wouldn't run something like this myself, however, as you can see, an eighty nine year old reveals the secret of her longevity and excellent health. And it's going to go on to explain blood pressure.
Striking a Balance
I'm going to take a different approach. I'm going to go with the angle of natural solutions to high blood pressure. So I'm going to say something that is eye catching, but at the same time looks like a news type of headline. That's the key here, to try and make your content remain in that same type of editorial style.
It needs to seem like they're reading a news article. Something like "Doctors amazed by new natural remedies to improve blood pressure". Then I can do an article about ways to naturally improve your blood pressure, and at the same time have a link out to a product which I can find pretty much anywhere in any CPA affiliate network or on Clickbank.
Make sure if you're using a health product to have some kind of disclaimer at the bottom. That's important, as well as Advertorial at the top.
Now, as you continue to carry on through adding your content, you're going to start having more links. You have links to your affiliate products and you start with the actual sales pitch.
There's no real percentage of content that works better than others. But for people out there that like percentages and they like to know exactly how much they should put, I would say roughly 80 percent real content and 20 percent sales pitch.
Final Thoughts
Now, if you want to know how to get your ads up and how to set up really highly engaging ads and how to make money as an affiliate using native ads, then check out our case studies inside PowerhouseAffiliate.com. Sign up for our premium membership and you'll actually see us create these step by step inside once you get in there.
We have case studies on a bunch of different traffic sources. We have push ads, we have native ads, we have Bing ads. And we have one that's specifically on setting up native ads and doing exactly what I'm showing you.
You'll find all of this, and more, in the premium members' section of PowerhouseAffiliate.com.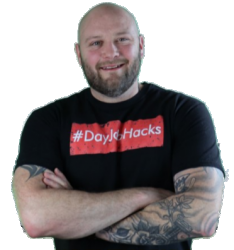 Latest posts by Joey Babineau
(see all)