Thanks! Your Request is Almost Complete...
"How I Made Over $700,000 in a YEAR.

Native Ads Auto Profit - Showing You Highly Profitable, Native Ad Campaigns." 
Re-Create My 6-Figure Affiliate Campaigns With Ease And Start Earning Serious Native Profits Now!
Get Complete Access Now 95% OFF
This offer will be gone once you close the page - Don't Miss it!
If Your Native Ad Campaigns Are Not Working Out The Way You Planned
- READ THIS -
"I Lost Over $7,000 On Native Ads When I First Started And Didn't Understand Why"  Others are making great profits, Why can't I?
I started buying traffic from every Native platform under the sun.
I invested the hard earned money I had been saving from may "day jobs".  I bought a few programs designed by a Native "Guru".  I quickly came to realize that this person made most of his money "launching products". He never actually EVER did the stuff he trained on in his products.  He's likely never run Native ads in his LIFE.
He was able to gather enough information on google to put together a course but day after day I was LOSING money by following his "Simple Tricks".
It turns out I had been scammed.  And the same thing followed with the next 2 courses that I bought.  I started thinking that I was the problem and I had to be doing something wrong.
Finally I met a REAL affiliate on a Forum.  This is where things turned around for my Native campaigns.
After seeing his exact campaigns, I was able to have success with relative ease now that I understood how to properly set up my pre-sell pages, and optimize my Native ads.
I made back all of the money I had lost on failed campaigns and useless "Guru" courses.
I bought a few more products to try and sharpen my skills; and every single one of them talked about some flimsy marketing trick that didn't even work.
They all had 1 thing in common....  No real testing strategy!
I got really sick and tired of people leaving out EXTREMELY important pieces of the puzzle.  I decided it's time that I start relying on my own experience.
I had no one to talk to in the industry other than my Friend from the forum.
His 1 campaign example had brought me from losing almost all of my savings to making $150 a day on Native.  At the time his information was the ONLY effective training that I had found.
The thing is he wasn't even a trainer. He was just a guy who wanted to help me, and shared his strategy with me.
In fact he didn't even want to commit to training! As time went on, I think he really wanted to help me because I refused to QUIT.  I had already invested so much time and money.  I HAD TO GET A REWARD.
He started giving me more tips and tricks at each stage of my campaign.  He would always give me the right information to take my campaign to the next level.  Then something AMAZING happened...the next level...
"One morning I woke up to check my stats and realized I had made $76,000 on Native ads in the past 3 months."
It was a major reality check.  I had finally figured IT out...
I started testing everything, Believe me! If you have seen it advertised on Native, I have likely tested it!
I started to build a solid list of PROFITABLE campaigns using the knowledge and experience I gained.   I realized that once you understand the testing process and strategy, you can apply it to almost ANY campaign.  I had finally mastered Native Ads.
Before I knew it....
Just last year I did over $1.7 MILLION in Revenue and $765,000 in PROFIT!
I remember when I started...all the false information...and wasted money on gurus.
I decided to create a blog about Native Ads. It was nothing fancy.
I was certain that I had to share this information with others.
I started giving advice on my blog that seemed to help many people.  I soon had instant messages asking for help which reminded me of myself when I had started.
The more that I helped these individuals, the more I was flooded with instant messages from other struggling affiliates.
There wasn't enough time in the day!  I still had my own campaigns to maintain..  Every affiliate needed something different or was at a different point in their campaign.  What did I get myself into?  And then it hit me...
I needed to create a Master Course for these Affiliates.  A course with REAL information that is extremely valuable. I started with a few hours.
A few hours turned into days... Days turned into weeks...
I couldn't pack enough information into the course.   It just kept getting bigger and bigger.
Before I knew it, I had 7 full training documents explaining the process from end to end with easy to follow screenshots.
I also decided it wasn't enough to just share "GOOGLE THEORY" like all the fake gurus do.
So I put my money where my mouth is and decided to give away 3 OF MY TOP CONVERTING CAMPAIGNS including Landing Pages and Ad Copies.
Wait, WHAT THE HECK? Are you serious? You actually give away your MOST PROFITABLE campaigns? 
Honestly, I have friends who ask me how I make money online. I don't want to share with them BS methods, just like I don't want to share BS with strangers.
I really wanted struggling or brand new affiliates to have an EDGE.
I actually want to get them moving in the right direction.  The results will still depend on the testing strategies and methods.  This is the key to any successful Native campaign.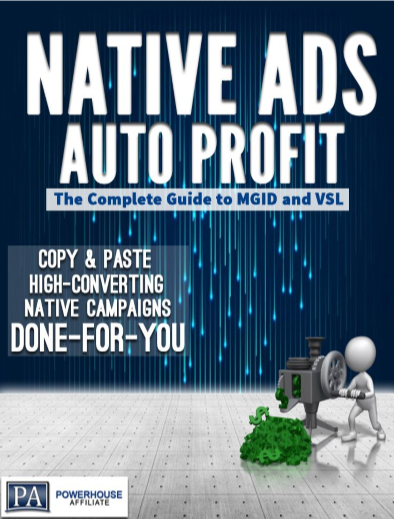 Before I knew it, I had a full on product that took me well over 200 hours to develop and create. Keep in mind this doesn't include the thousands of dollars I spent testing landing pages and ads. 
I couldn't wait to show it to my old Forum Friend who helped me from Day 1.  What he said really shocked me...
"This type of Material is EXTREMELY valuable.  You could EASILY sell this for $5000.00"
Sell my course for $5000?  Was he serious?  I just wanted to help others by providing REAL Methods and Information to save them from the same setbacks I once had.
However, I did put many HOURS and spent THOUSANDS of dollars testing my material to ensure it is 100% accurate and working.  That must be worth something right?
"If You Had Access To Training That Could Make You Thousands Profit, Would You Pay A Small Fee Up Front?"
Cool Story Bro, So Now What?
Now that I've covered my initial time and costs that it took creating the product, I've decided drop the price from what my friend suggested. ($5000)
I remember back to when I first started.. I bought courses that were often out of date.
I always hated buying courses or products that were either out of date or ended up being obsolete within the first 2 months.
I had to come up with a way to keep my course FRESH and CURRENT.
This is why I build all my campaigns around EVERGREEN niches.  The campaigns inside my course have been working on Native for at least 5 years, and will last another 25 years in my opinion. These niches will ALWAYS be relevant.
As you can see below, these campaigns are still making money after 16 months of Native traffic.  These campaigns are long term and not something that will fade away with the next fad or holiday.
Here are samples of some "evergreen" niches.
Not only are these 3 of my top converting campaigns, they are also my longest running campaigns.
The best part of the Evergreen advantage is that I can swap these out with almost ANY other similar Health offer as time goes on.
The key to conversions is within the CAMPAIGN.
You can swap out offers on the FLY and split test different products.
These three offers above have been the best converting over the past 5 months.
My Campaigns have been built from the ground up targeting the biggest Evergreen niches in the industry!
The Same Theories Can Be Applied to ANY NICHE! 
If you're ready to take the leap and end your struggle with Native ads, this next part is specifically for YOU.
I'm willing to give you my COMPLETE course for $197 TODAY ONLY.
You can setup and test your very own campaigns in no time!
Everything is laid out for you with HIGHLY DETAILED screenshots and directions.
If you are a complete BEGINNER or a seasoned AFFILIATE, you can easily apply these strategies, setup these campaigns and start making serious profit.  Everything is basically done for you.
No more road blocks or setbacks.
REAL CUSTOMER TESTIMONIAL
"I found this course on Powerhouse Affiliate.  I was a member for 3 months and was able to start making $75 a week with Native ads.  I couldn't figure out how to properly optimize and felt like I hit a wall.  I was on the fence about buying the course but in the end I pulled the trigger.  I'm EXTREMELY happy that I did!  I used their optimizing strategies and now am making $250/day and I'm STILL learning from the course material. " - (Marcus "Dolla" Beckingham)

The ONLY Complete Native Training Course Focusing Completely on MGID
Our course is fully loaded with everything you need to get started today.  We have given you 3 complete campaigns loaded with 15 High Converting Landing Pages and 30 Proven Ad Copies. With our training documents, you could install these landing pages in under 15 minutes. There is nothing stopping you from starting today!
Complete Access to Everything You Will Need To Start Making Profit!
3 Highly Profitable Evergreen Campaigns
15 Landing Pages Proven To Perform
30 Attention Catching Ad Copies
Complete Landing Page & Tracking Setup Guides
Complete MGID Campaign Setup and Optimization Guides
7 Documents With Over 80 Pages in Detailed Training
Don't miss this one time opportunity!
$197


Native Ads Auto Profit



This site is not a part of the Facebook website or Facebook Inc. Additionally, this site is NOT endorsed by Facebook in any way. FACEBOOK is a trademark of FACEBOOK, Inc.
EARNINGS CLAIM STATEMENT: Vault Media Inc. (aka DayJobHacks.com, PowerhouseAffiliate.com, Afflauncher.com, Vaultmedia.com) and associated websites, is a company dedicated to helping people achieve their self-education, and self-employment goals. We provide quality online training programs, web hosting, and website development tools to people who seek freedom of time, and freedom of location. This website and the items it distributes contain business strategies, marketing methods and other business advice that, regardless of my own results and experience, may not produce the same results (or any results) for you. Vault Media Inc and all owned websites makes absolutely no guarantee, expressed or implied, that by following the advice or content available from this web site you will make any money or improve current profits, as there are several factors and variables that come into play regarding any given business. Primarily, results will depend on the nature of the product or business model, the conditions of the marketplace, the experience of the individual, and situations and elements that are beyond your control. As with any business endeavour, you assume all risk related to investment and money based on your own discretion and at your own potential expense.