Today I'm going to show you how to find ads and campaigns on native ad platforms that are really working. A lot of people that come into affiliate marketing want to get into paid native ad platforms and often ask "Where do I start? What offers are working? What landing pages should I use? Please show us some examples of profitable native ads"
The answer is right in front of you. You just have to know where to look.
I've already gone over free methods of finding ads and finding ideas, but if you're looking at speeding up the process, you can do this type of work within a matter of minutes using the right paid tool. I'm going to show you that you can have all of the answers you need instantly at your fingertips.
Introducing Anstrex
This tool is called Anstrex. It is a spy tool for native ads, but they also have a version for push ads as well as dropshipping. I've talked a lot about Adplexity in the past, and Anstrex is a competitor to that spy tool. The main difference between the two is that Anstrex is only $80/month versus $129-$149/month for Adplexity.
Now after spending some time with Anstrex, I've noticed that you're getting essentially the same data, it's just a little more difficult to filter through. Honestly, at the end of the day, the price difference makes Anstrex an attractive option if you want to see what other people are doing with their own campaigns.
For the purposes of this post, let's focus on the Anstrex native platform. This tool has unlimited filtering potential. For example, you might want to start with an ad network, like Outbrain or Taboola, which are two major native ad platforms where affiliates are making tons of money.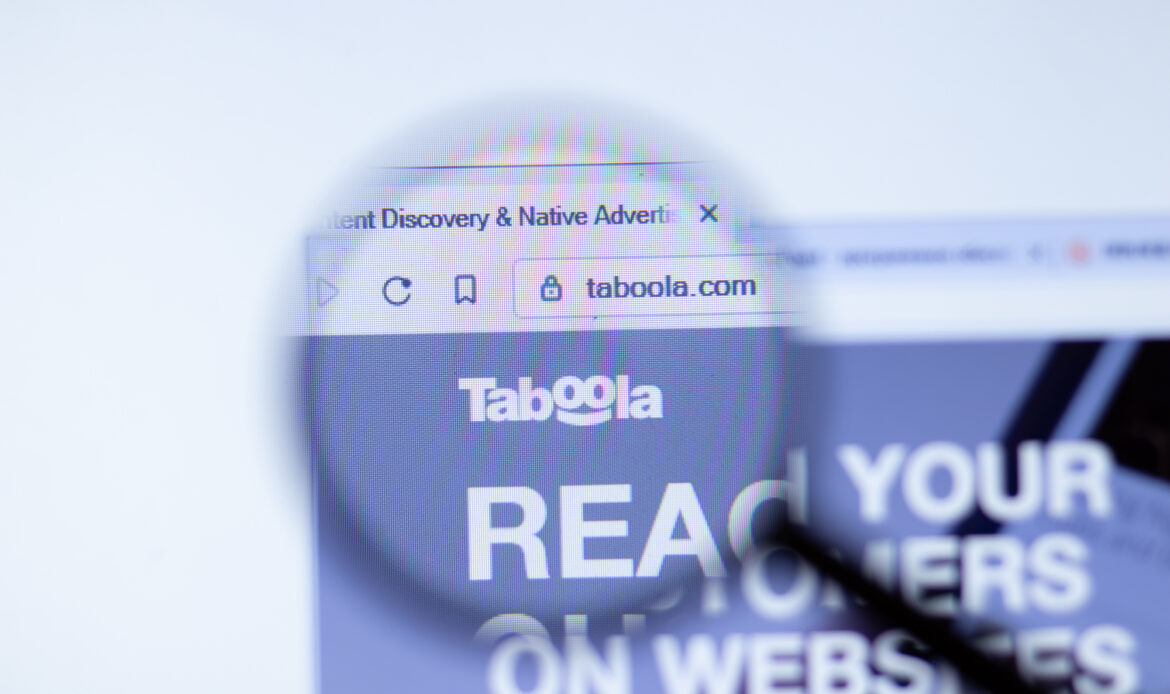 Start with Filters
Let's say you want to see what is going on in one of these major networks – Taboola.
Start by filtering Taboola, and continue down the path to see what is actually happening. You will find awesome data showing you exactly what people are doing on the Taboola network.
One of the next filters you can do is the affiliate network. You can select all and that will show you all of the affiliate ads. It filters out any offer owners and will show you the affiliates on the network. This is a rough estimate because technically some of these could still be offer owners, but it gives you a head start in seeing what affiliates are actually doing.
Let's say you want to also filter a country or another specific characteristic. You can select the country, the platform, desktop or mobile. You can select a language and category if you want. Anstrex allows you to get extremely granular with the data.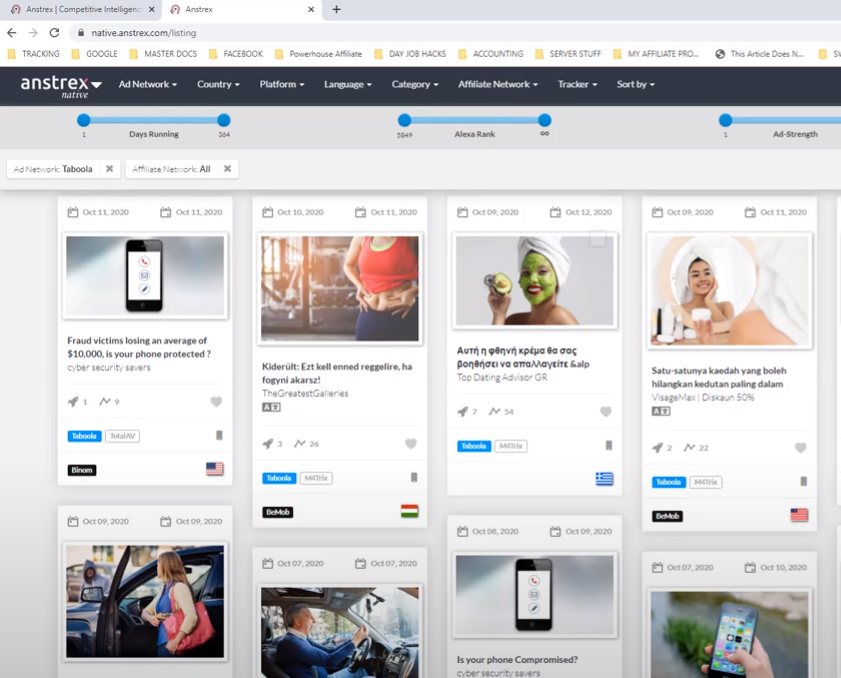 Another really cool feature is that you can actually select the tracking links, which is really effective if you know somebody that's running on Funnelflux, Prosper, Thrive or if you just want to see the actual affiliate links themselves.
You have the ability to sort the data by different fields. One of the sorting features that I like is the date last seen. You can also sort by ad gravity, ad strength and other nitty gritty technical ways. Most people probably won't get into it at that level. They just want to see some ideas and look at some landing pages.
Clickbank Example
So let's go with an affiliate network that everybody knows. If I choose ClickBank and look at what is actually running on Taboola and ClickBank, I see ads for heartburn, diabetes, finance and e-commerce. These are affiliates using BeMob, FunnelFlux and others.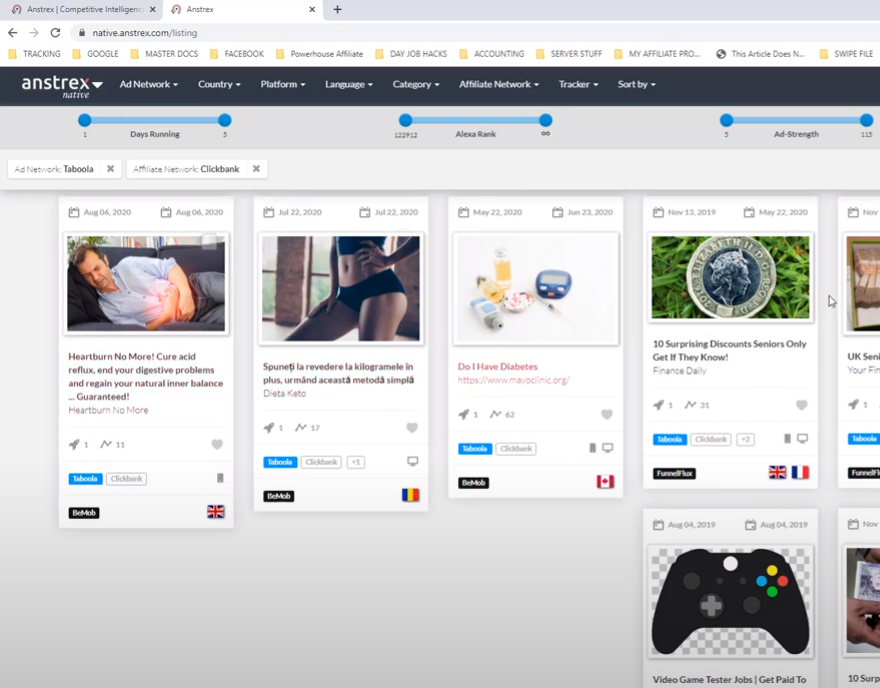 Now, another cool feature about the native ads Anstrex tool is that you can download these pages if you're interested in ripping and running. You could actually download the entire ad and deploy it yourself.
Let me be clear. This is NOT something I would recommend, because you risk the chance of a bunch of scripts being on this page. You also risk the chance of getting a cease and desist order if you're ripping from a bigger company and they decide to come after you. It's much better to just get ideas for headlines, for text, and for content. But it is a feature of Anstrex, if you're so inclined to use it.
You can see where they are targeting their ads. Use that information to set up something similar and compete with these people with a much better chance of success, rather than trying to just guess what is actually going to work.
You can also see how long they've been running these ads, and even all the creatives from the same user.
Push Ads
Anstrex isn't limited to native ads. They also have a platform for push ads. This post is focussing on native ads, but it's nice to know that Anstrex offers push ad support too. They support all the big push networks like MegaPush, PropellerAds, and Datspush, as well as many more smaller ones. So if you are running push ads, Anstrex is definitely worth checking out.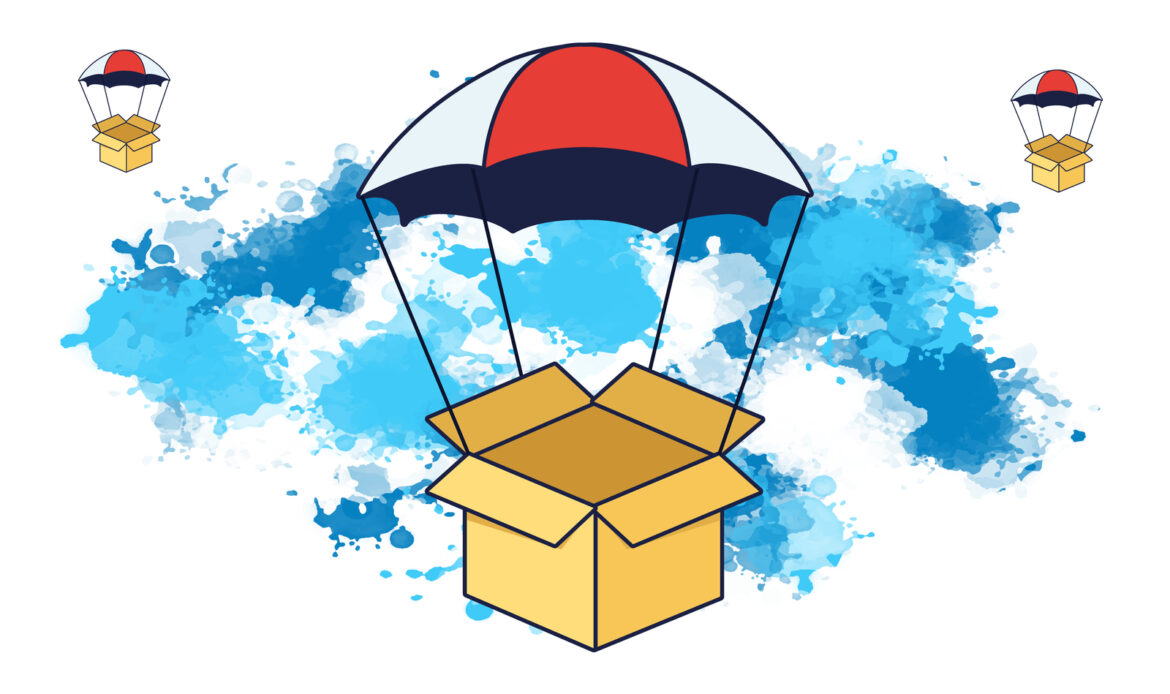 Drop Shipping
I don't do drop shipping, but if you do, Anstrex has a platform for that too. The best part? It's free! So if your business involves selling physical goods that are fulfilled by a third party, you definitely want to check out Anstrex. It doesn't get better than free.
Final Thoughts
All in all, I'm pretty impressed with Anstrex and what it offers, especially for the price of it. It's certainly something that I plan on using for finding new ideas, especially for a new case study we're doing on PowerhouseAffiliate.com for Google.
I will be using it to see what is happening on the Google Ad Network for native ads and help find profitable native ad examples. We will look at some ads that are actually running on Google for affiliates so if that's something that interests you, check out our case study for premium members at PowerhouseAffiliate.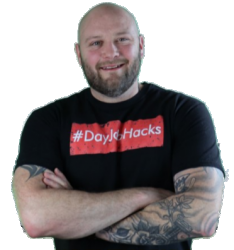 Latest posts by Joey Babineau
(see all)