Why are alternatives to Facebook ads important when everybody claims it's the best place to advertise online? Well, it's no secret that Facebook constantly bans accounts for no reason. They blame it on their A.I. technology, a few glitches here and there, but it just seems to happen at the worst times.
And the truth is, there are some really great alternatives. There are places to get massive amounts of traffic that actually converts, and I want you to have options.
I know there's a lot of businesses out there struggling with their Facebook ad accounts and they're probably wondering why they're getting banned. If this is your case, you can also check out my 14 Tips to Avoid Getting Your Facebook Account Banned.
Now, let's get into those alternatives!
1. Google Ads
We're talking about Google display and Google search ads. If you have any type of product that you sell online, it'll pretty much work on Google Ads. It's one of those traffic sources that really works well for e-commerce. So if e-commerce is something you're interested in, or already working on, they have a shopping center where you can put up shopping ads.
They also have pixel technology, retargeting, and a lot of things that make it the best out there – next to Facebook.
This platform has some restrictions though. You can't sell casino ads, or have scammy make-money courses where you're talking about people making a ton of money online. There's a bunch of different rules on this platform, but if you're not already on Google Ads, it is definitely the first place I'd go to if I was having trouble with my Facebook account. If you're considering using it, I recommend checking out these mistakes that will kill your affiliate marketing on the Google Display Network.
2. YouTube Ads
Recently, I saw an e-commerce YouTube ad that had nearly a million views in four days. Can you imagine putting up an ad on YouTube for your e-commerce product and getting a million views within a few days? There's no way that person isn't getting a ton of sales just from their YouTube ads.
YouTube is an excellent traffic source, and it's super cheap traffic. There's a whole different strategy there, though. If you're able to make videos and you can make funny videos or viral ones, you can make a ton of money. And you can even make thousands of dollars a month using YouTube to sell affiliate products, so this platform is worth it for more than one reason.
People are having a lot of success with e-commerce on this platform too. You can actually get a little more aggressive in your strategies, and you know you're not going to lose your account by doing so. They might ban your ads, but they're not going to ban your entire account like Facebook does.
3. Microsoft Ads or Bing Ads
I've talked plenty about these before, and it's because it's one of those traffic sources that are excellent for affiliates, especially because there's a lot of traffic. It's cheap and they don't mind you using bridge pages as much as Google does.
Bridge pages are basically landing pages designed to get people to click off to another website to buy a product or service, and Bing ads are great for that. If you're interested in trying them out, you can get a hundred dollars on ad credit when you sign up.
Bing allows you to buy search ads, but at the same time, you can also get audience ads that are similar to native ads, which I'll touch on in alternative #8. You can get extremely cheap traffic there and it actually converts on certain offers. One thing to have in mind is that Bing tends to have an older demographic, so if you're running stuff like pain relief, e-commerce, or anything related to finance, it works well there.
4. Snapchat Ads
Snapchat ads work extremely well with a younger demographic. If you have a product that is related to this demographic—between 18 and 30 years old—it usually tends to work better there.
This will also work well if you're trying to get leads for your business. A lot of younger people are looking for auto insurance, loans, mortgages, or maybe even a new house. All of these are things that work great on Snapchat Ads.
One thing to be careful about is that your videos have to be very well articulated so that you do not break the rules of this platform. Make sure you're reading the rules as you continue forward trying different traffic sources. But, that being said, Snapchat Ads are great in this sense because they will not just instantly ban you. Instead, they'll pause your ads or disable them, but they won't disable your entire account as Facebook does.
5. Pinterest Ads
I haven't used them myself, but I know a lot of people in affiliate marketing that do. People across the forums I'm a part of are having good success with e-commerce offers on Pinterest, especially Listicles—lists of products related to the same category. For example, you could have ten of the best home improvement products, and have a list with pictures of them all on Pinterest.
Traffic itself is actually extremely high quality. The only problem is that they don't have the massive numbers you would see on Google and Facebook. Because of this, the cost per click is a little higher. So make sure you are very well positioned to sell products here. You need to have a lot of experience in creating good sales pages, so I don't recommend going in as a newbie.
6. LinkedIn Ads
Just like Pinterest ads, these ones are also very pricey. In this case, ads work best in the business area. So if you're selling services such as software, or business-to-business products, this might work well on LinkedIn. Anything wealth-related, or about investment and finance will also work well on this platform.
But again, you're going to be paying a high price for those clicks. So you might want to focus on high ticket offers or lead generation where you don't have to actually sell anything. Things in which you'll get high amounts of commissions when you get leads from LinkedIn. Again, I only recommend this if you have a lot of experience. Otherwise, you should stick with ads with a lower cost per click.
7. Twitter Ads
I have actually not run Twitter ads myself. However, I know other people are having a lot of success there. One day I might try it, one day I might not. There are just so many other options out there. But Twitter has a huge platform, which means a lot of traffic. You can get a ton of ads out there and I see them all the time on my feed. So, something to definitely check out as you continue looking for new traffic sources. This is one I might recommend if you're already familiar with the platform and have a big following base.
8. Native Ads
I love native ads. I've spent nearly a million dollars on native ads as an affiliate marketer. It is one of the best traffic sources for affiliates because they allow you to do pretty much anything. You can have advertorials, you can have bridge pages, squeeze pages, you can sell e-commerce. You can try and get leads for other companies and you can pretty much target anywhere in the world.
So what are native ads? They're basically the ads at the bottom of every article you read on major news networks where it says "you may also be interested in" or "you may also like these articles". When you click on them, it sends you to another article which is designed by the advertiser themselves. Which looks like an article.
I have talked about this kind of ad before. You can check how to create a strategy on native ads if you're interested. But basically, what you're doing is making your ad and your page look like another news site or another article related to the topic you're advertising on. This works extremely well because people are usually engaged in the content. They're reading it, see your ad, and think they're getting more content. So they go there and then eventually click on something that you're selling.
If this is something you're interested in, you need to know how to target the right placements, use really great images, headlines, and all of that stuff to be successful. You can also check out some tips on how to get the best results from native ads.
9. Push Notification Ads
These are great if you want to get right into people's phones. But you can also get the desktop ones which pop-up on people's computer screens. When people are browsing a website, all of a sudden a pop-up comes up on the bottom right corner. Those are push notification ads.
You can get them in many different places. A few of the ones I've tried include Rich Ads, which is an ad network that I've done some case studies on inside PowerhouseAffiliate.com. Then I've also used Propellor, and Zero Park.
Push ads are a great traffic source for affiliate marketers because they allow you to do many things that Facebook will not. For example, you can run sweepstakes-style offers, you can run casino, dating, make money online, crypto, and much more. This is attractive for many affiliates because those offers convert extremely well, especially for people looking to make money online.
There's a ton of volume in push ads, I actually have a video on how to use push ads and how to make money with them as a media buyer or affiliate marketer.
10. Tik Tok Ads
This is another traffic source I have yet to try. However, I've heard through the grapevine that there's a ton of cheap traffic on TikTok. I believe it's another one of those traffic sources that is going to do well with a younger demographic. So if you have offers that are catered to people in their 20s or 30s, then maybe that is something you want to test.
Final Thoughts
I hope you liked these 10 alternatives to Facebook advertising. I believe they are the best 10 options after Facebook. There's a variety of niches you can play within the different platforms. Do you use any other alternatives to Facebook advertising that I didn't mention here? Tell us about it! Post your comments below, questions, or experiences you've had trying any of these alternatives.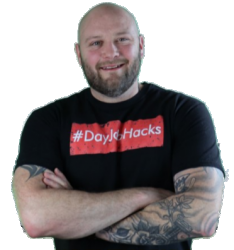 Latest posts by Joey Babineau
(see all)